Extension Where You Are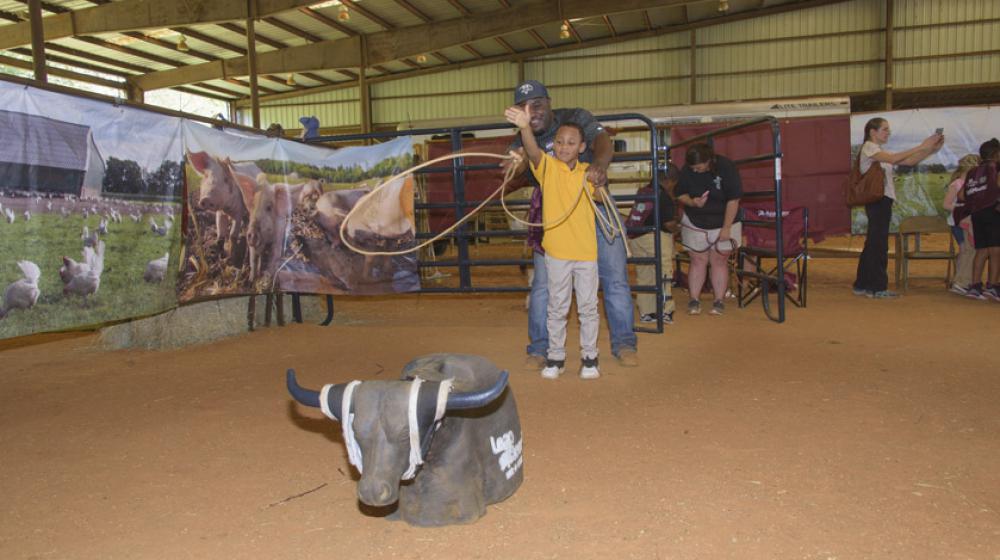 Learning to lasso is one of the many things children can do at FARMtastic.
It's FARMtastic! Next generation sees ag up-close and personal
Story by Leah Barbour · Photos by Kevin Hudson
When FARMtastic makes its rounds over South Mississippi, residents, businesses, schools, and community organizations come together to ensure that participants have a great time.
Boisterous second-, third-, and fourth-graders from area schools fill the barn at Ethel Stratton Vance Park, and about 30 of Lizzette Huff's first-graders from Amite County Elementary School line up to receive FARMtastic-branded backpacks.
Huff, an experienced educator with more than a decade of classroom experience, says her students enjoy every moment they have in each of the seven FARMtastic stations.
From the Barnyard Bonanza—where students watch a milking demonstration and meet real animals, including chickens, goats, and sheep—to the FARMvillage where the young people connect the dots from farm to table—children have fun learning at FARMtastic.
"Here in Liberty, there's lots of community investment," says Julie White, Mississippi State University Extension Service associate and event organizer. "That's what makes FARMtastic such a success here."
Over 4 days each year, classes from schools in Adams, Amite, Franklin, Jefferson, Lincoln, Pike, Walthall, and Wilkinson counties come to FARMtastic. While Extension hosts and staffs the event, local organizations also contribute volunteers and experts.
"This is a really central location, and we'll have more than 1,400 people attend altogether," says Amy Walsh, Extension county coordinator in Amite County. "When the first FARMtastic came about 5 years ago, it looked like something I knew would fit in this community, and people would come. And they have come!"
Along with all the children, numerous supporters represent a range of South Mississippi organizations: local 4-H volunteers, local Mississippi Homemaker Volunteers, Amite County Co-Op, Farm Bureau, Farm Service Agency, National FFA Organization, Hospice Compass, Master Gardener groups, Mississippi Department of Transportation, Mississippi Forestry Commission, National Resources Conservation Service, Soil and Water Conservation District, Southern Ag Credit, Southwest Mississippi Bee Association, and Tractor Supply. Local farmers provide hay and the live animals.
Gene Nunnery, a local producer in Amite County, has volunteered with FARMtastic since it first came to Liberty in 2014.
"I love helping, and we need to teach our children about agriculture," Nunnery emphasizes. "Julie is the backbone of this, and this program is necessary because ag is not in schools anymore the way it used to be. Agriculture is important, and these kids have smiles on their faces. It's great that they get to learn about agriculture hands-on when they come to FARMtastic."
Huff agrees and explains that FARMtastic reinforces the instructional standards focused on agriculture.
"There's really not agriculture taught in the schools," Huff explains, "but, at FARMtastic, kids get to see what we talk about in social studies. Kids learn that food comes from farms, and they learn how it gets to consumers."
As the children go through the different stations, she continues, they learn practical information about growing gardens, as well as about forests and trees.
"Other teachers should plan to participate in FARMtastic to give their kids knowledge of where their food comes from and how it gets to them," Huff emphasizes. "It's a good experience."