What's New in Extension
Extension Holds New Agronomy Camp
Compiled by Leah Barbour • Photo by Kevin Hudson
To introduce young people to agronomy—the study of soil management and crop production, the Mississippi State University Extension Service organized its first Youth Agronomy Day Camp in July.
Bill Burdine, camp organizer and Extension regional agronomic crops specialist, planned the camp, which was held in Verona at the North Mississippi Research and Extension Center. Along with learning about corn, cotton, and soybean production, young people also learned about insects and water quality.
Technological instruction included learning about how unmanned aerial vehicles can benefit agricultural production. Leaders also discussed how science projects could be developed from the information shared.
Each camp attendee received a bag of soil and plants to grow on their own at home. Organizers hope to increase attendance at next year's day camp.
---
Larry Alexander Fund Gives to the Future of 4-H
Story by Leah Barbour • Photo by Michaela Parker
For 38 years, Larry Alexander shared 4-H Youth Development programs and services with Mississippi State University Extension Service agents, specialists, volunteers, and anyone who would listen. His emphasis on 4-H earned him a nickname: "Mr. 4-H."
As Extension leaders prepared to celebrate Mr. 4-H's retirement celebration in July, one member of the 4-H Foundation Advisory Board decided something special needed to happen to honor Alexander's years of service. After all, "Larry's been the go-to guy for 38 years," says Harry Dendy, the board member who spearheaded the organization of the Larry Alexander STEM 4-H Endowed Scholarship Fund.
The fund acts as a holding place until the balance reaches $25,000, says Extension assistant director of development Will Staggers. Then, Alexander will set the parameters of the scholarship.
To contribute to the Larry Alexander 4-H Fund, visit www.msufoundation.com and use fund number 403367, or contact Staggers at wstaggers@foundation.msstate.edu or (662) 325-2837.
---
Extension Offers Ag Literacy Workshop for Teachers
Compiled by Leah Barbour • Photo by Kevin Hudson
Continuing its mission to enhance the viability of Mississippi agriculture, the Mississippi State University Extension Service works to introduce young people to agricultural literacy, an understanding of the important role agriculture plays in their daily lives.
Dr. Mariah Morgan and Dr. Jamie Varner, both with Extension's Center for Technology Outreach, created "From Micro to Macro: Growing Ag Literacy," a summer workshop for teachers and Extension agents. Extension specialists shared classroom activities for teachers to educate students about photosynthesis, gardening, food deserts, and crop management.
Teachers who attended said they plan to incorporate the activities into their classrooms, and they look forward to teaching their students the importance of agriculture in a fun, engaging way.
---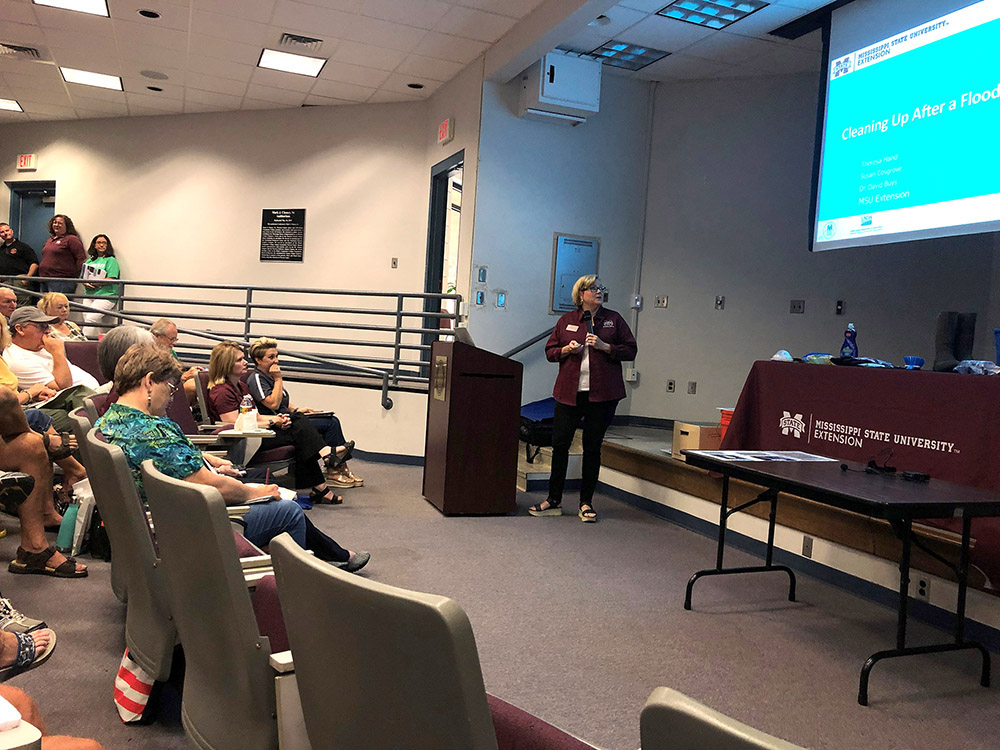 Extension Offers Resources to Residents Affected by Backwater Flooding
Story by Nathan Gregory • Photo by Nathan Gregory
Mississippi State University Extension Service agents working in the south Mississippi Delta held workshops for residents impacted by backwater flooding in the Yazoo River basin as they clean up their homes and property.
Record rainfall accumulations last winter, coupled with high Mississippi River levels, forced the US Army Corps of Engineers to close the water-control structure gates for about 2 months. This kept the river from flowing into the Yazoo River basin, but 600,000 acres were still flooded, including 250,000 acres of farmland. Much of this land was under water for as long as 6 months.
Sandy Havard, Extension agent in Warren County, held listening sessions for affected residents and producers in July and August. The July session included a presentation from Theresa Hand, Extension agent in Hinds County, and Susan Cosgrove, family resource management Extension associate, on post-flood house and property cleanup. Emily Carter, Extension agent in Issaquena and Sharkey Counties, held a similar meeting in July.