Information Possibly Outdated
The information presented on this page was originally released on September 17, 2009. It may not be outdated, but please search our site for more current information. If you plan to quote or reference this information in a publication, please check with the Extension specialist or author before proceeding.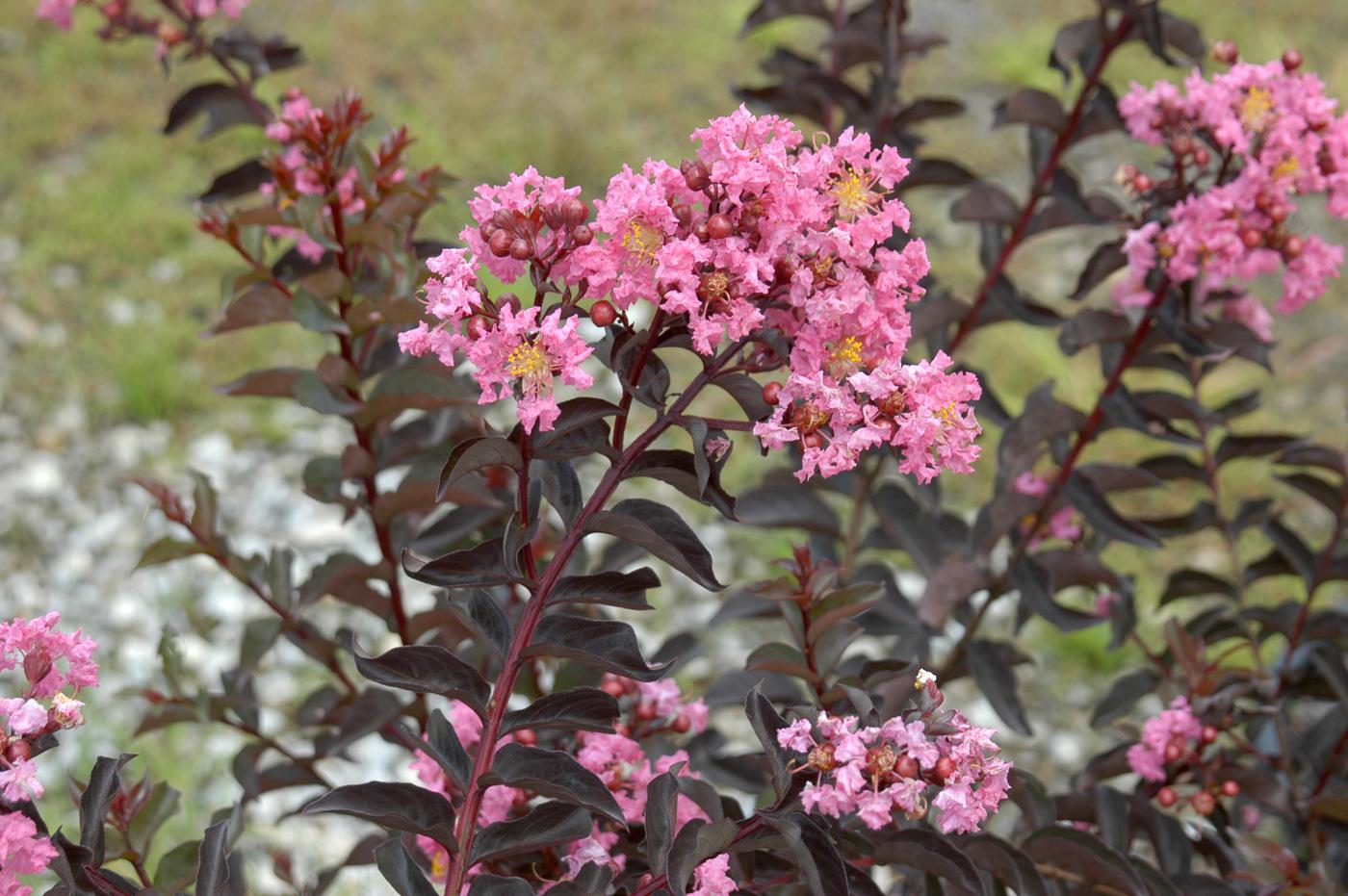 MSU licenses new crape myrtle variety
MISSISSIPPI STATE -- Sales will begin next year for Delta Jazz, a new crape myrtle developed by Mississippi State University that has maroon foliage and handles the heat of Southern summers.
MSU researchers developed and licensed this variety to Plant Development Service Inc. of Loxley, Ala., for commercial sale through the Southern Living Plant Collection. PDSI has established itself as a global leader in new plant introductions. Delta Jazz will be available for purchase in garden centers across the Southeast in the spring of 2010.
Patricia Knight, director of MSU's Coastal Research and Extension Center in Biloxi, co-invented the plant with Wayne McLaurin, who is a visiting MSU professor.
"This crape myrtle has foliage that appears to be maroon, although it is actually a dark brown color," Knight said. "Many plants with dark leaves scorch in the heat of Mississippi, but this plant maintains its color, and the foliage is accented by medium pink flowers."
Knight said the tree can stand alone in the landscape because of the color of its foliage, or several can be grouped together to showcase of the blooms in the summer.
Knight said the tree was identified in Poplarville at the South Mississippi Branch Experiment Station, part of the Mississippi Agricultural and Forestry Experiment Station. Once identified as unique, the researchers began to evaluate the potential of the specimen.
"This crape myrtle has probably exceeded expectations, and we were contacted by industry to release it," Knight said.
Robert "Buddy" E. Lee is director of plant innovations for PDSI.
"Our initial attraction to the Delta Jazz crape myrtle was the unique leaf color, this really rich raspberry-maroon, especially on the new growth," Lee said. "It's also really easy to grow. We think that consumers will appreciate and be drawn to this plant."
The Southern Living Plant Collection includes shrubs, annuals, perennials, bulbs and groundcovers, and will include the Delta Jazz crape myrtle next year.
Chase Kasper, licensing associate for MSU's Office of Technology Commercialization, helped guide Delta Jazz through the licensing process. MSU began conversations about licensing with PDSI in the fall of 2008, and the license was signed in July. As a licensee, PDSI has the right to propagate and sell Delta Jazz through its licensed wholesale grower group.
"We're excited about formalizing the relationship with PDSI and are confident that they will be successful in commercializing Delta Jazz," Kasper said. "The company is ramping up production now to release it in the spring in anticipation of the planting season."
Kasper said MSU's Office of Technology Commercialization looks for ways to transfer technologies that emerge from MSU research for the public benefit, usually through a commercial partner.
"A company that licenses the technology that we discover is given the right to take the technology to market," Kasper said. "MSU holds more than 250 technologies in its portfolio, including nearly 100 issued patents. The portfolio primarily consists of forestry, agricultural and engineering-related inventions, reflecting the university's land-grant heritage."
MSU receives a revenue stream when its licensed products are sold.
Released:
September 17, 2009

Your Extension Experts
Assoc Extension/Research Prof