Information Possibly Outdated
The information presented on this page was originally released on August 20, 2015. It may not be outdated, but please search our site for more current information. If you plan to quote or reference this information in a publication, please check with the Extension specialist or author before proceeding.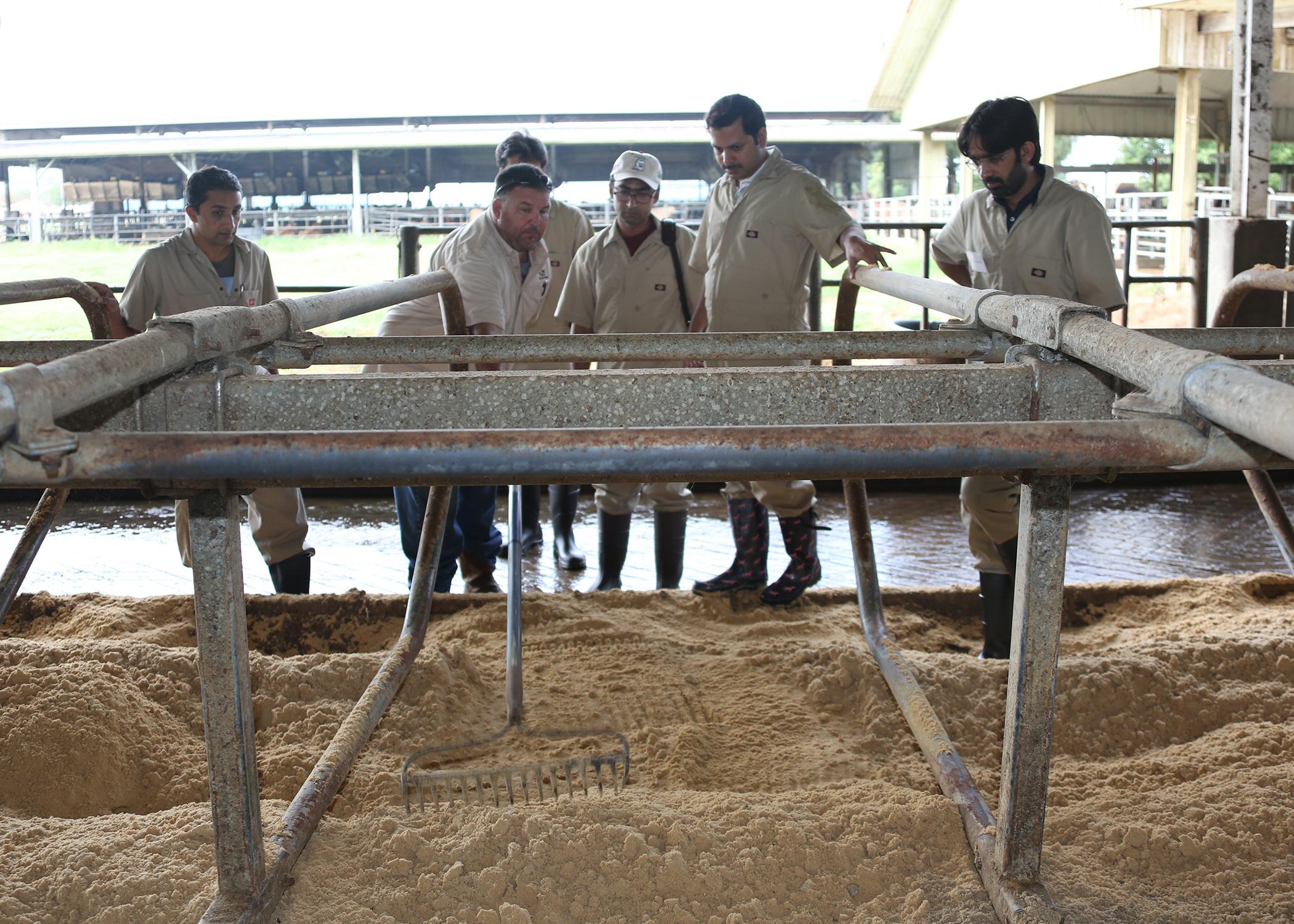 Overseas guests benefit from MSU knowledge
STARKVILLE, Miss. -- Groups of agricultural professionals from three countries visited Mississippi State University over the last month to take advantage of training opportunities offered through the U.S. Department of Agriculture Foreign Agricultural Service.
Industry professionals, scholars and government officials from Albania, Bosnia-Herzegovina and Pakistan received training from universities, private companies and government agencies across the state to enhance their skills in agricultural disciplines of their choosing. Representatives of the MSU Extension Service and Mississippi Agricultural and Forestry Experiment Station hosted participants as they visited the H.H. Leveck Animal Research Center and the R.R. Foil Plant Science Research Center, among several other MSU facilities.
Visitors from Albania participated in the program to learn more about agricultural policy from their American counterparts. Participants from Bosnia-Herzegovina came to Mississippi and MSU to study irrigation and drainage management systems. Pakistan agricultural representatives studied herd management. Groups from Albania and Bosnia-Herzegovina were funded through the Cochran Fellowship Program.
Named after U.S. Sen. Thad Cochran, the Cochran program has provided training for more than 16,300 fellows from more than 123 countries since it was established in 1984. The program is intended to assist eligible middle-income countries in developing agricultural systems that meet the needs of their populations and to strengthen trade relations between those countries and agricultural interests in the U.S.
Mary Love Tagert, assistant Extension professor in the MSU Department of Agricultural and Biological Engineering, served as a host for the group from Bosnia-Herzegovina.
"They appreciated seeing how we irrigate and manage our water resources here in Mississippi, and they learned how soil moisture sensors can be used to improve irrigation scheduling," Tagert said. "They were impressed how we capture and reuse irrigation tailwater and hope to share that with farmers in Bosnia. They were surprised at how well various agencies, organizations and academic institutions in Mississippi work together to address certain water resource issues."
Tagert said the Cochran fellows from Bosnia also learned how effective the land-grant university system can be in disseminating research findings to stakeholders.
"Bosnia has a climate similar to that of Mississippi, so some of the practices they saw here can be applied at a smaller scale in their home country," Tagert said.
Bernisa Klepo, audit manager with organic production certification organization Organksa Kontrola in Bosnia-Herzegovina, said she wanted to take part in the Cochran program to study water conservation methods and practices in the U.S. to help improve irrigation systems currently used by producers in her home country. Demonstration of water conservation practices is a requirement for organic certification of produce exported from Bosnia to European Union countries.
"A lot of the methods we saw here were used on large-scale farms, but some of those are applicable in Bosnia. We have a lot of small-scale farmers, and a lot of techniques that are used here, such as soil moisture sensors, are used in Bosnia, but only at some research stations. You can't find results of this research and how to implement it at real farms," Klepo said. "We don't know where we are in using our water resources, and that's a big issue. It's important to take all these findings we've learned here to our governmental organizations in charge of measuring our water resources to ensure we are using our water efficiently."
Muhammad Saadullah, a lecturer of animal husbandry and animal nutrition at the University of Veterinary and Animal Sciences at Lahore in Pakistan, said he is helping launch a demonstration farm for students at that university.
"This is a new era in the dairy industry of Pakistan to introduce U.S. Holstein cows into Pakistan," Saadullah said. "We are looking to U.S. genetics to learn how dairy cows can be managed to be more profitable. The environment in Mississippi is close to the environment in Pakistan with the same heat problems and feeding challenges. We wanted to come to Mississippi State University because we wanted to learn how to manage livestock when we face those problems."
Released:
August 20, 2015