Information Possibly Outdated
The information presented on this page was originally released on September 28, 2016. It may not be outdated, but please search our site for more current information. If you plan to quote or reference this information in a publication, please check with the Extension specialist or author before proceeding.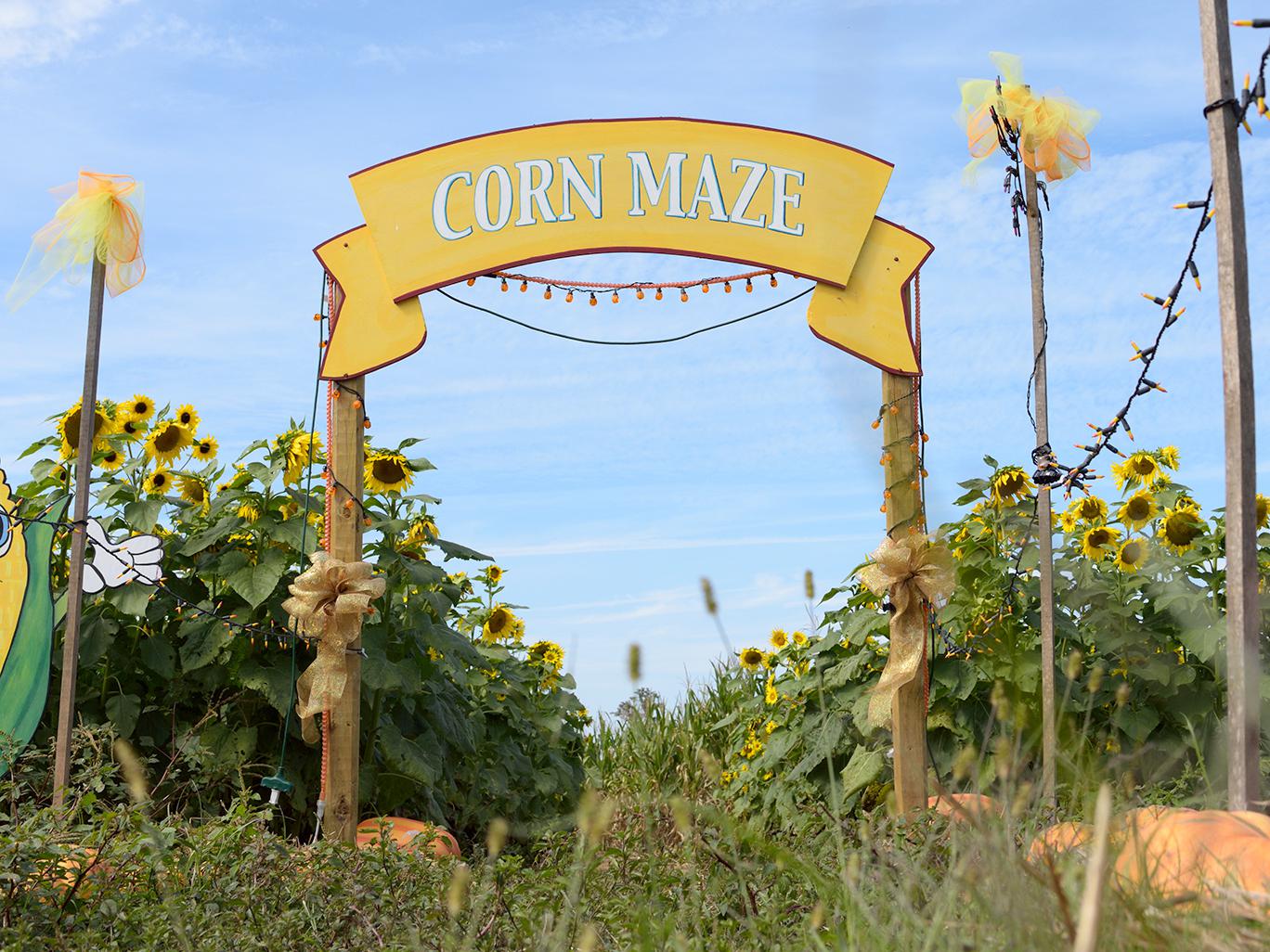 High season begins for agritourism industry
DUCK HILL, Miss. -- Mississippi is one of many states to proclaim October as Agritourism Month, but the industry's peak season has already begun in earnest.
Katie Robinson, owner of Bull Bottom Farms in Montgomery County and president of the Mississippi Agritourism Association, opened her family farm's seventh annual fall festival to the public Sept. 23. She and her husband, Nic, a row crop producer, will host families, students and church groups for the next five weekends.
"We love agritourism and what it has done for our family," she said. "Agritourism is an asset to the state because it provides a good, safe environment for kids, groups and families to come see what farms are all about."
The farm features several attractions seen at many Mississippi agritourism sites, including a corn maze, a pumpkin patch and live animals. The family has worked to incorporate a wide range of activities to entertain families. Among those are a magic carpet slide, a hay ride and pig races. They've added two new activities this year: a corn cannon and a catfish feeding pier.
"Nic grew up on this farm, and about eight years ago, we were looking for a way to move back home. He wanted to farm with his father but knew there was no way row crop production alone could support two families, so we started researching ways to diversify the farm to make it produce more income," Robinson said. "We took a leap of faith, I quit my sales job, and we moved back to Mississippi. That's how Bull Bottom Farms was born."
The Mississippi State University Extension Service supports the state's growing agritourism industry. Extension began making a push in 2005 to encourage Mississippi producers to create activities that attract visitors to rural areas while educating the public about the importance of agriculture.
Rachael Carter, an economic development specialist with the MSU Extension Center for Government and Community Development, said incorporating agritourism adds a welcome element to local revenue streams.
"Agritourism is a way to diversify farm revenues, educate people about our food production, and create a sense of connection between local farms and our communities," she said. "Extension is working on creating a brand for agritourism, and we are offering a marketing and branding workshop in December to showcase agritourism and local foods efforts working together."
Sylvia Clark, Extension associate for family and consumer sciences, noted the economic benefits and the educational value that agritourism offers the state.
"People who have opened their farms to the public in Mississippi have done a great job of including entertaining activities for children, and those experiences can't be had just anywhere," Clark said. "In addition to being fun for children, these sites show them the direct link between the food they eat and where that food comes from. It sounds simple, but a lot of children do not understand that link. Seeing an operating farm firsthand fosters an appreciation for the work our producers put in to feed the state and the world."
To Robinson, family farms that offer an agritourism component give children the chance to disconnect from electronic devices and get exercise.
The only reason you need a phone at our farm is to take pictures and capture moments you will never want to forget," she said. "Bring your kids to one of these farms and let them see how wonderful it feels to be outside and actually be worn out from too much fun. Anything that encourages them to put down their phones and get outside is good, and the fact that they are picking a day on the farm over a day of staring at a screen is a win for them and the producers."
Find local agritourism sites at http://www.mississippiagritourism.org.members/htm.
Released:
September 28, 2016