Information Possibly Outdated
The information presented on this page was originally released on July 29, 2016. It may not be outdated, but please search our site for more current information. If you plan to quote or reference this information in a publication, please check with the Extension specialist or author before proceeding.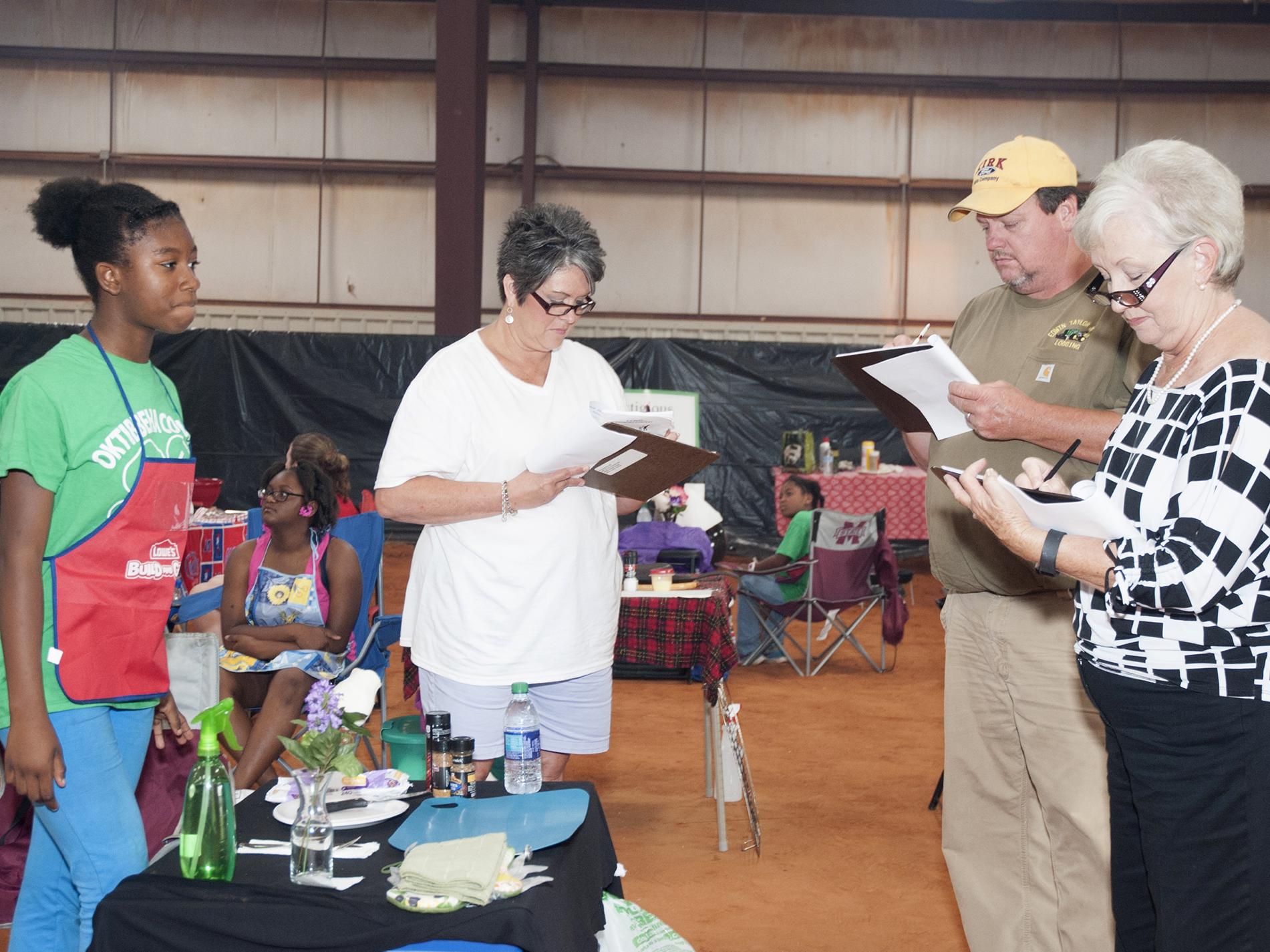 State 4-H members fire up the grills
By Michaela Parker
MSU Extension Service
Learn by doing…
WINONA, Miss. -- Families, friends and agents of the Mississippi State University Extension Service watched smoke rise from several grills housed inside the Montgomery County Coliseum as an aroma of herbs, spices and charcoal filled the air.
Each year, dozens of 4-H members from Mississippi pack their grills, meat, utensils and secret ingredients to compete in the annual state 4-H Cook-Out.
The 4-H Cook-Out competition is split into two divisions -- one for the north half and another for the south half of the state. Through 4-H and competitions such as this one, young men and women have the opportunity to learn safe and proper grilling.
"We want to teach our young people the essence of cooking using a charcoal grill," said Larry Alexander, state 4-H program coordinator. "The main purpose is to be safe but also think about the cleanliness of the utensils. This is an opportunity for the kids to learn how to properly prepare foods in the outdoors."
Kay Emmons, a retired Extension agent of 30 years and volunteer judge for the cook-out competition, said it is one of her favorite 4-H contests.
"It brings in kids who ordinarily might not participate in the livestock competitions, but everybody has to eat. They learn about safety and health and the basic survival skill of how to cook because of this contest," Emmons said. "The kids come here, and many don't know each other, but they instantly connect because they all have 4-H in common."
Competitors can choose to prepare beef, pork or poultry for a panel of judges. They can bring their own rub or marinade recipes.
Typically, they use a variety of spices, including barbeque rub, salt, paprika, Worcestershire sauce, chili powder and other various seasonings to flavor their choice of meat. Some competitors rely on their own special top-secret recipes.
Nancy Strickland, the promotion and consumer information director at the Mississippi Beef Council, has been involved with the cook-out for more than 15 years.
"I normally set up for the contest and help the judges get ready for judging the competitions," she said. "It's always exciting for me to see if the north or south has the most people to compete."
The number of contestants at the north half state 4-H Cook-Out has increased over the years. In 2016, several younger 4-H members fired up their grills to compete for the first time.
"Most of the contestants are younger, so they are our future in 4-H," Strickland said. "It's fun to watch the younger kids, especially if it's their first time competing. Some are very nervous, while others are so excited about what they're doing."
Audrey Eldridge of Montgomery County made her grand debut in the competition in 2016.
"I was not really nervous. I practiced my recipe and cooking skills at my house before the competition," Eldridge said. "I cook all the time. When I heard that there was a grilling competition, I knew I wanted to do it."
Each competitor can receive up to 100 points for his or her entry. Judging is divided into four categories: safety and efficiency, contestant appearance, degree of doneness and excellence of meat.
Nelda Starks, retired 4-H state program specialist, said annual cook-out competitions allow students to practice the motto of 4-H.
"Our slogan is 'Learn by Doing,' and this competition gives the children the opportunity to actually participate in the Learn by Doing process," Starks said. "They have to practice grilling while they are at home, and they practice with their county agents and 4-H volunteers."
Eli Magness of Tate County was one of the many winners for the north. He was awarded the overall first place in the beef category for his seasoned steak-and-vegetable kabobs. Magness serves as the 2016 state 4-H Council parliamentarian and a National 4-H Conference delegate.
"I was so fortunate and blessed to take overall top place in the beef category with my kabobs," Magness said. "4-H has been such a great outlet for me to do the things that I love to do, and I'm so grateful for the opportunities 4-H has given me."