Information Possibly Outdated
The information presented on this page was originally released on February 7, 2020. It may not be outdated, but please search our site for more current information. If you plan to quote or reference this information in a publication, please check with the Extension specialist or author before proceeding.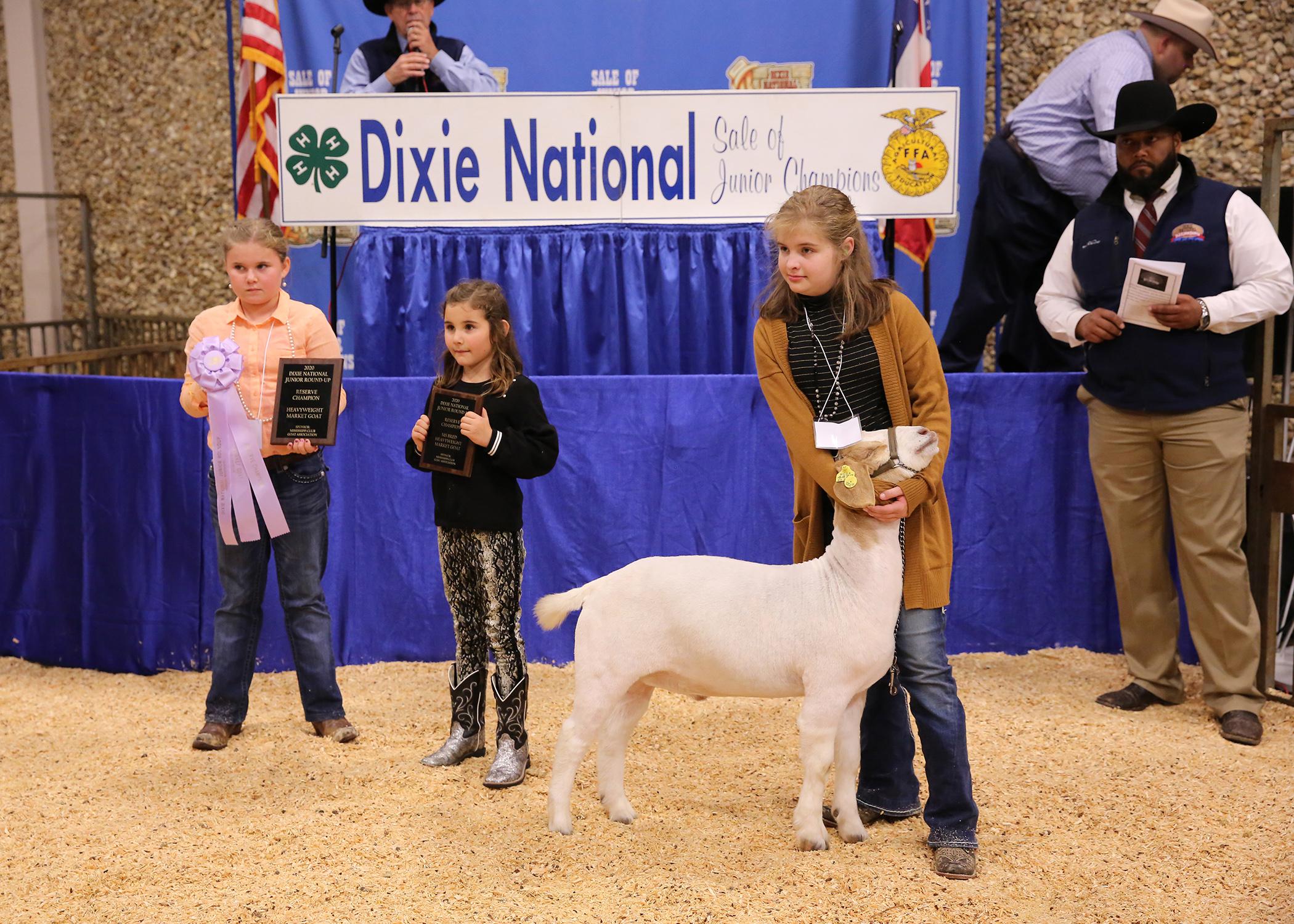 4-H'ers compete in Dixie National Sale of Champions
JACKSON, Miss. -- Melissa Tolar was hopeful that her daughter, Emmy, would be featured in this year's Dixie National Sale of Champions, but she admitted to some uncertainty about her chances at first.
Emmy, a 12-year-old 4-H'er from Marion County with autism, had difficulties with communication and presenting her animals dating back to when she began showing livestock four years ago. To advance to this year's sale, one of the goats she showed had to place first in the Dixie National Junior Round-Up.
Both of Emmy's goats placed first in the round-up. Her reserve heavyweight market goat reached the sale of champions, which was held Feb. 6.
"I was just sitting there watching her, and I started to cry," Melissa Tolar said. "I never thought five years ago that Emmy would have been able to do this, and here she is. When that judge shook her hand, I just screamed because I was blown away that she was able to get to this point. People were hugging our necks and clapping and cheering for us."
Emmy was one of 1,619 4-H and FFA members who competed in the Junior Round-Up throughout the week. Exhibitors showed 2,221 head of livestock.
Her mother credits the Mississippi State University Extension Service, which oversees the state's 4-H programs, with assisting in her development.
"4-H has been a great program for her. I can't say enough about her Extension agents and what they've done to help her," Melissa Tolar said. "To me, this is the best program in the state for helping a child with special needs because it is inclusive. If she has had problems in the ring, there has been an agent or kid right there to help her."
This year's sale included 46 champion market animals, including 15 hogs, 12 goats, 10 lambs and nine steers. The preliminary total sale was $404,395, which breaks the previous record set last year by more than $20,000. Sale proceeds for hogs reached $135,700; steers, $98,600; goats, $88,870; and lambs, $81,225.
"If you add up all the MSU Extension agents, faculty and staff along with FFA advisors and personnel with the Mississippi Department of Agriculture and Commerce, you have a total of 175 people who helped make this year's Junior Round-Up and Sale of Champions happen," said Dean Jousan, MSU Extension 4-H livestock specialist. "Their efforts make all the difference in this event being so successful each year."
Reuben Moore, interim vice president of the MSU Division of Agriculture, Forestry and Veterinary Medicine, said the round-up and sale are good opportunities for Extension to contribute to the lives of young people.
"The 4-H livestock program is important to me because I am a product of it. I wouldn't be standing here today if it wasn't for the 4-H livestock program," Moore said. "So many life skills are taught. Life is full of wins and losses, and these young people who go through this program know how to face that when they get later into life. Not all of the exhibitors make it to the sale, but they're still going to get the benefits of showing livestock, and they are going to win in life as a result."
During its 51-year run, the sale has generated $7.68 million. A program associated with the sale has awarded $949,700 in scholarship money to 4-H and FFA members since it began in 1993. This year, it will award a total of $58,500 in scholarships.
Released:
February 7, 2020