Information Possibly Outdated
The information presented on this page was originally released on July 22, 2010. It may not be outdated, but please search our site for more current information. If you plan to quote or reference this information in a publication, please check with the Extension specialist or author before proceeding.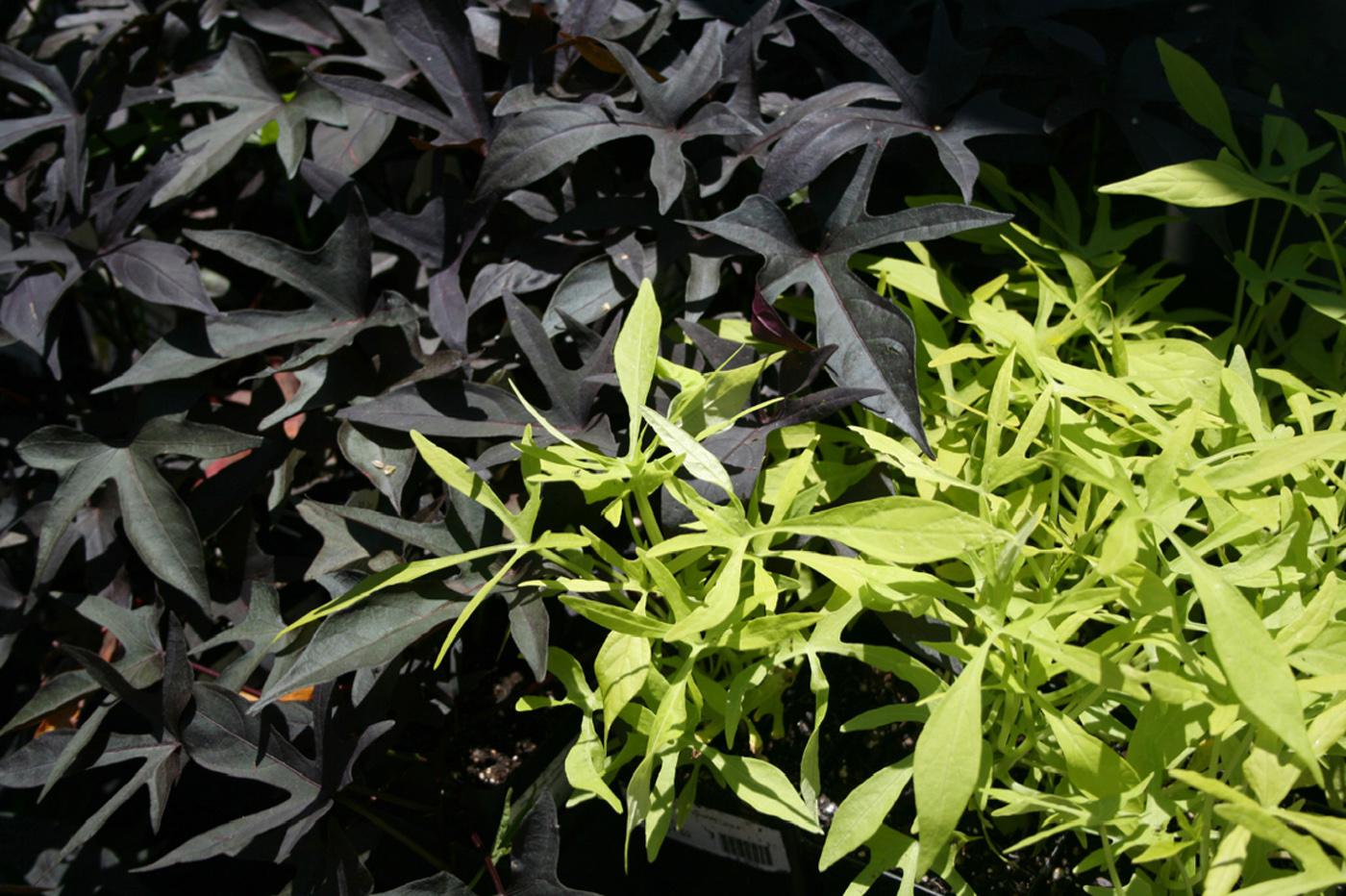 Ornamental sweet potatoes add plenty of foliage color
What relative of the morning glory makes an ornamental ground cover featuring beautiful, colorful foliage?
If your answer is ornamental sweet potatoes, then you are right. Ornamental sweet potatoes, known botanically as Ipomoea batatas, are actual sweet potatoes selected for their vivid and attractive leaves. The plants produce a flower that resembles a morning glory but is hidden by the foliage. They also produce edible tubers.
Long-time favorites include Margarita, with its large, lime-green leaves; Blackie, with its dark purple to black leaves; and Tricolor, with its green, pink and white leaves. New varieties have an amazing array of colors and leaf shapes.
The Sweet Caroline series offers a wide selection for the landscape. The series has two leaf shapes: cut-leaf and heart-shaped. The colors available in cut-leaf include bronze, green, yellow, light green, purple, red, Emerald Lace and Midnight Lace. Heart-shaped colors include light green, purple, red and black.
A great way to spice up the landscape is to interplant contrasting colors of the ornamental sweet potato. Try combining Sweet Caroline bronze with light green, or Emerald Lace with Sweet Caroline purple.
Ornamental sweet potato is fantastic in combination container plantings. The vines cascade over the container edges and work their way around, between and sometimes over the other plants in the container. Coleus and cannas have a wide variety of foliage colors and make excellent planting partners for ornamental sweet potatoes.
Since ornamental sweet potatoes can be vigorous growers, they may become a little unruly and overrun less vigorous plants. Simply prune back to keep them in bounds. The pruning will not impact plant health and will help maintain dense growth.
Flea beetles are about the only serious pest ornamental sweet potatoes have. Check with your local Mississippi State University Extension office for the best control measures for these pests.
Plant in full sun for the best color display. The plants benefit from a good, well-drained organic soil. When preparing the planting bed, mix about 2 pounds of slow release fertilizer per 100 square feet. This may be a bit wasteful since ornamental sweet potatoes spread out quite a bit. Alternatively, drop a tablespoon of slow release fertilizer into each planting hole to supply nutrients through the season.
Ornamental sweet potatoes need consistent moisture. Be sure to irrigate, especially in dry periods, to help maintain good plant health.
Ornamental sweet potatoes are annuals in Mississippi except in the coastal counties, where the vines will come back unless the winter was extremely cold.
Elsewhere, the vines may overwinter in protected micro-climates. Lift the tubers in the fall and store them in a cool, dry place. Plant tubers the following spring, along with other annual bedding plants.
Ornamental sweet potatoes add annual color to every landscape in which they are found. Why not enjoy them in yours?

Your Extension Experts
Assoc Extension/Research Prof
Turfgrass Extension Specialist/Weed Scientist/Weed Control-Turf and Ornamentals