Gulf Coast Fisherman
---
NOAA EXPANDS OPPORTUNITIES FOR U.S. AQUACULTURE
On January 11, 2016, NOAA filed a final rule implementing the nation's first comprehensive regulatory program for aquaculture in federal waters. The groundbreaking rule creates a coordinated permitting system for the Gulf of Mexico, opening the door for the region to expand seafood production and create new jobs in an environmentally sustainable manner. "As demand for seafood continues to rise, aquaculture presents a tremendous opportunity not only to meet this demand, but also to increase opportunities for the seafood industry and job creation," said Kathryn Sullivan, Ph.D., NOAA administrator. "Expanding U.S. aquaculture in federal waters complements wild harvest fisheries and supports our efforts to maintain sustainable fisheries and resilient oceans."
Aquaculture is the practice of raising marine species in controlled environments. In the U.S., federal waters begin where state jurisdiction ends and extend out to 200 miles offshore. In this case, federal waters begin three nautical miles off Louisiana, Mississippi, and Alabama and nine nautical miles off Texas and the west coast of Florida. "While this framework is the first of its kind in federal waters, the states already support many successful and thriving aquaculture operations in their waters," said Eileen Sobeck, assistant NOAA administrator for fisheries. "Allowing this type of seafood production will not only reduce U.S. dependency on imports, but also provide a domestic source of sustainable fish protein and create jobs."
The new rule authorizes NOAA Fisheries to issue permits to grow species such as red drum, cobia, and almaco jack in federal waters in the Gulf for an initial period of 10 years. The rule took into account thousands of public comments. The permit process includes comprehensive safeguards to ensure healthy oceans and coasts and considers other uses of ocean space, such as fishing. The rule implements environmental safeguards, including a baseline survey, monitoring, and reporting requirements. In addition to a NOAA permit, farming fish in federal waters also requires permits from the U.S. Environmental Protection Agency and the U.S. Army Corps of Engineers. NOAA Fisheries is working with these agencies to set up a coordinated permitting process for the Gulf. "This is all about managing and expanding seafood farming in an environmentally sound and economically sustainable way," said Michael Rubino, director, NOAA Fisheries Office of Aquaculture. "The permit process we've laid out accounts for the region's unique needs and opens the door for other regions to follow suit."
Right now, there are no commercial aquaculture operations in federal waters. But three offshore mussel farms received federal permits from the U.S. Army Corps of Engineers last year – two off Massachusetts and one off California. The Army Corps and U.S. Environmental Protection Agency are also considering an application for a company seeking to farm fish in federal waters off California. Commercial farming of marine species, such as oysters, clams, mussels, and salmon, has operated in state waters for many years. For example, U.S. aquaculture products generated $1.4 billion in value in 2013—20 percent of total U.S. seafood production and fishery products by value. For more information on this rule, please visit: http://www.nmfs.noaa.gov/stories/2016/01/offshore_aq_rule.html. For more on U.S. marine aquaculture, in general, go to: http://www.fisheries.noaa.gov/aquaculture/index.htm. For videos on U.S. marine aquaculture, go to: https://vimeo.com/149228079.
FISHERIES SUMMIT 2016 SLATED AT PONTCHARTRAIN CENTER
The fourth annual Louisiana Fisheries Forward (LFF) Summit will be held on March 1, 2016, 8:30 am to 4:00 pm, at the Pontchartrain Center in Kenner, La. This free event will run as an expo, with hands-on demonstrations running throughout the day and ongoing trade show; examples of demonstrations include:
Fisheries biology, Louisiana Department of Wildlife & Fisheries (LDWF)
Water chill, brine & plate freezing systems, LFF Quality Trailer
Seafood packaging, Louisiana State University AgCenter Food Incubator
Crab shedding & black spot research, Louisiana Sea Grant (Sea Grant)
Marine vessel stability, University of New Orleans
Nano ice machine, Sea Grant
Turtle excluder devices, National Marine Fisheries Service/NOAA
Refrigeration repair, LeBlanc & Associates
Experts will cover important industry topics, such as H2B visas, harbor of refuge, new U.S. Coast Guard Regulations, and an update on fisheries management and regulations by LDWF. The expo will also feature a buyers' panel to help fishermen learn new ways to sell their catch; panelists will represent a variety of buyers, including a farmer's market, direct sales program, grocery store, and chef. The Summit is part of the Louisiana Fisheries Forward initiative, a voluntary education program for the commercial seafood community. A collaboration of LDWF, Sea Grant and LSU AgCenter, LFF was established with the goal of improving the economic success and environmental sustainability of the commercial fishing industry. Though free, participants should register online, in advance, at http://LaFisheriesForward.org/Summit to secure a seat and lunch ticket.
FORMER CONGRESSMAN TO HEAD LOUISIANA FISHERIES
Louisiana's Department of Wildlife and Fisheries, which governs commercial and recreational fishing in the state, got a new boss in January. Charlie Melancon, a former member of the U.S. House of Representatives and state legislator, was appointed to the job by the state's new governor, John Bel Edwards. Although much of his non-political work in the past has centered on the state's sugar cane industry, Melancon said he is confident that other experience, including working closely with fishermen when in Congress, has prepared him well for this new challenge. "My experience is in sitting down at the table and working through problems, that is what I have always brought," Melancon said. "Whether it's dating or a marriage or a political relationship, and that is what I have always brought, sitting down and compromising and finding common ground."
Melancon replaces Robert Barham, who ran the agency during former Gov. Bobby Jindal's terms, and was seen generally as more sensitive to the sport-fishing industry. During his years in Congress, Melancon worked closely with commercial fishermen, particularly during their quest, along with processors, to win tariffs against imported shrimp. "Some people have said they don't know how someone who is not from the coast can relate to commercial fishing issues," said Kimberly Chauvin, who owns shrimp boats and docks in Terrebonne Parish, La., mostly in the fishing community of Dulac. "But he always worked well with us. He knows farming, and there are a lot of similarities between farmers and fishermen."
PROPOSED RULE TO REALLOCATE GULF OF MEXICO RED SNAPPER
NOAA Fisheries is seeking public comment on a proposed rule that would set 2016 and 2017 Gulf of Mexico red snapper quotas and recreational annual catch targets. These changes would result with the approval of Amendment 28 to the Fishery Management Plan for the Reef Fish Resources of the Gulf of Mexico submitted by the Gulf of Mexico Fishery Management Council. This amendment proposes to reallocate the 2016 and 2017 red snapper stock annual catch limit between the commercial and recreational sectors from 51:49 percent to 48.5:51.5 percent, respectively.
The proposed rule published in the Federal Register on January 25, 2016, with the comment period ending March 10, 2016. NOAA Fisheries encourages constituents to access the proposed rule and Amendment 28 for more complete information.
If implemented by NOAA Fisheries, this rulemaking would result in revising the 2016 and 2017:
Commercial quotas,
Recreational quotas and annual catch targets,
Sub-quotas and annual catch targets for the private angling and federal for-hire components within the recreational sector.
The 2016 and 2017 quotas and annual catch targets in millions of pounds gutted weight are shown in the following table:
Sector or component

Quota

Annual catch target

2016

2017

2016

2017

Commercial

6.768

6.664

---

---

Recreational

7.192

7.076

5.754

5.661

Federal for-hire

3.042

2.993

2.434

2.395

Private angling

4.150

4.083

3.320

3.266
NOAA Fisheries must receive comments on this proposed rule no later than March 10, 2016. We will address all comments specifically directed to Amendment 28 or the proposed rule in the final rule. You may obtain electronic copies of Amendment 28 and the proposed rule from the NOAA Fisheries Web site or the e-Rulemaking Portal: www.regulations.gov.
CIGUATERA FISH POISONING MAY RISE WITH OCEAN TEMPERATURE
A new NOAA study, published in the journal Ecological Modeling, forecasts an increase in ciguatera fish poisoning in the Gulf of Mexico and the U.S. Southeast Atlantic coast with predicted rising global ocean temperatures due to climate change. People can be affected by ciguatera, the most common form of algal-induced seafood poisoning, by eating contaminated tropical marine reef fish such as grouper, snapper, and barracuda. The fish can become contaminated with ciguatoxins, potent neurotoxins produced by Gambierdiscus, a microscopic algae common in the tropics. Ciguatera-causing algae are abundant in the Caribbean, and ocean warming would enable some of those species to move northward, increasing its presence in the Gulf of Mexico and the U.S. southeast Atlantic. Warmer temperatures could also mean larger and longer blooms of harmful algae, including those that produce ciguatoxins.
________________________________________________________________
This information was compiled by Dave Burrage, Peter Nguyen and Benedict Posadas. For more information, visit our office at 1815 Popps Ferry Road, Biloxi, MS 39532 or telephone (228) 388-4710.

Kindest Regards,
Dave Burrage
Extension Professor
MSU Coastal Research and
Extension Center

Your Extension Experts
Associate Extension Professor
Extension/Research Professor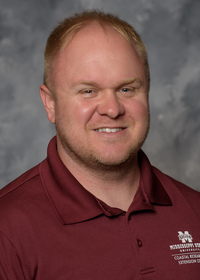 Assc Extension Prof & Director