Bird of the Month: Blue Jay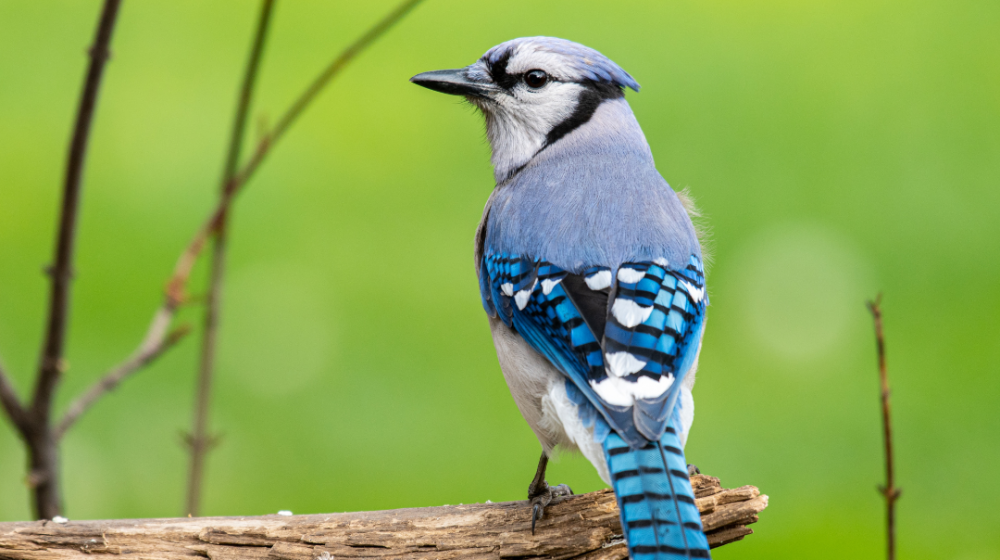 The blue jay will sound its loud call, "jay, jay," to alert other birds of a predator in the area. (Photo from Canva)
Blue jays are easy to recognize by both their noisy call and bold blue feathers. Also known as jaybirds, blue jays are members of the crow family and native to the United States.
They can be found in many habitat types, including pastureland, woodlands, and suburban areas. If you have plants with fruits, seeds, or nuts on them, they will frequent the area.
They are very social birds and are often found in groups. Mating season for blue jays begins mid-March and goes all the way into July. Most birds lay 2-7 blue eggs with brown markings on them.
Blue jays are very territorial birds. The blue jay will sound its loud call, "jay, jay," to alert other birds of a predator in the area. They've been known to even chase away other birds, like hawks and owls, and even squirrels! Observing a blue jay's behavior can be quite entertaining!
Blue jays have a blue head crest, pale blue back with white markings, a striped tail, and white breast feathers. One sure way to identify a blue jay is the distinctive dark "scarf" around their head. They are around 11 inches long and have a wingspan of around 16 inches. The only way to tell males and females apart is their size. Male blue jays are slightly larger than females.
To attract blue jays, set out tray feeders or hopper feeders on a post filled with seeds and nuts. They also enjoy drinking out of birdbaths. Check out our Schoolyard Nature Guide Publication for more fun facts and information on Mississippi's mammals, birds, reptiles, amphibians, and more!
Posted on:
February 28, 2023
Subscribe to Extension for Real Life
Fill in the information below to receive a weekly update of our blog posts.

Recent Posts
Nutritious sweet potatoes and reduced-fat cream cheese help make this fall pie a guilt-free dessert.
An easy way to tell the Eurasian collared dove from a mourning dove is by the black collar on their neck. (Photo from Canva Pro)