Don't Touch the Daffodils!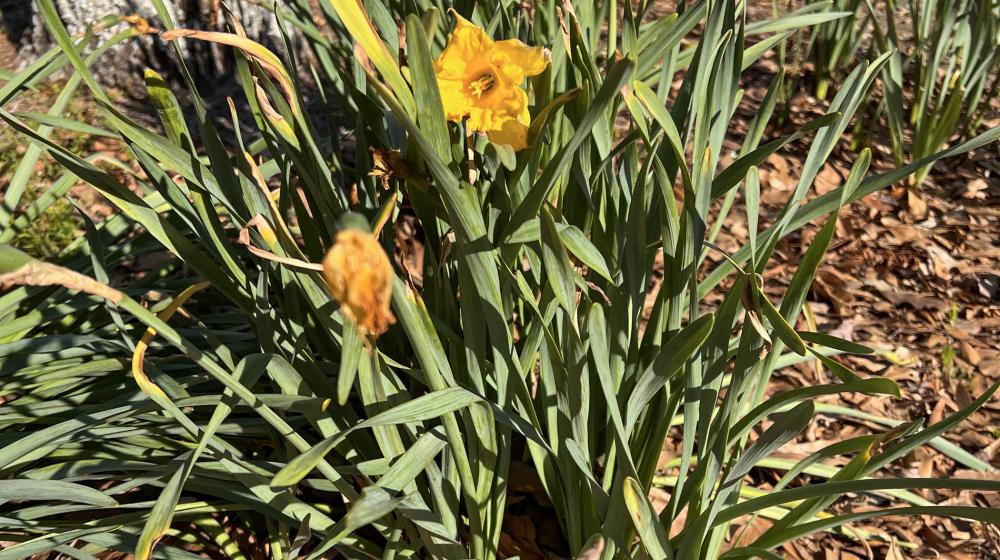 Daffodils can be pulled up when the leaves turn completely yellow by tugging on the foliage. (Photo by MSU Extension)
For a few short weeks, daffodils grace the planet with their beauty and remind us of warm weather right around the corner. These flowers are a favorite among many people, but when they start to fray, their foliage begins to look quite ratty. What was once bright and beautiful becomes quite the eyesore!
It's tempting to prune back the frayed daffodil plants to make them look tidier. No one wants the dead plants in their flowerbeds! However, it's recommended to leave them be. We know, we know—they aren't that pretty anymore. Why would you not cut down dead foliage? Because the dried-up daffodil leaves directly impact next year's blooms.
The leaves gather sunlight to make food that is stored in the bulb. This helps the flowers bloom the following year. The stems and leaves need to remain untouched for at least six weeks after they start to look dried up. This gives them adequate time to replenish the bulbs for next year. The flower heads can be removed from the plant once they are spent.
At what point can you start removing the fading leaves? It's recommended to handpick the daffodil foliage after the six weeks are up. They can be pulled up when the leaves turn completely yellow by tugging on the foliage. If the leaves pull off easy, then they're ready to be removed.
While we're talking about daffodils, you can plant bulbs in November for blooms the following spring! You can also plant daylilies, ferns, and other spring plants to help hide the unsightly daffodil foliage. Learn more about Mississippi's flowers in Publication 1826, "Annual & Perennial Flowers for Mississippi Gardens."
Posted on:
March 17, 2023
Subscribe to Extension for Real Life
Fill in the information below to receive a weekly update of our blog posts.

Recent Posts
Nutritious sweet potatoes and reduced-fat cream cheese help make this fall pie a guilt-free dessert.
An easy way to tell the Eurasian collared dove from a mourning dove is by the black collar on their neck. (Photo from Canva Pro)