Tips to Identify Oak Trees
What do turkey, water, willow, swamp chestnut, and white all have in common? If you guessed they're all native oak trees in Mississippi, you'd be a winner! Oak trees are the predominate tree in forests and are crucial to commercial forestry and wildlife. Mississippi is home to many oak species, 34 to be exact, each having unique characteristics.
Here are ways to identify six common oak species found in our state:
Chinquapin Oak – The Chinquapin oak got its name from its leaves! With their elliptical shape, the leaves resemble those of the Allegheny chinquapin tree. Their leaves are shiny, and typically 3 to 6 inches long and up to 3 inches wide. The chinquapin oak grows to be around 50 to 60 feet tall in deep, well-drained soils.
Overcup Oak – The leaves of overcup oak have a narrow base and irregular lobes with deep sinuses. The size of overcup oak varies. They can reach up to 100 feet tall with a diameter of 2 to 3 feet, but most are slightly smaller. You can find these trees in poorly drained, heavy soils in large bottoms. They are often found in sloughs, margins or swamps, and backwater areas.
Post Oak – If you're looking for post oak, you can find them on the highest, driest sites in the upland. It is a very drought resistant tree and often becomes the dominant tree species on dry sites. They are a medium-sized tree, around 40 to 50 feet tall and 1 to 2 feet in diameter. Post oak have leaves that are lobed, with the upper pair of lobes resembling a cross, and are typically 4 to 5 inches long.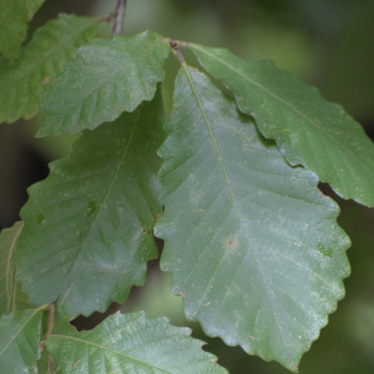 Swamp Chestnut Oak – The leaves of swamp chestnut oak have parallel veins with a wavy pattern of teeth on the edges. They often grow to be 100 feet tall and 3 to 5 feet in diameter. You're likely to find swamp chestnut oak in large creek bottoms. They prefer well-drained, loamy ridges and the occasional wet, clay flats.
Turkey Oak – The size and location of the turkey oak are important to remember when identifying. Turkey oak is commonly a small tree, typically growing 3 to 5 feet tall. In Mississippi, it's primarily found in the southeastern part of the state on dry, infertile sites with thin, rocky, or sandy soils. The leaves of turkey oak have slender lobes and deep sinuses.
Willow Oak – Just like a willow, the leaves of the willow oak are long and slender. They are large trees, often reaching 80 to 100 feet tall and 3 to 4 feet in diameter. Willow oak are commonly found on ridges and high flats of major bottoms.
Want to learn how to identify more oaks? We've got a blog post on how to identify different oaks using acorns and their leaves! The graphic was shared almost five thousand times on Facebook!
If you want to learn the tips and tricks to being a tree expert, check out this blog post on how to identify trees. To truly be an expert on the many trees of Mississippi, Extension Publication 146, "Know Your Trees," needs to be your go-to guide!! If you have a tree in your yard that you're uncertain about, your local Extension agent can help you find answers!
Subscribe to Extension for Real Life
Fill in the information below to receive a weekly update of our blog posts.

Recent Posts
Nutritious sweet potatoes and reduced-fat cream cheese help make this fall pie a guilt-free dessert.
An easy way to tell the Eurasian collared dove from a mourning dove is by the black collar on their neck. (Photo from Canva Pro)