Taste of Harvest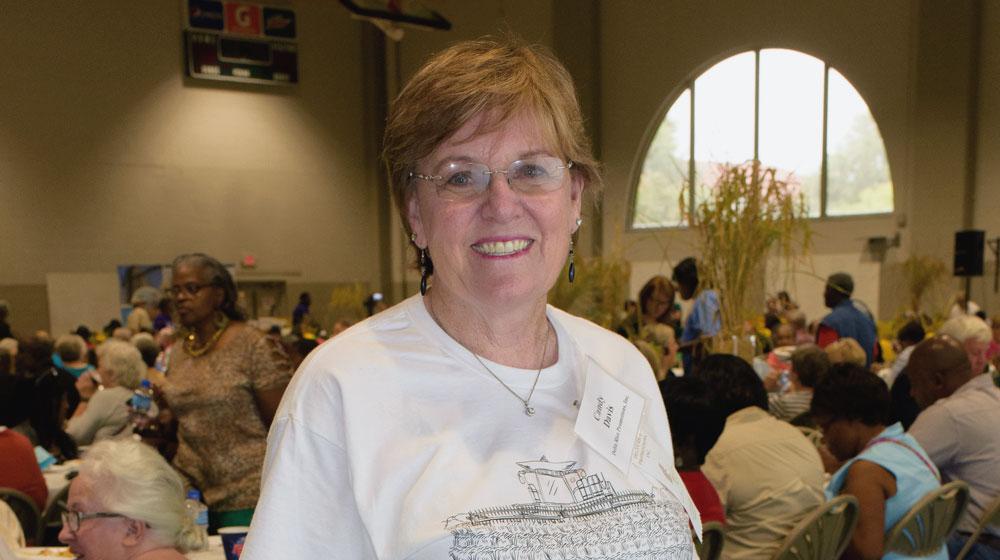 Representatives of the Delta Rice Promotion Board organize and deliver the Rice Tasting Luncheon.
Extension continues partnership with Delta Rice Promotion Board
Story by Candy Davis • Photo by Kevin Hudson
Rice is one of Mississippi's only commodities to be grown, milled, packaged, sold, and eaten right here in the state.
And, for decades, the annual Rice Tasting Luncheon in Cleveland, Mississippi, has allowed local residents to show off their best rice-based dishes at Delta State University in Bolivar County, which produces more than 1.5 million hundredweight of rice annually.
In September, the 29th annual Rice Tasting Luncheon was held at Wyatt Gymnasium, not the Walter Sillers Coliseum where the luncheon had been held for decades. The coliseum renovation and resulting change of venue, however, did not impact attendance at the 2019 luncheon.
Video by Farmweek
Hundreds attended, and representatives of the Delta Rice Promotion Board, which organizes and delivers the luncheon, agreed that putting on the event year after year is challenging, but support from the Mississippi State University Extension Service, as well as Mississippi Farm Bureau, allows them to put on a successful event annually.
"We try to show that rice is such a versatile ingredient for your table, from appetizers to desserts, and that's what we offer today. We try to educate people on what an important commodity it is for our county and our state," says Candy Davis, chair of the Delta Rice Promotion Board.
Extension plays a major role each year in preparing for the luncheon, Davis explains.
"My dish was a mix of things you might find at a Southern dinner table. It was fun transforming a traditional recipe into a 'rice dish' while thinking of new ways to use rice. For me, the most fun was working with friends on recipes for new rice dishes."
— EMILY SMITH
From getting up-to-date rice facts from Extension's rice specialist Dr. Bobby Golden to distributing information to media through Extension office associate Emily Smith, Davis affirms Extension helps in a variety of ways. One of the biggest helps of all is Extension County Coordinator Laura Jane Giaccaglia.
"To be honest," Davis says, "I don't think we could do it without Laura Jane. Or Extension. Their whole workforce comes to be here and help us with manpower or helping us spread the word, or they'll help us get pans out so there are enough dishes here."
Not only do Extension agents from all over the Delta come to staff the annual event, but Extension also provides tech support for the rice promotion board's website, deltaricepromotions.org. Dale Moore, Extension web developer, updates luncheon info as well as rice facts, and he troubleshoots as needed to maintain a modern site.
Extension's team effort makes the Rice Tasting Luncheon a reality each year, Davis explains.
"I would like to say thank you to the Extension Service for all they do for us," she says. "We go to them for media needs, promotional items, tech support, and all kinds of other things. Laura Jane is a very good friend and coworker. Extension is making a positive difference in our lives."
Emily Smith's recipe was named Grand Champion in 1996. She joined Extension in 2006, and she's been helping promote the annual Rice Tasting Luncheon ever since.
DIXIE DINNER PIE
1 lb. bacon, cooked crisp and drained (reserve drippings)
1 box (10 oz.) frozen turnip greens
4 tbsp. bacon drippings
½ cup chopped onions
½ cup chopped yellow bell pepper
2 cups cooked rice
1 can (16 oz.) black-eyed peas, drained
1 cup (4 oz.) grated cheddar cheese
1 cup (4 oz.) grated Monterey Jack cheese
2 cups milk
6 eggs
11/3 cups biscuit baking mix
Crumble cooked bacon into pieces. Cook turnip greens in a small amount of salted water for about 10 minutes; drain well. In a large skillet, sauté onions and peppers in bacon drippings. Add bacon, turnip greens, rice, and black-eyed peas to the skillet. Stir to combine ingredients. Divide rice mixture between two greased, 9-inch pie pans, or make one casserole in a greased, 9-by-13-inch pan. Top with grated cheeses. Mix milk, eggs, and biscuit mix together. Pour over pan or divide and pour over pie plates. Bake at 325 degrees until set, about 45 minutes.
Yield: 16 servings (recipe may easily be halved)