Information Possibly Outdated
The information presented on this page was originally released on September 18, 2015. It may not be outdated, but please search our site for more current information. If you plan to quote or reference this information in a publication, please check with the Extension specialist or author before proceeding.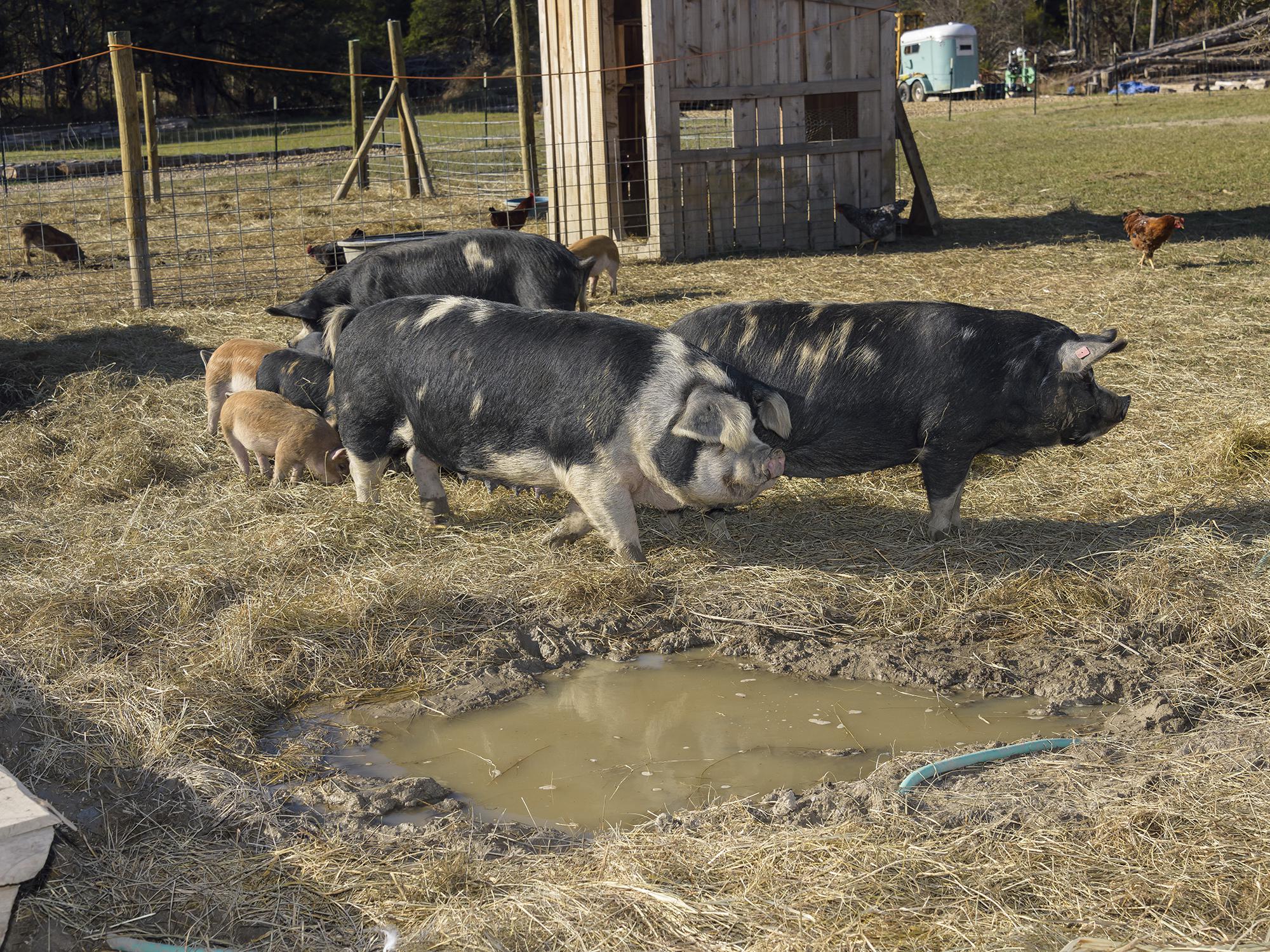 Swine industry remains steady through challenges
STARKVILLE, Miss. -- Low feed costs and steady demand are keeping the playing field level for Mississippi swine producers, but the bottom line at year's end will be down from 2014 totals.
Mississippi's value of production for hogs was $153 million last year. No estimates are available for 2015, but hog prices have been much lower than they were in 2014, while hog numbers were higher at the first of the year.
Brian Williams, an agricultural economist with the Mississippi State University Extension Service, said he expects these factors to keep the 2015 value of production about the same as 2014's value, if not slightly lower.
Swine producers will be closely monitoring the performance of corn and soybean -- two major feed sources in the swine industry -- as the year winds down, Williams said. Foreign markets will also affect the decisions of state producers.
"A lot of swine producers are watching China, which is a big player in the market. It seems quiet there right now, but there were some fears of economic collapse recently," Williams said. "If that were to happen, it could have an impact on our pork producers."
Beef prices also factor into pork demand. Williams said beef prices were at record highs last year, but they have come down considerably since then. Lower beef prices would hurt the pork industry.
At the end of 2014, Mississippi had 46,000 breeding sows and about 555,000 hogs being raised for slaughter. Sow numbers were about the same as the year before, but hog numbers had increased by 11 percent.
Porcine Epidemic Diarrhea Virus, or PEDv, occurred in portions of the country last year and created major problems for U.S. pork producers, but incidents have declined. Mississippi did not have a PEDv outbreak, but the virus raised awareness of the need for increased biosecurity measures to prevent the spread of disease in the future.
"Producers are paying more attention to biosecurity management during the shipment and transfer of pigs from one place to another," Extension swine specialist Mark Crenshaw said. "Industry leaders and researchers have started looking at other diseases that could have devastating effects on the industry and are developing a coordinated response to any foreign disease threat we might see here."
The lack of a local major pork market where producers can sell finished pigs has changed the Mississippi pork industry. Since Sara Lee Corp. closed its packing and processing plant in West Point eight years ago, the Mississippi industry has adjusted its production. With limited pork markets nearby, many young pigs produced in Mississippi are transported to other states for finishing.
"Hauling finished pigs a long distance to a packing facility is not economically sustainable when you consider transportation costs, so it is more economical to ship them out of the state at a young age," Crenshaw said. "I don't know if we will ever bounce back from the loss of the plant at West Point unless we gain a nearby market for finished pigs. We're limited at either being small operations supplying local markets or large enough that we can ship loads of young pigs out of state where they can be finished near existing markets."
Interest in raising pigs on pastureland for personal consumption has been growing slowly in the state. Crenshaw credits this trend to consumer preference and a lack of available local market pigs throughout the state.
"When you look at the total number of pigs produced in the state, the percentage of pigs being raised by people doing so for their own consumption is small," he said, "but it is increasing because there is demand in niche and specialty markets. Some buyers have certain requirements related to specific genetics, housing and management system, or they may want antibiotic-free pigs."
Lower feed prices have made it possible for swine producers to more than break even, but that will change if cash hog prices continue to drop. Still, Crenshaw said, there is reason for cautious optimism for Mississippi producers.
"If you weren't affected by PEDv last year, you were making good money because the market was artificially high. The increase in pigs coming to market this year has driven prices back down, but when you look at the mentality of producers across the country, it's positive," he said. "In Mississippi, we haven't had the disease issues you see in more densely populated areas. When swine producers have healthy pigs, it's easier to be optimistic about the future."
Released:
September 18, 2015