Information Possibly Outdated
The information presented on this page was originally released on September 26, 2014. It may not be outdated, but please search our site for more current information. If you plan to quote or reference this information in a publication, please check with the Extension specialist or author before proceeding.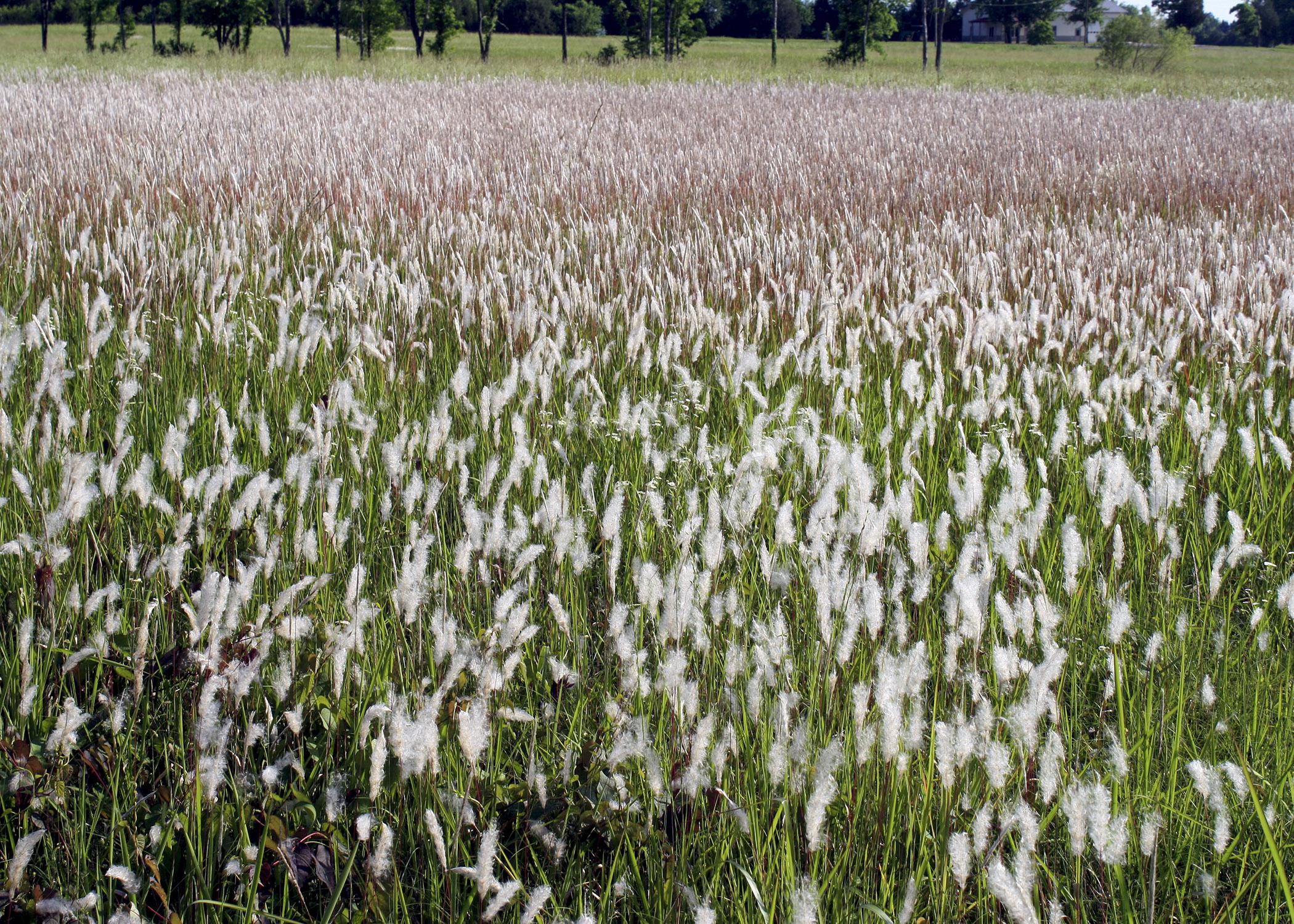 Exotic plants produce unwanted fields of white
Ray Iglay, Certified Wildlife Biologist
MSU Department of Wildlife Fisheries and Aquaculture
MISSISSIPPI STATE -- Driving along Mississippi highways is always best when the surrounding landscapes capture the driver's imagination. Our road systems serve as scenic byways showcasing nature's beauty.
On a recent road trip, the natural beauty of Mississippi and Alabama roadsides enthralled me with splashes of purple, dots of yellow and reds, greens and browns. Yet, random tufts of white soon began to dominate, threatening not only the roadside's appeal but also wildlife conservation and management.
In this case, those white tufts were congongrass. Cogongrass is an exotic plant species from Asia that has aggressively expanded its range in the Southeastern United States. Exotic species are any plant or animal not native to an area. Their potential impacts on wildlife include reduced diversity; disruption of ecosystem functions, such as reducing food availability for native wildlife species; and alterations to soil chemistry.
Cogongrass was introduced into Mississippi from the Philippines as a possible forage crop in the early 1920s. It currently covers 62 of Mississippi's 82 counties, several thousand acres in the Southeastern United States and more than 1.2 billion acres worldwide. Cogongrass is commonly referred to as the seventh worst weed in the world.
Cogongrass uses an extensive root system and wind-borne seeds to spread quickly from an initial patch to acres of infestation. It provides minimal wildlife value, out-competes beneficial native species and even burns four times hotter than native grasses.
Unfortunately, cogongrass is not the only exotic species of concern that threatens local habitats and natural areas in Mississippi.
Kudzu, Chinese privet and Chinese tallow tree, along with about 400 other invasive plants, threaten our native wildlife and fishes. In their native ecosystems, these species are members of a well-oiled ecosystem machine and play a role in their ecosystem's functionality, such as providing food for herbivores or stabilizing soil.
Their ranges are limited by competition with other plant species, nutrient availability and plant-eating herbivores. But in Mississippi, these exotic species smother native wildlife and plants. If not aggressively managed, soon the scenic byways of Mississippi and Alabama may be one contiguous field of white, a desolate area of minimum visual or wildlife value. Nature's diversity and artistic beauty will be lost.
It's a grim but foreseeable picture, given the extreme costs associated with exotic species control, such as spraying herbicides or introducing natural pests from their native habitats.
All is not lost, though. Landowners can help slow down the spread of these invasive plants and their impact on our environment. Choose native plants for yards and landscapes, and remove exotic, invasive species whenever possible. Support roadside beautification efforts. Stay informed about exotic species control.
After all, we are all responsible for keeping wildlife wild and nature beautiful.
For more information on Mississippi's 10 Worst Invasive Weeds, download this MSU Extension publication. Find more information about choosing native plants for your property on this page.
Editor's Note: Extension Outdoors is a column authored by several different experts in the Mississippi State University Extension Service.
Released:
September 26, 2014