Information Possibly Outdated
The information presented on this page was originally released on September 18, 2008. It may not be outdated, but please search our site for more current information. If you plan to quote or reference this information in a publication, please check with the Extension specialist or author before proceeding.
World champ quarter horse treated at MSU
MISSISSIPPI STATE -- A yearling quarter horse that was treated less than a year ago at Mississippi State University went on to become a world champion in August.
Veterinarians at MSU's College of Veterinary Medicine treated 20-month-old Touch My Imagination, or Ty, for a severe respiratory problem. He was named the world champion yearling quarter horse stallion Aug. 26 at the Bayer Select World Show in Amarillo, Texas. His owner is Connie Lee of Weatherford, Texas, formerly of Barton, Miss.
"He's a world champion now, and he's so easy to handle and so easy to show," Lee said. "As he gets older, he's only going to get better. He's not topped out yet."
The son of mare Why Not Me Image and stallion Time To Touch, Ty was born Jan. 2, 2007. Lee purchased him at only five months old.
"He was just a hairy little thing, and we got him ready for his first show, which was the July 4 weekend Liberty Circuit where he took circuit champion weanling stallion," Lee said.
Only two more show wins later, he contracted a respiratory illness on the road.
"We were treating him with the regular treatment for babies with a cold and trying to let his immune system get over it, but he just got worse and worse," Lee said.
His local veterinarian was called in, and when no improvement was made in almost four weeks of treatment, he was referred to MSU's College of Veterinary Medicine. Ty stayed in the intensive care isolation ward for almost two weeks.
"He dealt with the hospitalization extremely well, especially for such a young horse," said Dr. Elizabeth Carothers, an equine internal medicine resident at the veterinary college. "Even after almost a year, I still recall his wonderful personality and inquisitive gaze. He was an absolute pleasure to work with."
Ty was ultimately diagnosed with severe bronchial pneumonia and an infection of his guttural pouches. Veterinarians placed him on an intense course of antibiotics, gastroprotectants and anti-inflammatory drugs, and endoscopy was used to flush his guttural pouches. Ty showed daily improvement and was discharged into the care of his owner. He was prescribed additional antibiotics and anti-inflammatory drugs for another two weeks.
"We forgot about showing him that winter and just tried to get him better," Lee said.
Once fully recovered and back on the show circuit, Ty quickly qualified for all three world shows in amateur and open divisions and won the one he entered, the Bayer Select World Show. Next up is the Nov. 21 FedEx Open World Show in Oklahoma City. Lee said she has received several offers to buy him for stud, but she is not ready to part with him.
Dr. Cyprianna Swiderski, assistant professor of equine internal medicine, oversaw Ty's treatment when he came to MSU last fall.
"We are absolutely thrilled that Ty has done so well," Swiderski said.
Contact: Dr. Chipper Swiderski, (662) 325-0242
Released:
September 18, 2008

Your Extension Experts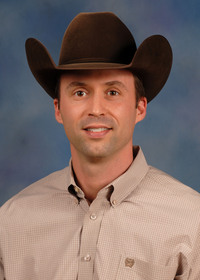 Prof/Dir/Enh Cln Educ/Ext Vet