Information Possibly Outdated
The information presented on this page was originally released on December 3, 2009. It may not be outdated, but please search our site for more current information. If you plan to quote or reference this information in a publication, please check with the Extension specialist or author before proceeding.
MSU lets "Freedom" ring as viable biofuel feedstock
By Patti Drapala
MSU Ag Communications
MISSISSIPPI STATE – Collaboration between a Mississippi State University research agronomist and Georgia's self-proclaimed "sodfather" may offer the Southeast the "Freedom" of a viable grassy feedstock to capitalize on sustainable bioenergy production.
One focus of MSU's research is giant miscanthus, or Miscanthus x giganteus, a warm-season Asian grass that many scientists believe has potential as a biomass crop for fuel. Researchers with the Mississippi Agricultural and Forestry Experiment Station have been studying grassy biomass feedstocks for 12 years. Team leader Brian Baldwin went a step further in isolating, identifying and selecting a genotype of this species that fits agricultural production systems of Southeastern farmers.
Baldwin's investigation culminated in the Freedom cultivar, which is uniquely suited to the South. Production of foundation stock for this grass has been licensed to turfgrass magnate Phillip Jennings of Soperton, Ga., who has incorporated his ideas about alternative energy into a new business venture, SunBelt Biofuels.
Jennings, who will have an exclusive license for the giant miscanthus genotype Freedom, said he intends to make the foundation stock commercially available in the spring of 2010. He said he hopes to have several hundred acres of the stock in production at his turfgrass farm.
"Many researchers around the world have proven giant miscanthus works well in capturing energy from the sun for biofuel," Jennings said. "Dr. Baldwin's investigation identified Freedom as a superior variety compared with other miscanthus genotypes and other grassy biomass materials."
Baldwin began his research in 1998 to investigate yield potential of different grassy plant species considered to be possible sources of biomass for fuel. He chose 10 promising species to evaluate. When Baldwin compared results, giant miscanthus consistently landed in the top four. It outperformed its nearest competitor, switchgrass, by a ratio of at least 2:1.
"Yields and performance have allowed us to quantify the difference," Baldwin said. "Yields for Freedom averaged 18-20 tons an acre in the variety trials. When compared with the performance of Alamo switchgrass, Freedom produced the same yields on about half the acreage. That gives the grower a good fit for a production scheme and the ability to meet supply needs when biomass is converted into fuel and other energy."
Freedom is seed sterile, so growers must obtain propagation material, or rhizomes, to produce a crop.
"It takes considerable time to obtain material for propagation," said Chase Kasper, who coordinates the commercial licensing of agricultural technologies for MSU. "Phillip evaluated a small sampling of the material and was impressed enough by its performance to embark on production of foundation stock."
Since that time, SunBelt Biofuels has worked diligently to produce plant material it plans to register, certify and make available to growers in the spring of 2010, Kasper said.
Giant miscanthus can offer several production advantages. It is a perennial plant and takes three years to establish. The crop produces biomass that can grow as tall as 12 feet. The plant thrives on marginal cropland, is tolerant of drought and excessive rain, and requires few inputs once established and maintained under a one-cut system.
Giant miscanthus can be harvested and baled like hay using the same type of equipment. It is usually cut in late fall after other crops have been harvested. After harvest, the plant goes dormant until spring. Another advantage the plant offers is its ability to store nutrients in the root system, which returns organic material to the soil.
"We've been pleased with Phillip's commitment and high level of activity in trying to raise awareness of grassy biomass materials," Baldwin said. "The next steps for Phillip are to continue maintenance of his foundation nursery for Freedom and provide plant material to landowners, turfgrass businesses, plant propagators and farmers across Georgia and the rest of the Southeast."
This is exactly how Jennings plans to launch Freedom.
"We can achieve energy independence by using our agricultural resources and know-how to produce biofuel," Jennings said. "Corn-to-ethanol production was a wonderful first step, but ethanol is not a long-term solution because its energy output is low. It is going to take educational research and industrial commitment to help rural America produce energy. Mississippi State has done its part, and I am ready to do mine."
Released:
December 3, 2009

Your Extension Experts
Extension/Research Professor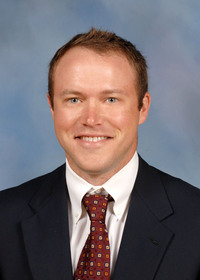 Assoc Ext/Res Prof & Fac Coord