Information Possibly Outdated
The information presented on this page was originally released on December 6, 2012. It may not be outdated, but please search our site for more current information. If you plan to quote or reference this information in a publication, please check with the Extension specialist or author before proceeding.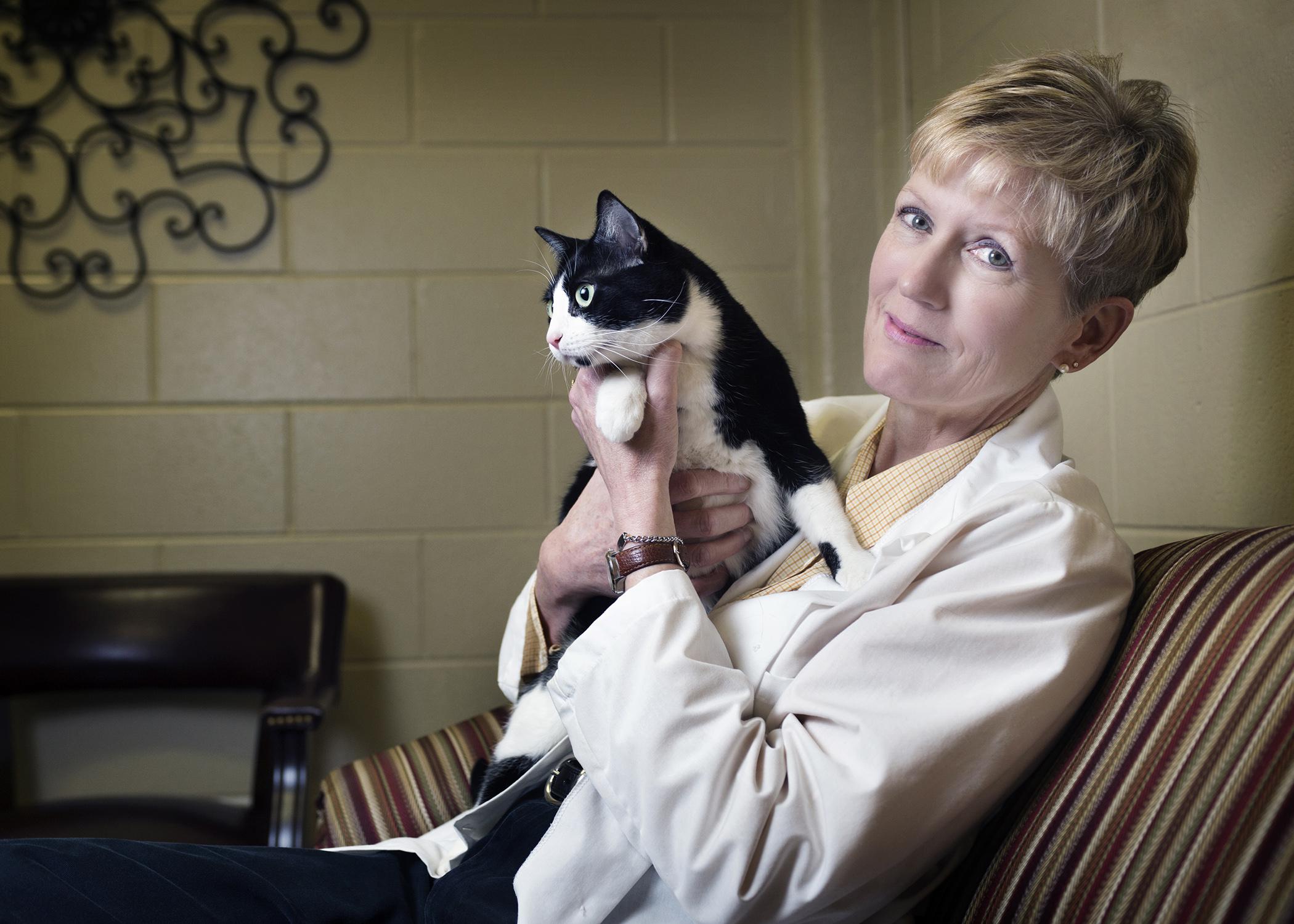 Pets complicate escapes from domestic violence
MISSISSIPPI STATE -- Veterinarians often have a perspective on domestic violence situations that others would never consider.
Dr. Sharon Fooshee Grace, a clinical professor in Mississippi State University's College of Veterinary Medicine, frequently addresses the connection between animal cruelty and domestic violence. She recently spoke to veterinarians and law enforcement officials about the need to work together to protect human and animal lives.
"There is a definite connection between domestic violence and animal cruelty and other forms of violence," she said. "In a house with domestic violence, animals are often the first victims as the violence escalates. Concern for pets also can keep human victims in the house too long."
After earning degrees from MSU in the 1980s, Grace eventually entered a small animal referral practice in Franklin, Tenn. There, she saw firsthand the impact of animal cruelty and learned of the dilemma many women face when deciding to escape the violence.
"They may not have a place to go with their pets, and they may be afraid of what could happen to a pet if left behind," she said.
Grace brought this awareness and concern with her when she returned to MSU in 1999 to teach future veterinarians. Then, a few years ago, Grace found a kindred spirit in Leslie Payne, the director of the Care Lodge Domestic Violence Shelter in Meridian. Grace has hosted Payne in classes as they help students understand the cycle of violence.
"Veterinarians may be reluctant to get involved in these potentially volatile cases. Most of them have had very little training in animal cruelty issues. They may not want to risk their reputations or have fears for their own safety," Grace said. "Another consideration is the cost of helping, both financially and emotionally."
In almost 20 years with the shelter, Payne has seen a lot of tough situations involving families and their pets.
"Children, often very young children, witness violent relationships between their parents and sometimes, their pets," Payne said. "I've encountered an 8-year-old boy whose abusive dad had taken him to cock fights, and I've talked to children whose parent killed puppies in front of them. Unfortunately, we find that children who grow up in these environments often become abusive themselves."
Payne and Grace developed a Memorandum of Understanding between the Care Lodge and MSU to help victims in these abusive settings.
"Before this partnership, victims had to find someone to keep their pets for them. We cannot allow pets in the shelter. If they didn't have an option, they might not get away from the offenders," Payne said. "Now, MSU has supplied us with cages to hold the pets until someone from the College of Veterinary Medicine can come pick up the animal, which is usually in less than a day."
Payne said screening for pets in the home is standard practice when calls come to the shelter. Many victims are relieved to find there is a safe place for their treasured pets.
The College of Veterinary Medicine is able to provide shelter and health care to the pets until the owners are able to retrieve them.
"We can eliminate at least one problem that domestic abuse victims have to worry about," Grace said.
Released:
December 6, 2012

Select Your County Office
Related Publications
Publication Number:
P2597
Publication Number:
P2989
Publication Number:
IS1825