Information Possibly Outdated
The information presented on this page was originally released on November 1, 2012. It may not be outdated, but please search our site for more current information. If you plan to quote or reference this information in a publication, please check with the Extension specialist or author before proceeding.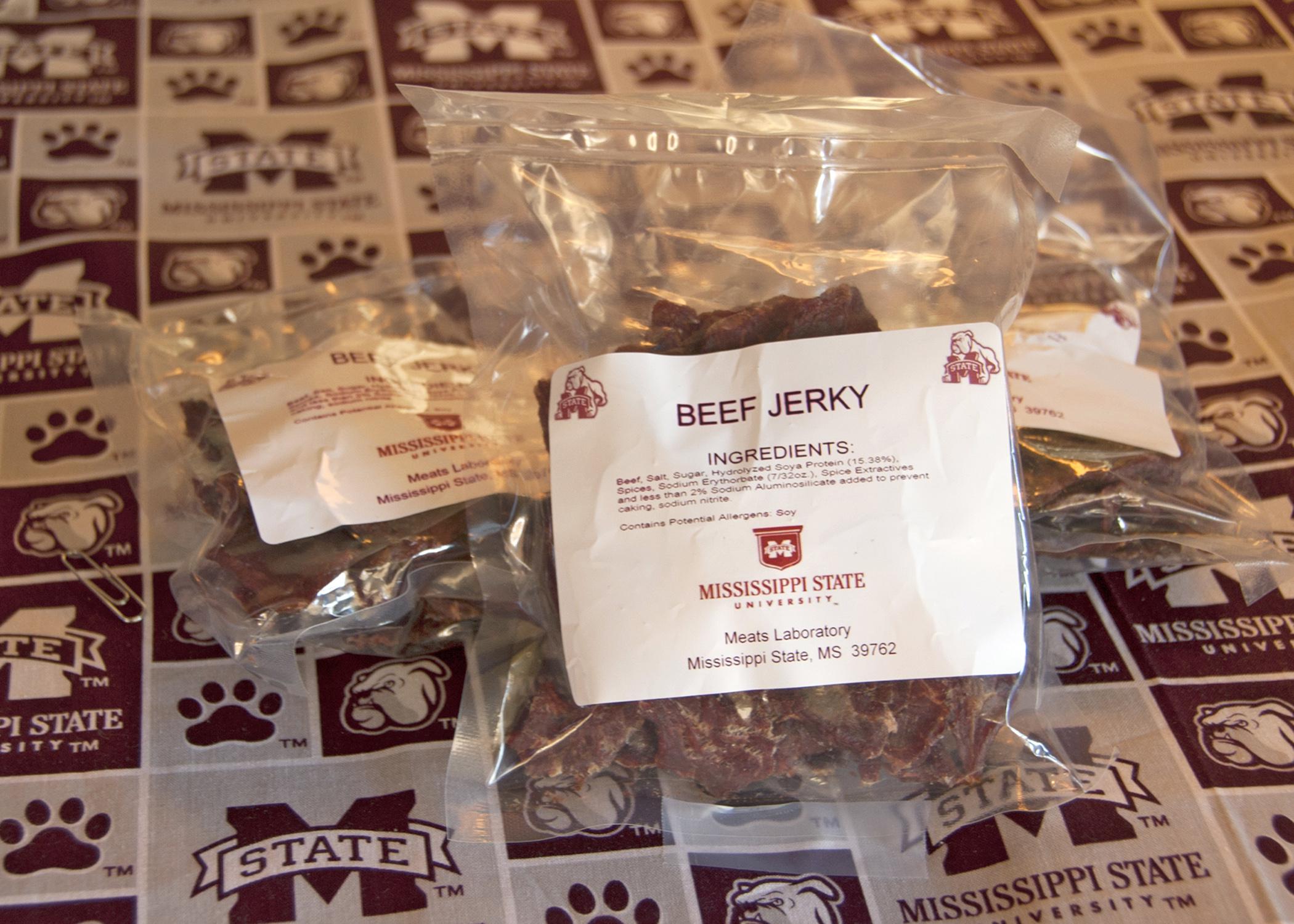 Troops enjoy MSU beef donated by Beef Council
By Kaitlyn Byrne
MSU Ag Communications
MISSISSIPPI STATE – National Guard troops stationed in Afghanistan enjoyed a taste of home when the Mississippi Beef Council sent them a special care package.
The council supported the production of beef jerky by the Mississippi State University Meat Laboratory to send to National Guard units engaged in helping native farmers improve agricultural practices.
Sammy Blossom, Mississippi Beef Council executive director, said the council started the beef jerky project about six years ago and has used the MSU Meat Lab the past two years.
Tim Armstrong, MSU Meats Lab manager, said the meat for the jerky came primarily from MSU-raised animals. The most recent shipment was about 280 pounds of beef jerky.
"It was made with our beef and produced in our lab, and we were happy to help with this project to show our gratitude to our troops," he said.
Blossom said the council originally decided to send beef jerky because it does not require refrigeration and is a treat from home that troops cannot often get overseas.
"As an organization, we really wanted to do something to show our gratitude for everything our troops do, and we figured using our resources to make beef jerky was a great idea," he said.
Blossom said the council has sent as many as 3,000 packs of beef jerky per year to troops. To pay for the gift, the council uses funds from the beef check-off program, a national promotion, education and research project supported by cattle sales.
In April, the MSU Extension Service trained 54 soldiers in basic agriculture to prepare for their mission in Afghanistan, working with local growers to help improve their agricultural production practices and sustainability.
Mississippi Beef Council's most recent beef jerky shipment went to this unit of Mississippi National Guard troops and a unit of Nebraska National Guard troops working with Mississippi's state veterinarian Jim Watson to improve native livestock practices in Afghanistan.
Blossom said a flat rate box holds about 70 packs of jerky, and the council includes a handwritten note in each box thanking the troops for their service, encouraging them to share the jerky with others and explaining who sent the gift.
"We've gotten some great thank you letters back from the soldiers," Blossom said. "We got a note from one group saying they used half of the jerky to give to kids there to help build friendships that they otherwise would not have been able to build."
Blossom said if possible, counties send the jerky to units with someone from their area. In recent years, six to 10 county associations have participated in the project.
The MSU Meat Laboratory is a unit of the Mississippi Agricultural and Forestry Experiment Station. Products from the Meat Lab are sold in the MAFES Sales Store.
Released:
November 1, 2012