Information Possibly Outdated
The information presented on this page was originally released on November 18, 2013. It may not be outdated, but please search our site for more current information. If you plan to quote or reference this information in a publication, please check with the Extension specialist or author before proceeding.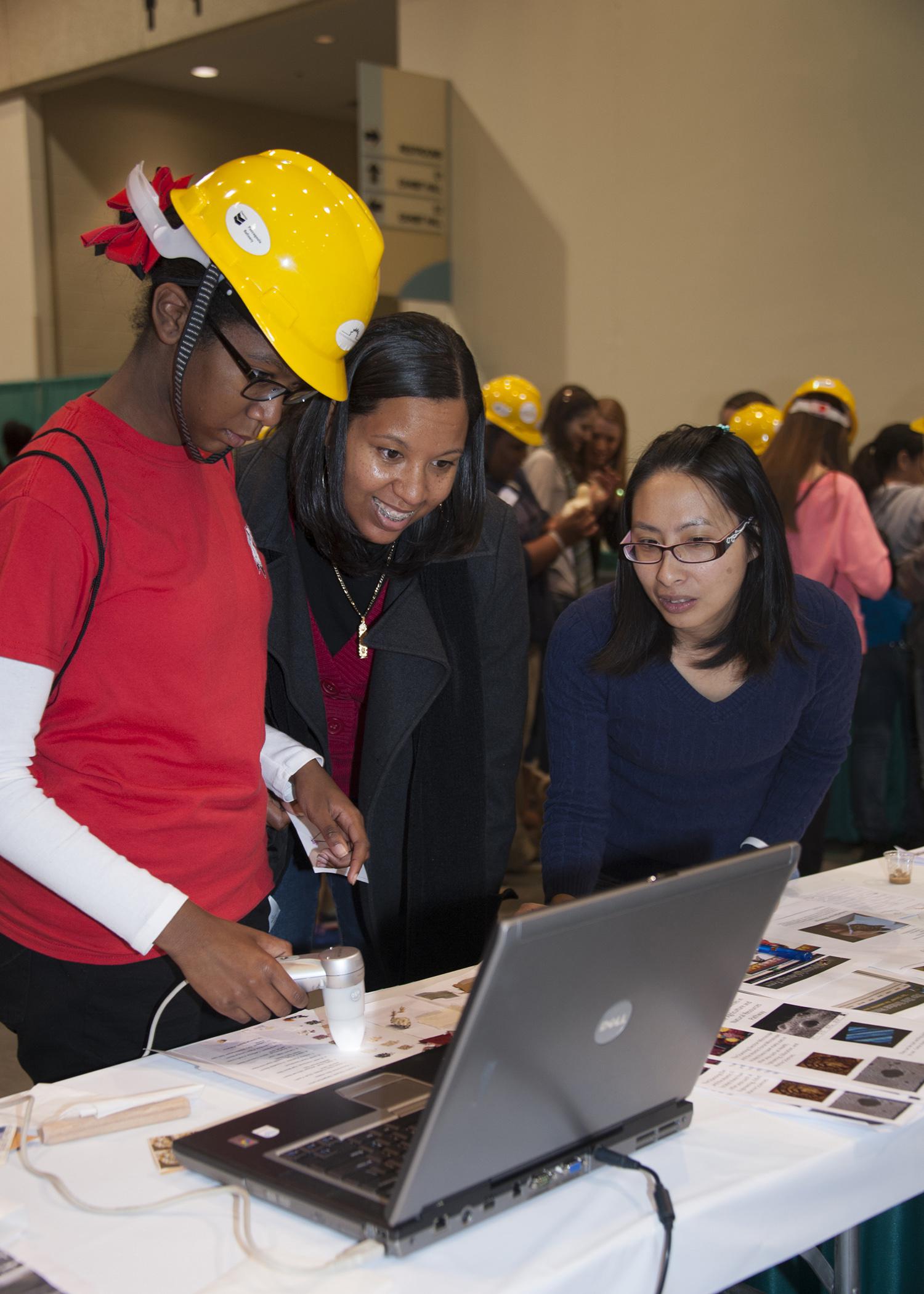 Agriculture highlighted at Biloxi career expo
BILOXI – More than 6,000 eighth-graders got help deciding what they want to be when they grow up during Mississippi's first Pathways2Possibilities career expo Nov. 13 and 14.
The interactive event introduced coastal-area students to 19 different career paths, including agriculture.
"This is a wonderful way to showcase the different opportunities that kids can think about as they prepare to enter high school and choose courses that will take them to the next stage of their lives," said Christine Coker, Extension and research professor with the Mississippi State University Extension Service and the Mississippi Agricultural and Forestry Experiment Station.
Participants who visited the agriculture booth had a chance to milk an artificial dairy cow, use a scanning electron microscope, and see and learn about the different cuts of beef and pork. They also had an opportunity to talk to specialists and MSU students about jobs in landscape architecture, the poultry industry, the forestry industry and natural resources.
Hannah Kennedy, a student at Biloxi Junior High School, said she is considering a career in agriculture and enjoyed the poultry science exhibit the most.
"I have a pet bird, and I like animals, so I think agriculture might be a field I could work in," she said.
David Eisman was most interested in beef and pork production.
"This is a vital piece of our economy and society," Eisman said. "It provides the food we eat."
Agriculture is Mississippi's No. 1 industry, employing almost one-third of the state's population, according to the Mississippi Department of Agriculture and Commerce. Kenneth Graves, manager of MSU's dairy unit, said he likes to make sure children understand the connection agriculture has to their everyday lives.
"The kids are drawn in by the milking simulation. That gets them interested, and then we can really teach them something," he said. "Anytime I talk to children, I like to ask them how they think agriculture affects their life. It's so important that kids realize this industry touches them daily, from the clothes they wear to the food they eat, and there are careers many of them would really enjoy."
Specialists with the MSU Extension Service, the Mississippi Agricultural and Forestry Experiment Station, Department of Animal and Dairy Sciences, Department of Forestry and the Institute for Imaging and Analytical Technologies and the U.S. Department of Agriculture's Natural Resources Conservation Service participated in the agriculture, food and natural resources booth.
MSU and NRCS were among 130 public, private and non-profit organizations and companies at the event. Students were given a pre- and post-assessment to gauge their interests, guide them to the event pathways, and help them choose the best courses as they begin high school.
Teacher Terri Schoemann said the hands-on activities and information available to her students will help them make decisions about joining the workforce.
"This is wonderful," she said. "It's really great that the kids can come to one place and learn about so many available opportunities that they might not otherwise know about."
Released:
November 18, 2013