Information Possibly Outdated
The information presented on this page was originally released on April 11, 2013. It may not be outdated, but please search our site for more current information. If you plan to quote or reference this information in a publication, please check with the Extension specialist or author before proceeding.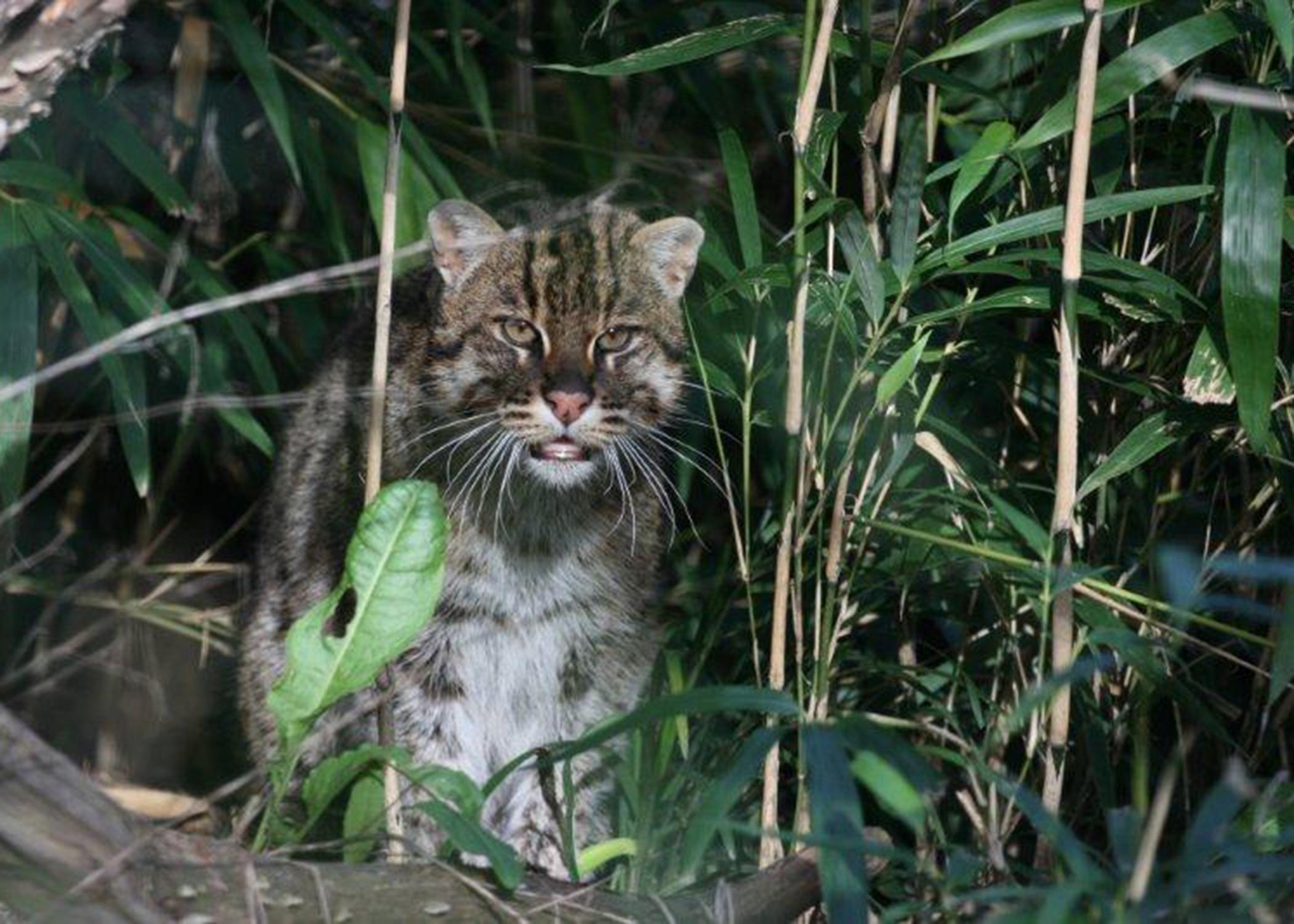 Exotic cat saved through MSU, zoo partnership
By Karen Templeton
MSU College of Veterinary Medicine
FLOWOOD – The Animal Emergency Referral Center staff in Flowood is always ready to handle animal emergencies and has seen just about everything, but recently, a unique patient came in for surgery.
A fishing cat, an endangered medium-sized exotic cat native to South Asia, was brought to the center with a fractured humerus. The exotic cat is part of a breeding program at the Jackson Zoo and needed quick treatment.
Dr. Michael Holifield, contract veterinarian for the Jackson Zoo, had diagnosed the patient's injury and knew the place to take him for surgical care was the referral center, an affiliate of Mississippi State University's College of Veterinary Medicine.
"We suspect the cat got into a small tussle with the female cat he was paired with, and we were able to remove him from the habitat quickly to evaluate," Holified said. "This is a surgery I have done before, but we have a good partnership with the college and give their students hands-on experience at the zoo. I thought it'd be beneficial to all of us, including the fishing cat, to do the surgery at the AERC."
Holifield owns the All About Animals clinic in Crystal Springs with his wife, Dr. Becky Holifield, and both are graduates of MSU's College of Veterinary Medicine.
Every Wednesday, Holifield mentors two MSU-CVM students at the Jackson Zoo. They learn about zoo veterinary care while they are on a required two-week clinical rotation at the referral center.
Holifield said he enjoys the students' participation and the partnership with the college. The students at the zoo that week got to see firsthand how to approach veterinary care as a team.
"Through our emergency service, we've dealt with some exotics and wildlife, but this was our first zoo animal," said Dr. Matt Johnson, AERC surgeon and MSU adjunct professor. "This was a routine procedure for us, but we did have to think quickly and adjust some things to accommodate the patient's size and lifestyle. Anesthesia was also handled a little differently since we were working with a wild animal."
Holifield performed the initial sedation prior to AERC staff's beginning general anesthesia. The surgeons conducted the surgery together while the students observed.
"The surgery went smoothly, and our patient is recovering just fine," Holifield said. "This was a great learning experience for the students. We didn't get this much exposure to zoo medicine when I was in veterinary college. I'm glad that the zoo can be part of helping provide this kind of program."
The college's staff enjoys the close relationship with the zoo.
"Dr. Holifield has graciously given of his time and has welcomed our students. This is a part of veterinary medicine that is not usually available to students, so we are thankful to him and the zoo staff," Johnson said. "Getting a chance to help him, the patient and the zoo was a win-win situation."
Contact: Karen Templeton, (662) 325-1100