Information Possibly Outdated
The information presented on this page was originally released on April 1, 2015. It may not be outdated, but please search our site for more current information. If you plan to quote or reference this information in a publication, please check with the Extension specialist or author before proceeding.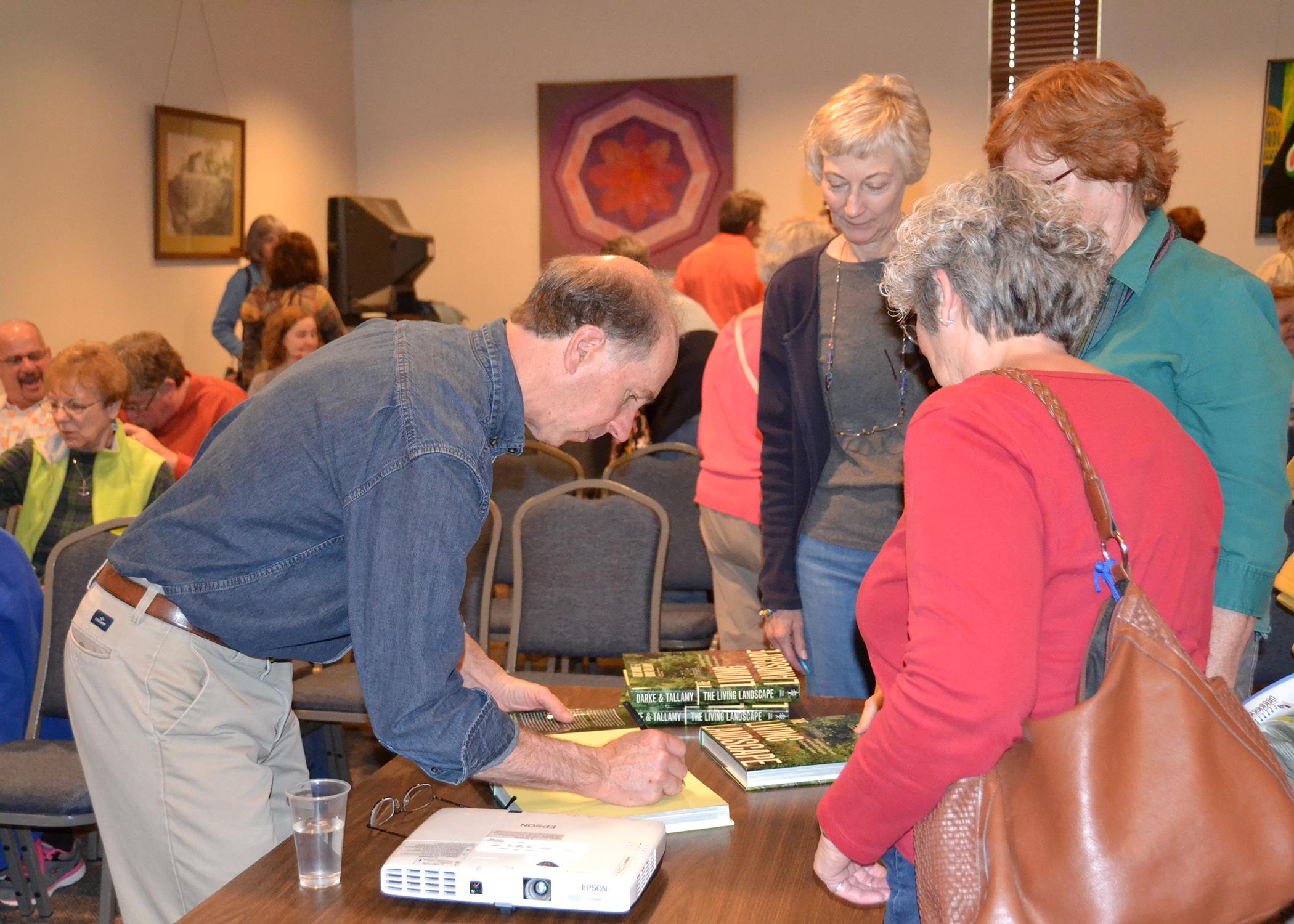 Use nature as a guide for home landscapes
PICAYUNE, Miss. -- Beauty and biodiversity can coexist in the landscape, and it is not that hard to accomplish.
Rick Darke, a horticulturist, published author, lecturer and photographer, discussed balancing beauty and function in the home landscape with an emphasis on conservation during the Mississippi State University Crosby Arboretum's Lecture Series March 28.
Darke offered ideas for transforming the home garden into a sanctuary for wildlife while also offering privacy and enjoyable spaces for the family.
A living landscape includes more than just lively colors and neatly arranged raised beds. In fact, landscapes should be just a little untidy, Darke said.
"As gardeners, we've been taught that a dead branch has no place in the garden, and we feel like lazy gardeners if they are there," he said. "But dead branches serve a very important purpose, including giving certain species of birds a safe place to perch, with a clear view of predators."
Darke recommends imitating nature in home gardens for a more natural, low-maintenance design. It is the approach he and his wife use in their one and a half acre Pennsylvania landscape.
"Our garden is a love, not an obsession," he said. "We are busy people. We work. We travel a lot. We are very social. And we have a demanding golden retriever. So gardening doesn't have to take up a lot of time if you make the right plant choices."
Native and adapted plants are better than exotics that struggle in foreign climates. Darke suggested first thinking about how a plant should function in the landscape.
"What do you need or want the plant to do?" he asked the audience. "Will it provide food or shelter for wildlife while shielding the yard from the neighbors? Once you decide what purposes it will serve, then you can make an educated decision about what to put in that spot."
Plants make great structural pieces in the landscape and can be more inexpensive than building outdoor rooms with wood or concrete. Space constructed in this way can begin small and be expanded later. These spaces also are more easily changed, he said.
"Work with the site that is available," Darke said. "You don't have to flatten it out or build it up. Gardening isn't about control; it's about opportunity. By observing, strategizing and then acting on it, you can have a beautiful yard that is wildlife friendly and that works the way you want it to."
Darke discusses this topic in-depth in his latest book, "The Living Landscape: Designing for Beauty and Biodiversity in the Home Garden," which is co-authored by Doug Tallamy.
For more information on Darke or the book, visit http://www.rickdarke.com.
The Crosby Arboretum, a unit of the MSU Extension Service in Picayune, is a 104-acre native plant conservatory dedicated to educating the public about their environment. It also maintains 700 acres of off-site natural areas preserved for scientific study.
"There are small things we can do in our yards that can make a big difference in the health of our gardens," said Crosby Arboretum Director Pat Drackett. "Simple plant choices can increase the biodiversity exponentially in the yard. For example, an oak tree can support more than 500 species that birds feed on. But a crepe myrtle attracts only three species of caterpillars that baby birds will eat."
For more information on the arboretum, visit http://www.crosbyarboretum.msstate.edu/.