Information Possibly Outdated
The information presented on this page was originally released on July 24, 2015. It may not be outdated, but please search our site for more current information. If you plan to quote or reference this information in a publication, please check with the Extension specialist or author before proceeding.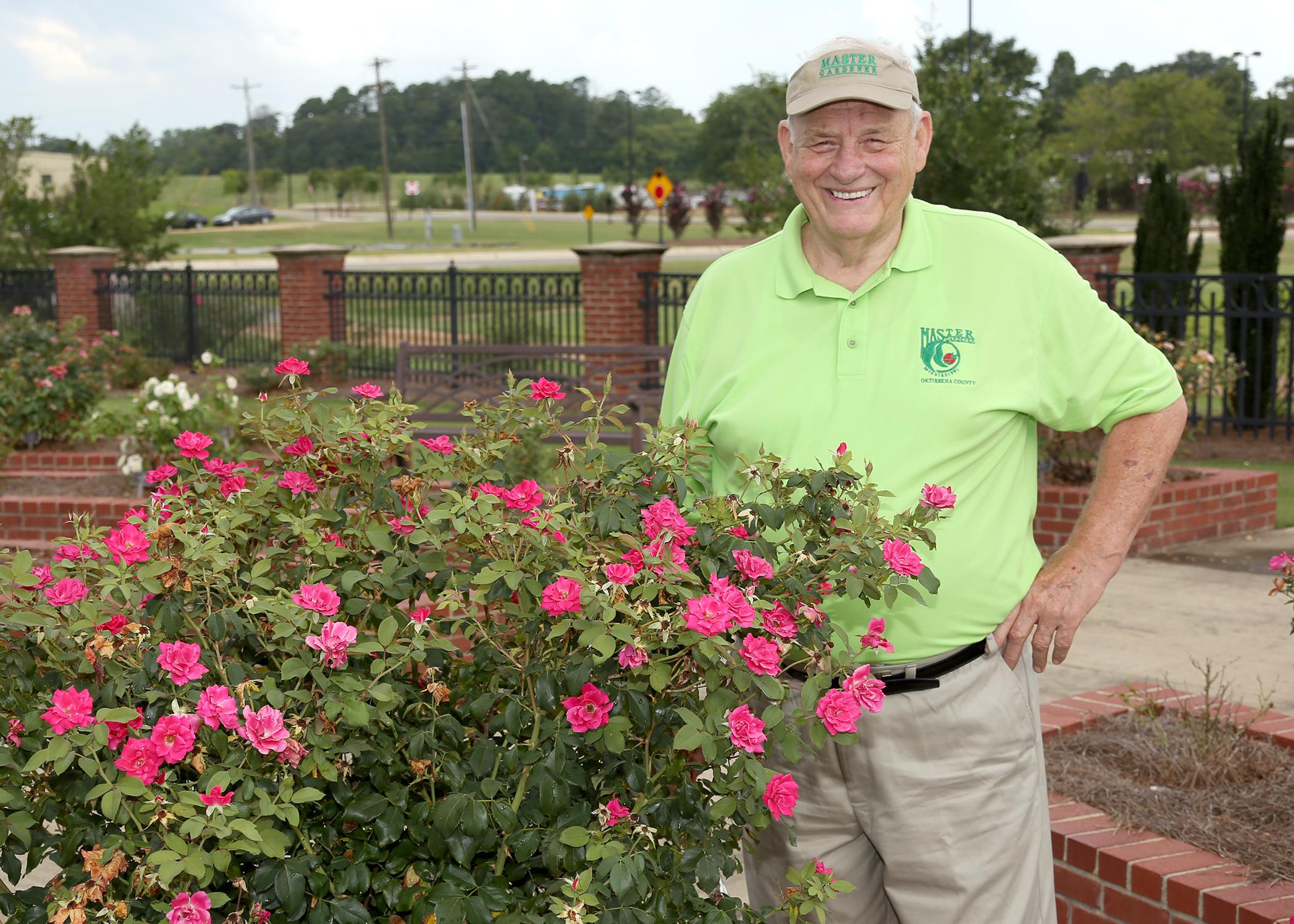 Weatherly has deep roots in Mississippi agriculture
STARKVILLE, Miss. -- Long before Charlie Weatherly earned the state's 2015 Master Gardener of the Year honor, his family roots were dug deep into the Mississippi soil.
Although he retired from Mississippi State University in 1997, Weatherly has not strayed far from the land-grant institution's campus or mission. How could he? As a child, he frequently came to campus with his father, Ernest, who was a county agent for what is now the MSU Extension Service.
"My parents taught me so much about plants, animal science and forestry, but they also taught me the work ethic of farmers," Weatherly said. "Dad was determined that my brothers and I would have an opportunity to learn the basics, the work ethic and other values that farming provided, but we also were fortunate to be active in school programs including sports and band."
The family's farm, located in Tippah County, provided plenty of experience in row-crop fields and vegetable gardens for the young Weatherly. Extension's flagship youth program -- 4-H -- provided him with additional agricultural experiences as he showed dairy cattle in a variety of competitions.
"4-H is about making yourself, your community and your world better; that philosophy still appeals to me," Weatherly said.
Oktibbeha County Master Gardener Ed Williams nominated him for the state recognition, which Weatherly shares with co-winner Susan Hampton of Vicksburg. As a retired Extension agent, Williams knows the value of educated volunteers such as Master Gardeners.
"Charlie is always the first to volunteer and ready to help with any project. He's been instrumental in the success of our county Master Gardener program," Williams said. "Charlie has a natural ability to teach and a lifetime of accumulated gardening knowledge."
Weatherly, a 1959 graduate of MSU, honed his people skills working for the MSU Alumni Association and later as the director of development for the MSU Division of Agriculture, Forestry and Veterinary Medicine.
"While growing up on the farm, I didn't appreciate learning how to grow our food or that work ethic like I do now," he said. "Horticulture and gardening came naturally for me as an adult. Working at MSU and living in Starkville also provided some great opportunities to learn from agricultural experts at the university."
In 2003, Weatherly signed up for the Master Gardener Program and met kindred spirits among the other volunteers. They were instrumental in 2006 in securing gifts of the first roses and plant materials that became the Veterans Memorial Rose Garden, located on the R.R. Foil Plant Science Research Center on the north side of campus.
The Master Gardener Program, administered by the MSU Extension Service, provides 40 hours of horticultural education at a low cost to participants. Those trained volunteers extend the university's education to the public by providing helpful information based on research and recommendations.
"We meet other avid gardeners, share gardening experiences with each other, and get connected to the community," Weatherly said. "It's all about giving back to our communities through something we love."
At the state meeting where Weatherly was recognized, the Oktibbeha County Master Gardeners received the Most Outstanding County Association Award for small county associations.
Lelia Kelly, Extension consumer horticulture specialist and state Master Gardener coordinator, said the program depends on volunteers like Weatherly.
"Charlie is an outstanding Master Gardener and is a wonderful leader, educator and friend," she said.
Kelly said Mississippi has about 60 clubs involving 1,338 active volunteers.
"In 2014, they made more than 1.2 million contacts and donated over 64,200 volunteer hours," Kelly said. "The dollar value to the state is almost $1.5 million."
For more information about Master Gardeners, contact the local Extension office.