Information Possibly Outdated
The information presented on this page was originally released on September 1, 2016. It may not be outdated, but please search our site for more current information. If you plan to quote or reference this information in a publication, please check with the Extension specialist or author before proceeding.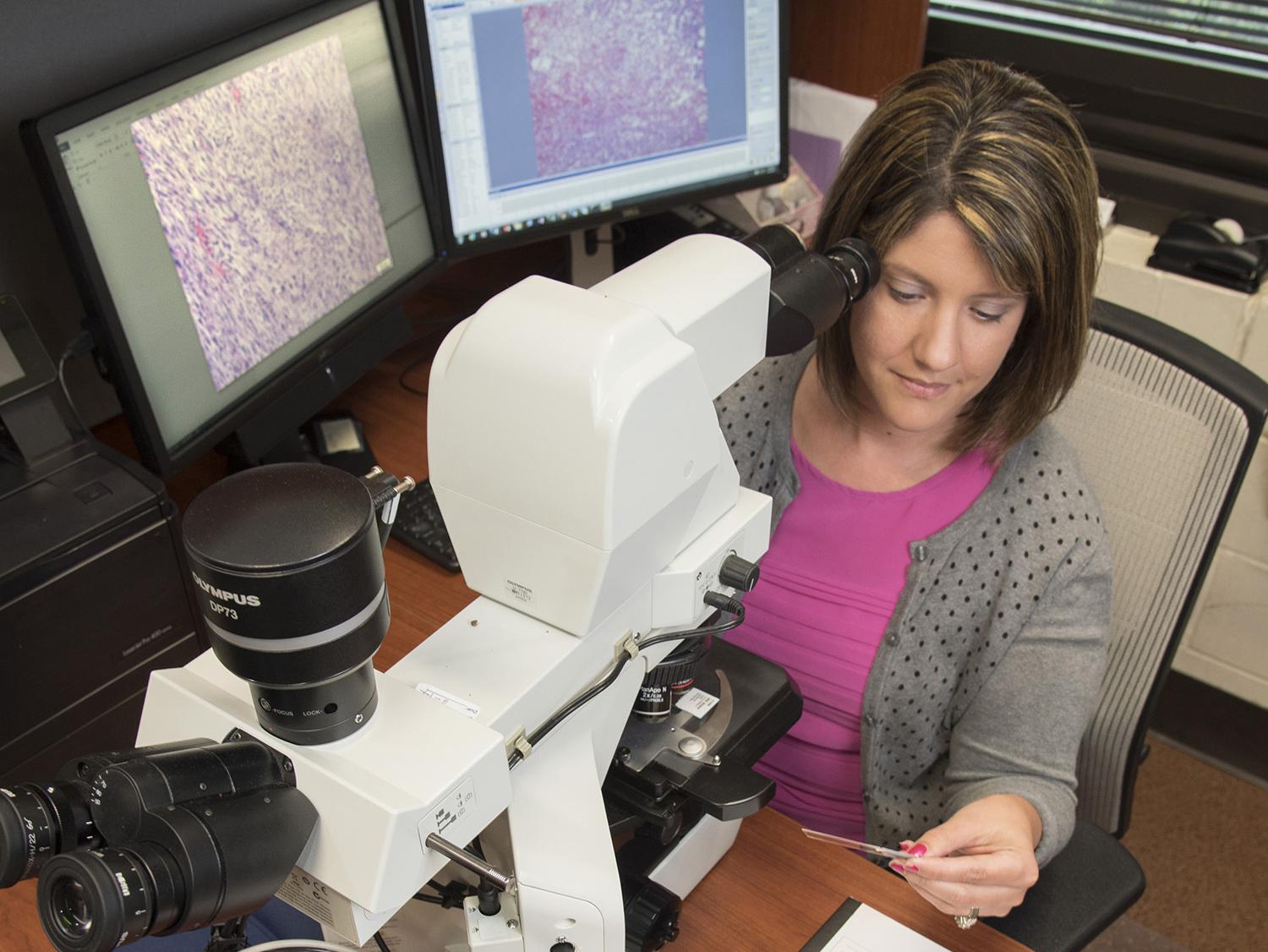 Animal autopsy offers important answers
STARKVILLE, Miss. -- Thor was an aging but happy English mastiff living in Louisville with Vanessa Beeson, her husband Ray and son Avett, 4. When this once 200-pound dog's health declined, he dropped to 135 pounds.

"Around May 2014, we noticed that Thor started to be a little less competent on his back legs," Beeson said. "He started a slow decline with hip dysplasia, a torn ACL and other problems, and he began to lose his mobility and function."

With input from local veterinarian Dr. Jesse Grady, the family made the heart-wrenching decision in early May to end Thor's life with love, but they wanted his death to contribute information that could help other pets.

English mastiffs typically live about 10 years, so at 12 1/2 years old, Thor was an unusual example of aging in this breed. He was a sweet dog, and his temperament remained excellent until the end, but physically, his body could not keep going.

"I work in the research side of the university, so we made the decision to have him necropsied to try to forward the science that they're doing at the College of Veterinary Medicine," Beeson said.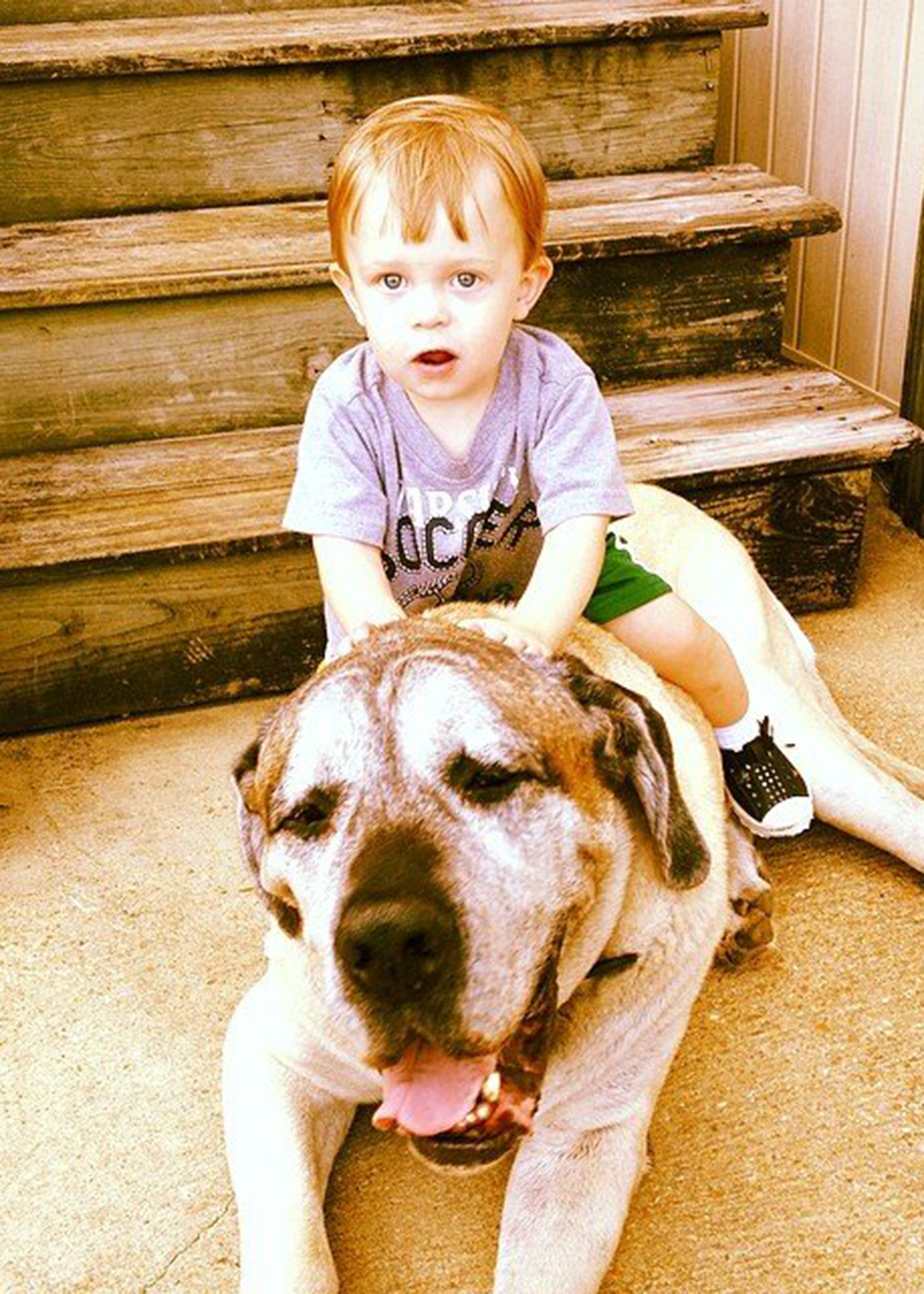 When Ray and Vanessa Beeson's dog Thor died in 2016, the family decided to have him necropsied to forward the science being done at the Mississippi State University College of Veterinary Medicine. Thor is seen here with then 2-year-old Avett Beeson. (Submitted Photo/Vanessa Beeson)
A technical writer in the Mississippi Agricultural and Forestry Experiment Station at Mississippi State University, Beeson said she was impressed with the caring bedside manner and professionalism shown by CVM personnel through the whole process.

"The day before we were set to bring him in, Lori Ward, a third-year veterinary student, called to see how things were going," Beeson said. "When we got there, she and the doctor helped get Thor out of the car and took him inside."

The goodbye process was personal and not clinical, and CVM provided a bereavement room for the grieving family after the process.

"I feel they are more cognizant of the grief part of it," she said. "We were given a paw print of Thor, and we'll be getting the necropsy report."

The Beeson family submitted Thor for necropsy to benefit education and medicine, but other pet owners choose the service to get answers.

Necropsy is the term used for an animal autopsy, or an examination after death. The purpose is to determine the cause of death. A necropsy includes a full examination by a board-certified pathologist.

Dr. Alicia Olivier, an assistant professor in the CVM Department of Pathobiology and Population Medicine, said when a pet dies, a necropsy often provides the answers owners and veterinarians need.

"In the case of unexpected death, owners are very upset, and they want to know what happened," Olivier said. "After the autopsy, I often call the owners directly to speak to them. I've found it brings them relief and closure to know what happened and that in many cases, they didn't do anything wrong or couldn't have prevented it.

"In other cases, the necropsy may confirm the disease diagnosis or evaluate ongoing disease processes that may have influenced the clinical signs or response to therapy," she said.

"The examination not only includes what is seen by the eye, but tissues collected at the necropsy are looked at under the microscope," Olivier said. "Following the necropsy, the owner and/or veterinarian receives a report that includes the necropsy findings and an interpretation as to why the animal died."

MSU's veterinary college can perform this service on all species, including fish, birds, rodents, dogs, cats, livestock and exotic animals. At MSU, the most common animals that are necropsied are cats, dogs, horses and cattle.

For livestock owners, ordering a necropsy is often a wise financial decision.

"Submitting a livestock animal for necropsy can save the lives of others in the herd by providing information to the veterinarian about the disease process, which helps direct therapy or preventative measures," Olivier said. "This information is financially valuable to the owner."

At MSU, veterinary students spend four years learning everything about disease from diagnosis to prevention and treatment. Every veterinary student rotates through the necropsy service.

"Necropsy and the study of disease after death complements clinical medicine, as what was determined or undetermined before death can be evaluated at necropsy," Olivier said. "The necropsy findings can provide answers to the cause of disease that other diagnostic procedures may not have answered.

"Importantly, students can visualize the disease processes that they will be treating every day in practice," she said.

Animal owners looking for answers request the majority of necropsies at CVM. However, donation to the necropsy service -- such as that provided by the Beeson family -- is invaluable in advancing disease understanding and education.

While local veterinarians can and do conduct necropsies, they often send tissue samples or the whole animals to CVM for expert evaluation and documentation.

Dr. Wes Baumgartner, an assistant professor in the Department of Pathobiology and Population Medicine, said the CVM lab is particularly suited to quick diagnosis.

"As part of their training, all veterinarians know how to do a necropsy and take samples, but as a pathologist, I do it constantly," he said. "I've spent years training to recognize disease problems in tissue."

All CVM cases are carefully examined before diagnosis, and multiple tests are run on tissue samples. In cases potentially involving herd health, speed is essential.

"We run these tests all at once so we can find the answer as quickly as possible," Baumgartner said. "We provide a rapid turnaround service where we give the owner and the veterinarian ammunition on where to go with treatments."

On occasion, CVM personnel assist with the investigation of suspicious death cases at the request of owners or law enforcement officials. They also sometimes assist in cases where harmful effects of commercial products have been alleged.

For more information about CVM's necropsy services, call 662-325-1351.
Contact: Dr. Alicia Olivier, 662-325-8192
Released:
September 1, 2016