Information Possibly Outdated
The information presented on this page was originally released on May 6, 2016. It may not be outdated, but please search our site for more current information. If you plan to quote or reference this information in a publication, please check with the Extension specialist or author before proceeding.
Child care career provides new life for injured man
BAY ST. LOUIS, Miss. -- Jeramie Kelly nearly lost a leg, but he found his heart.
After a work-related accident left him unable to walk for almost three years, Kelly could not return to his job on a riverboat. Without a high school diploma, he had few other options.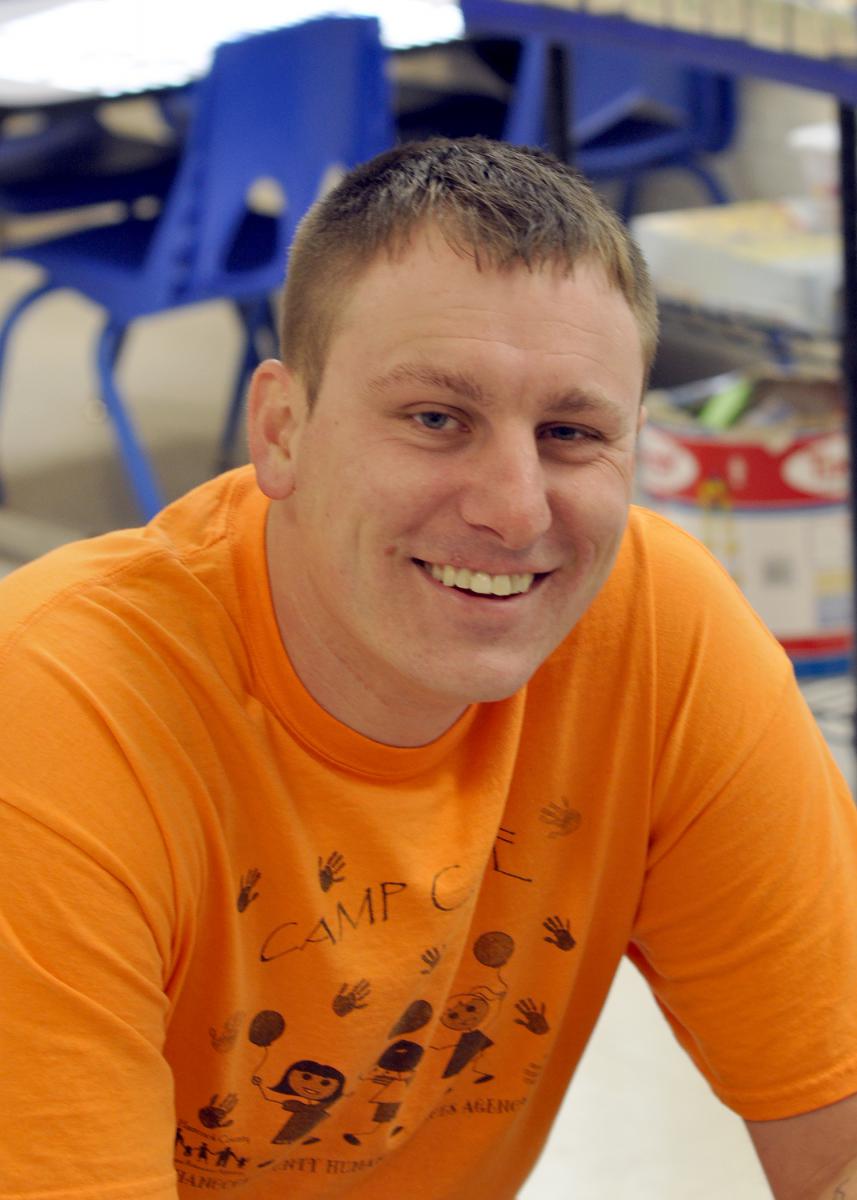 Jeramie Kelly of Bay St. Louis, Mississippi, found his calling as an early childhood educator after an accident left him unable to resume work on a tugboat. (Submitted Photo)
He sought work at a child care center but found out he was not eligible until he completed his GED. With newfound direction and determination, he achieved his goal. With his high school equivalency diploma in hand, he got a temporary summer job at Camp C.A.R.E. in Bay St. Louis, part of the Hancock County Human Resources Agency.
Once he started this job, Kelly discovered he had found his calling in the early care and education field.
"I came to help out for the summer and soon realized I couldn't leave," he said.
Three years later, Kelly is still working at Camp C.A.R.E. and serves as the after-school teacher for kindergarten and first-grade students.
"A lot of kids don't get everything they need at home, especially a male figure. I'm proud I get to be that for them for a little bit," Kelly said.
Since he started his child care career, Kelly has worked to increase his knowledge and professional skills. He earned his Child Development Associate Credential (CDA) through the Early Years Network, an organization dedicated to improving quality in Mississippi's early education field.
"I wanted to get my CDA because it's the most recognized credential in early childhood education and is a major stepping stone on my career path," he said. "Everything I've learned has helped me become a better teacher and parent."
In addition to overseeing the state's CDA program, the Early Years Network provides statewide training workshops, where attendees earn the contact hours required by the Mississippi Department of Health Child Care Licensure Division.
Becky McKeehan, a field technical assistant with the Early Years Network in Petal, mentored Kelly and helped him navigate the CDA course requirements.
"He shared concerns and insights freely and carefully considered how best to reach the children and families in meaningful ways," McKeehan said. "I have every faith that Jeramie will continue to make a positive difference in the lives of the children he teaches. He is a wonderful role model for his colleagues and for the children and families who observe his compassion, integrity and professionalism."
Lora Mederos is the executive director of the Hancock County Human Resources Agency and serves on the Early Years Network Advisory Board.
"We are extremely proud of Jeramie," Mederos said. "It is such a gift for a gentleman to work with children and be a positive male role model, especially for children from single parent homes. Jeramie has God-given special talents to work with children. He even fills in on the weekends at the Hancock County Children's Emergency Shelter when we are short-staffed. He is firm but fair and all of the children love him."
With plans to continue working in early childhood education, Kelly said he would like to become a pre-K teacher.
The Early Years Network is a program housed in the MSU Extension Service and funded by the Mississippi Department of Human Services Division of Early Childhood Care and Development to provide early care and education programs and materials for teachers, directors, children and families to improve the well-being of Mississippi's children. For more information, visit the Early Years Network Facebook page or http://www.earlyyearsnetworkms.org.