Information Possibly Outdated
The information presented on this page was originally released on October 27, 2016. It may not be outdated, but please search our site for more current information. If you plan to quote or reference this information in a publication, please check with the Extension specialist or author before proceeding.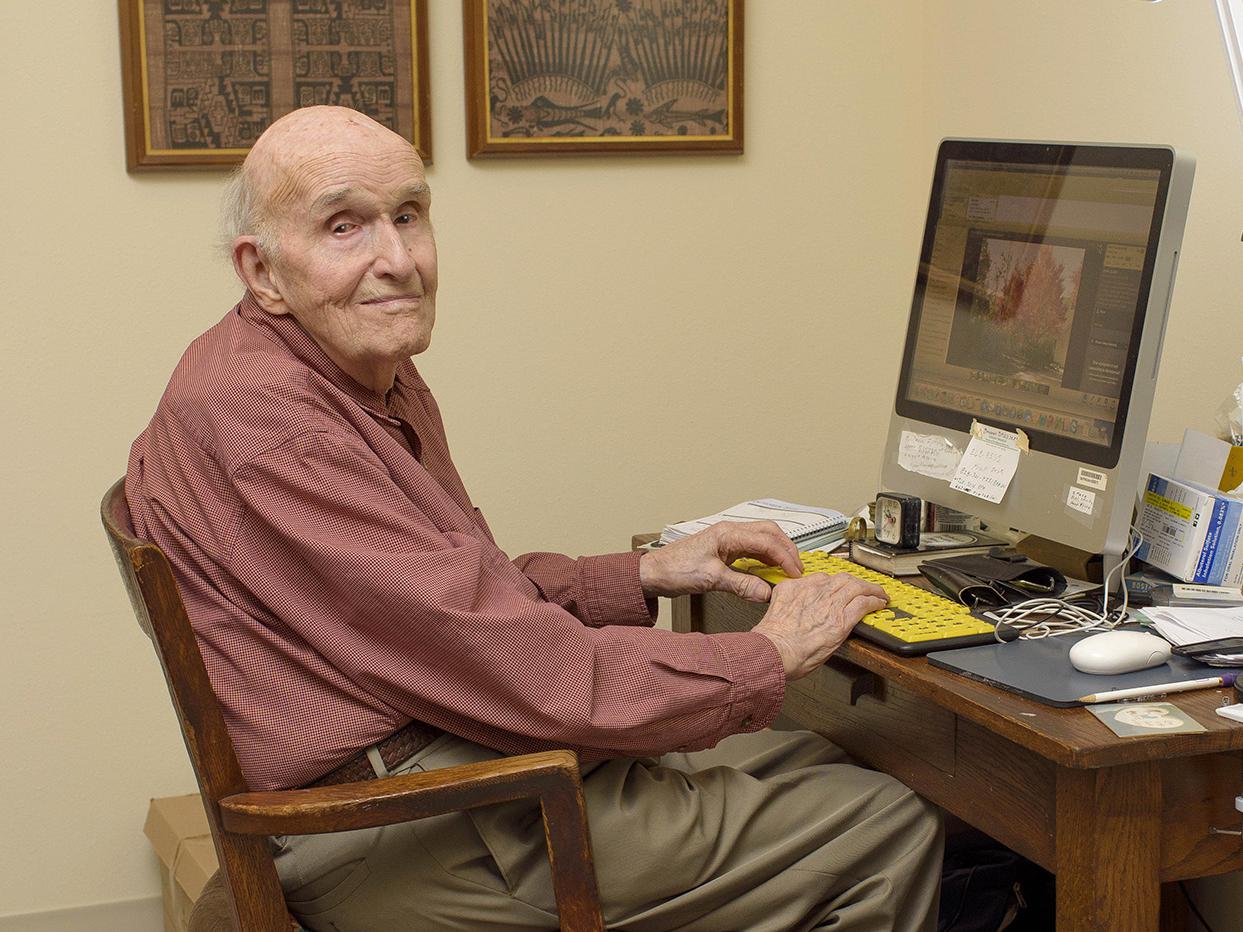 Landscape architect pioneer taught at MSU symposium
By Ms. Bonnie A. Coblentz and Ms. Madeline Golden
MSU Extension Service
STARKVILLE, Miss. – Fifty-nine years ago, a man who appreciates the design potential of concrete chickens started a landscape symposium at Mississippi State University. Today, he still has a concrete chicken gracing his living room, and MSU's annual Landscape Design Symposium bears Edward C. Martin Jr.'s name.
Martin, originally from Albany, Georgia, came to MSU in January 1956, after earning a bachelor's degree in landscape architecture from the University of Georgia. He came for a master's in horticulture after working five years at a landscape architecture firm in Birmingham.
"At MSU, I got so overloaded. I was bogged down with all the work I was doing that I didn't have time to take graduate courses," Martin said. "I was doing research, I taught plant materials and planting design classes, and I was head of the campus landscape department in charge of campus planting designs, plantings and maintenance."
It was in one of those planting design classes that he got an unusual gift.
"I had emphasized that semester that people don't know how to use concrete chickens in design, but I really appreciate a concrete chicken," Martin said. "At the end of the semester, the students came in with something wrapped in a big wad of newspaper.
"I couldn't imagine what they had, but it was a concrete chicken. They had to go all the way down to the Gulf Coast to buy one, but I have it in my living room now," he said.
In 1957, he started what is now known as the Edward C. Martin Jr. Landscape Design Symposium, which now convenes annually. Initially, it was held more than once a year, so this year marks the 61st symposium at MSU.
When he left Starkville, Martin still did not have his master's degree, but he had helped establish the MSU Department of Landscape Architecture. He returned to Georgia, where he finally earned a master's degree in historic preservation.
Bob Brzuszek, MSU Extension Service professor in landscape architecture, called Martin an MSU legend.
"Mr. Martin was responsible for planting many of the trees and creating the beautiful MSU green spaces that we see on campus today," Brzuszek said. "Ed Martin's legacy is timeless. He is recognized for his positive contributions on the MSU campus, on the numerous students that he taught, for the landscape books he wrote, and on the profession of landscape architecture in the state of Mississippi."
Martin was at MSU for 45 years and then stayed active after his retirement. He wrote two award-winning books on the subject of planting design, and he spent eight years as a garden tour guide at the Biltmore Estate in North Carolina. Martin donated his photographic collection of gardens he visited throughout his lifetime to the MSU Mitchell Memorial Library Special Collections.
An undertaking that captured most of Martin's time in retirement was also the subject of his illustrated lecture Oct. 19 at the MSU landscape symposium.
"When Ed moved back to Starkville, we simply had to have him speak at his own symposium," Brzuszek said. "His friends in the garden clubs and gardeners from around the state showed up to hear him. And, as always, he was full of good humor and tips to help homeowners improve the design and look of their gardens, which he has done so brilliantly throughout his career."
For his presentation, Martin showed 79 photos of landscape work he did with the house site he and wife, Roberta, owned for 11 years in Black Mountain, North Carolina.
"The people who owned the house built it five years before we bought it, and they never planted anything on the slope in front of it but a few seasonal hosta lilies," Martin said. "I had my work cut out for me, but it was a pleasure for me to do it."
In his presentation titled, "A low maintenance home landscape of a landscape architect," Martin showed photos of his landscape and told why he used certain plants in specific areas. He explained the design elements and principles behind each planting decision.
"I have hidden the daily wash hanging on a log cabin over there," he said while showing one landscape planting.
At another photo, he pointed out a placement that "broke up the view of the neighbor's roof."
Martin talked about the importance of shadows created by plants in the landscape, and how easy they are to overlook. He designed his landscape to create interesting shadow patterns, which he pointed out in his presentation.
Martin is a fellow of the American Society of Landscape Architects and was the first registered landscape architect in Mississippi. He retired from teaching in 1993. He and his wife live in Starkville.
The Edward C. Martin Jr. Landscape Design Symposium is conducted annually in October and features noted regional and national landscape speakers.
Released:
October 27, 2016