Information Possibly Outdated
The information presented on this page was originally released on October 27, 2016. It may not be outdated, but please search our site for more current information. If you plan to quote or reference this information in a publication, please check with the Extension specialist or author before proceeding.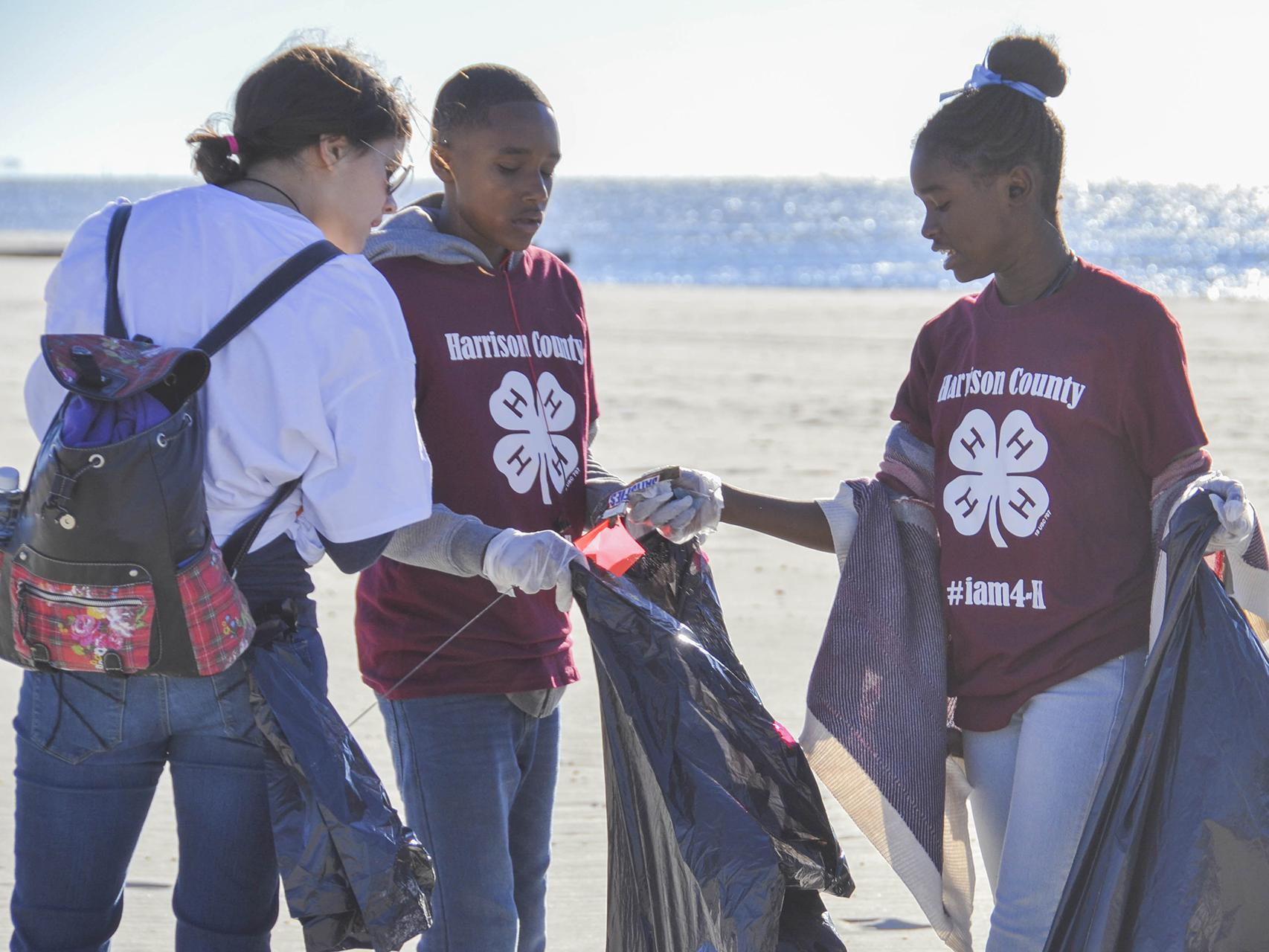 Volunteers collect tons of trash during cleanup
BILOXI, Miss. -- About 2,400 volunteers helped remove trash from beaches and other waterways during the Mississippi Coastal Cleanup on Oct. 22.

Organizers estimate that volunteers collected more than 10 tons of debris at the 28th annual Gulf Coast event. The Mississippi State University Extension Service organizes and implements the Coastal Cleanup in partnership with the Mississippi Marine Debris Task Force. Members of the community and local organizations combed more than 50 sites located on beaches, barrier islands and coastal waterways.

"This event helps remove many thousands of pounds of trash that could harm the health of the Gulf Coast ecosystem," said Eric Sparks, project co-coordinator and assistant Extension professor. "It also helps raise awareness about how much of a problem trash is."

Volunteers collect data on the kinds and amounts of debris found. This information helps organizers determine the sources of litter and develop better public education about proper trash disposal and pollution prevention. Plastics make up most of the trash littering waterways, but cigarette butts, fishing line, aluminum cans and food wrappers are also common.

Sheran Watkins, MSU Extension Service 4-H agent in Harrison County, said 4-H'ers in her county have participated in the event for 23 years. Jessica Lero, president of a newly formed 4-H club at Long Beach High School, joined volunteers at the event for the second consecutive year.

"I come to the beach a lot, and I do see trash every time I come," Lero said. "It's important that we keep our beaches clean because it benefits the environment and wildlife. Kids play here, and there are things, like broken glass, out here that could hurt them."

Trash can make its way to beaches and waterways by several means: littering, natural disasters, improper disposal and being blown out of trash receptacles.

Kaileb Williams, Harrison County 4-H member and vice president of his club, said clean beaches and waterways are important to the coastal economy.

"No one wants to live, work or visit somewhere that's dirty," Williams said. "I like to clean, so this is an opportunity to help the environment while doing something I enjoy."

Coastal Cleanup organizers will implement educational programs throughout 2017 to help citizens understand how to keep trash out of waterways and off beaches. Sparks said supporters of the program can continue to help throughout the year by volunteering or providing monetary or in-kind donations to help sustain the cleanup and education program.

Walter Vick, a Gulfport native who recently moved back to the coast, makes regular trips across the road from his condo to clean up what beachgoers leave behind.

"Littering is terrible," Vick said. "People just leave their stuff out here, things like chairs and coolers. I come out here on a regular basis and pick it up and donate it, so I was glad to participate today."

The Mississippi Coastal Cleanup is one of many coastal cleanup events held worldwide in the fall as part of the International Coastal Cleanup campaign, which operates through Ocean Conservancy. More than 65,000 volunteers have removed more than 1.6 million pounds of trash from Mississippi's coast during the event's 28-year history.

For more information about the Mississippi Coastal Cleanup or donating to the program's ongoing educational efforts, visit the Mississippi Coastal Cleanup Web site at http://www.mscoastalcleanup.org.

Released:
October 27, 2016