Information Possibly Outdated
The information presented on this page was originally released on August 24, 2017. It may not be outdated, but please search our site for more current information. If you plan to quote or reference this information in a publication, please check with the Extension specialist or author before proceeding.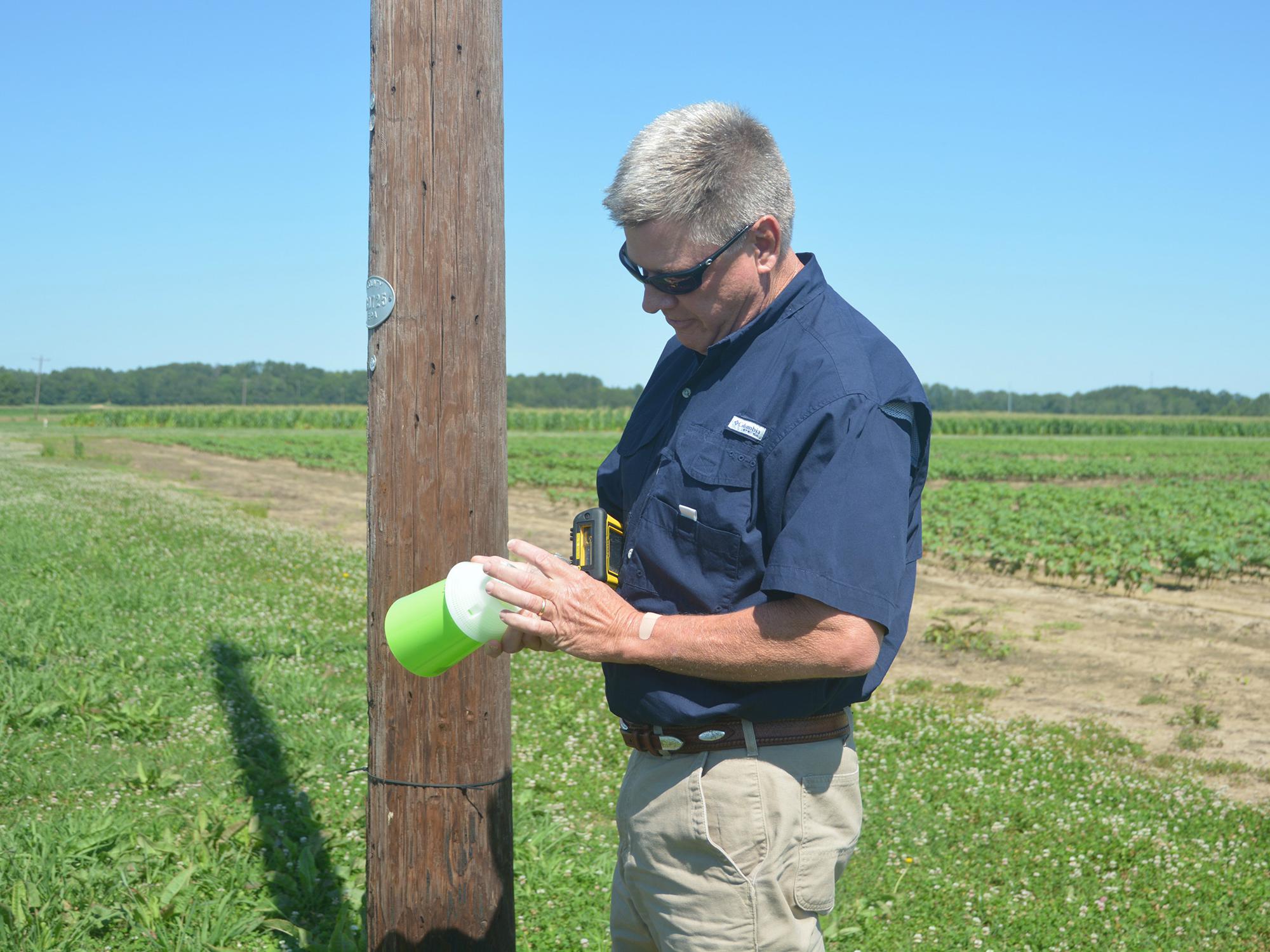 Cotton growers enjoy life after boll weevils
STARKVILLE, Miss. -- Cotton will always have challenges, but few of them will ever compare to the boll weevils that thrived in Mississippi from 1904 until 2009.
"It is nearly impossible for this younger generation of consultants, scouts and growers to understand how hard boll weevils were to control and how much boll weevil control hurt beneficial insects and complicated cotton management," said Will McCarty, who served as the Mississippi State University Extension Service cotton specialist during "the boll weevil wars."
This campaign was fought not only to eradicate cotton's No. 1 pest, but also to unify growers in the effort that began with a trial program in the late 1970s in Virginia and North Carolina. The Southeastern Boll Weevil Eradication Program started in the 1990s and spread south and west from these states, pushing weevil populations back toward their native Mexico.
"When the eradication program arrived in Mississippi, we had as much cotton in the state as all the states east of us combined," McCarty said. "It was a huge undertaking. This was like D-Day for boll weevil eradication."
McCarty said many growers did not realize what weevils were costing them or how their control efforts for other pests impacted weevil numbers. Many growers in areas of the state with traditionally large budworm populations did not realize control efforts for that pest were keeping weevils in check to some degree.
"Transgenic cotton, which is relatively resistant to budworms, became available at about the same time we started the program, so if growers did not need to treat for worms, then boll weevil numbers would explode," he said. "In some areas, Mississippi farmers would spray boll weevils from six to over 16 times a year."
There were also subtle differences in control needs in the Delta and hill counties.
"Delta growers, who did not typically have as many weevils, began to see more as they began planting transgenic cotton," he said.
Farrell Boyd, manager of the eradication program for the Mississippi Boll Weevil Management Corp., was a cotton grower when the eradication program arrived in the state in 1997.
"Growers could spray weevils regularly and still lose their top bolls," Boyd said. "If you got into a rainy spell and couldn't treat, weevils would literally stop the cotton from blooming. Sometimes, you could be spraying like crazy and blooms still hit the ground."
Boyd said part of the challenge was how well neighboring farmers controlled their boll weevils. That was part of the appeal of the eradication program's organized effort.
"It is just in farmers' natures to want control of their property, but cooperating with neighbors' efforts was essential," Boyd said.
McCarty said cotton is the only host for boll weevil reproduction, so weevils were concentrated in and around cotton fields.
"If one farmer did well at controlling them, but others did not, then weevils were coming from infested fields to their fields eventually," he said. "We had to have all growers on the same page."
From the time cotton started squaring in early June, McCarty said, spray rigs would be running somewhere every day.
"Now, growers don't have to do that. That's an impact not only on the farmers' bottom lines, but also on the environment," he said. "It is amazing how the eradication of the boll weevil and the introduction of transgenic cotton varieties have contributed to the overall reduction in the amount of pesticides applied to cotton grown in Mississippi."
Aubrey Harris, retired research entomologist at the MSU Delta Research and Extension Center in Stoneville, co-edited the definitive history of boll weevil eradication in the U.S. He said academic research efforts to understand and control boll weevils started as soon as the pests arrived in the Mississippi.
"R.W. Harned, head of entomology at Mississippi A&M from 1908-1930 published information on their biology and behavior in 1910," he said. "The U.S. Department of Agriculture's Boll Weevil Research Laboratory opened in 1962 at MSU and was dedicated to Harned in 1982."
Harris, who chaired the technical advisory committee for Mississippi's eradication program, said much of the USDA Agricultural Research Service work occurred in the boll weevil research lab in Starkville, Mississippi.
"The methodology for eradication and the boll weevil trap were perfected at the lab there at MSU," Harris said. "During the growing season, researchers found more success with fall diapause applications and early-spring sprays. Researchers studied sterile male releases, but that did not work."
The retired entomologist said eradicating the boll weevil provides an "unprecedented opportunity" for practicing integrated pest management in cotton.
Released:
August 24, 2017