Information Possibly Outdated
The information presented on this page was originally released on May 11, 2018. It may not be outdated, but please search our site for more current information. If you plan to quote or reference this information in a publication, please check with the Extension specialist or author before proceeding.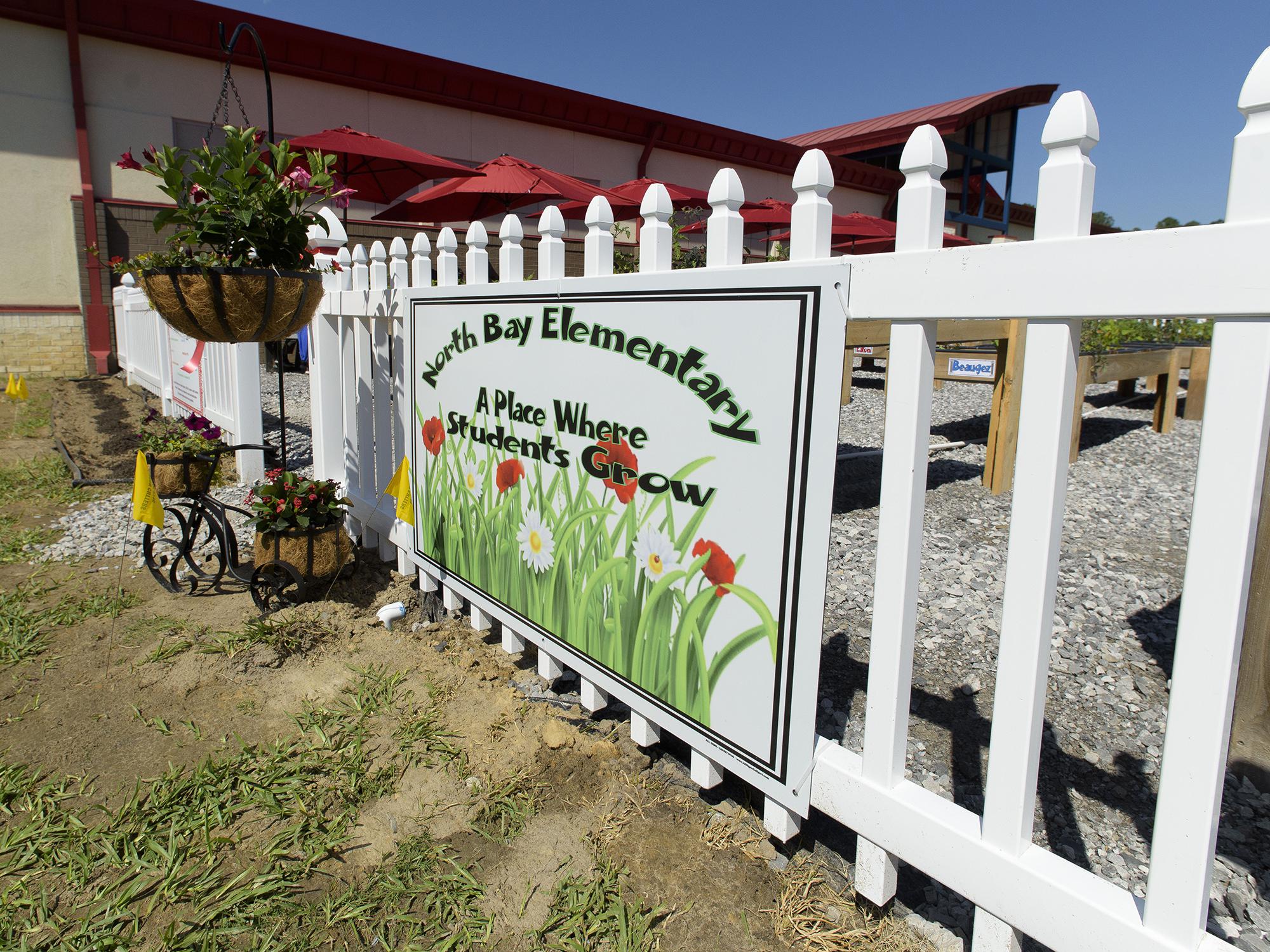 Garden teaches students academics, agriculture
BILOXI, Miss. -- Students at North Bay Elementary School in Biloxi got another hands-on learning component this spring with the addition of a school garden.
CREATE teacher John Collins and principal Laurie Pitre worked with the Mississippi State University Extension Service, Mississippi Agricultural and Forestry Experiment Station, Master Gardener volunteers and local businesses to plan and install the garden. After touring a school garden in Hattiesburg, Collins and Pitre took a course taught by Extension specialists and Experiment Station scientists tailored to beginning gardeners.
"I did my master's research on how school gardens influence students' food choices and nutrition, and I thought a garden would be a wonderful teaching tool to have at our school," said Collins, who teaches creative thinking and interpersonal skills through the school's gifted program. "The class I took at the Coastal Research and Extension Center helped me understand some basic gardening concepts, like the difference between determinate and indeterminate tomato plants."
The garden consists of several salad tables, which the students call veggie tables, built and donated by Pine Belt Master Gardeners. The tables are shallow raised beds on legs of various heights to accommodate the 600 students, who range from kindergarten to fourth grade.
Classes tend their own tables, which they planted with different combinations of tomatoes, peppers, beans, squash, cucumbers, eggplants, spearmint and strawberries. The garden also includes blueberry bushes donated by the MSU South Mississippi Branch Experiment Station and satsuma trees donated by a local grower, all grown in 25-gallon containers.
"This is a great opportunity to teach classroom concepts and about agriculture," Collins said. "The kids are so excited. They have really had a good time planting things and watching them grow."
Gary Bachman, Extension horticulturist and Experiment Station researcher, helped Collins choose the low-maintenance salad tables and showed him how to automate watering with a sprinkler system.
"We've had soil in the tables for two months, and we have not had to weed them at all," Collins said. "Because they are elevated, they are easily accessible, and we control watering with a computer program. I knew to be successful, I had to take as many obstacles out of the way as possible."
Collins said the garden gives him and other teachers another tool for teaching. Teachers are required to teach two lessons a year in the Imagination Station, an area that includes a kitchen. Produce from the garden could easily be incorporated into these lessons or used with the curriculum provided by Whole Foods.
School gardens are a great way to extend classroom learning and incorporate lessons on food production, said Wayne Porter, coastal region Extension coordinator.
"Kids get excited about anything hands-on," said Porter, who also is an Extension horticulture specialist. "They love planting things and watching them grow."
Second-graders Amelia Hensley and Jayden Amonett, both members of Collins' CREATE class, spend one day a week in the garden.
"It was really fun to plant everything," Amonett said. "We have flowers at home but not vegetables. I want to grow carrots and tomatoes and strawberries at home. The strawberries are really good."
During the summer, students in the summer school program will take care of the garden. They will eat some of the produce and donate the extra vegetables to local food banks. When students return in the fall, summer crops will be replaced with cool-season crops.
"The kids will really see production from beginning to end then," Bachman said. "Some cool-season vegetables grow very quickly, like radishes. You plant seed, and 21 days later you have radishes.
"School gardens are great because many kids are agriculture-deficient. What better way to teach them where food comes from than to grow it themselves."
Collins plans for the garden to have a competitive element to help students and teachers maintain enthusiasm. Classes will weigh their produce to gauge which classes are most successful. Students also will keep an eye on the health of the garden by measuring soil temperature and by taking periodic soil samples to determine if nutrients are needed.
For more information on salad tables and instructions on how to build your own, visit the MSU Extension Service website at https://bit.ly/2jL2N0o.