Information Possibly Outdated
The information presented on this page was originally released on August 26, 2020. It may not be outdated, but please search our site for more current information. If you plan to quote or reference this information in a publication, please check with the Extension specialist or author before proceeding.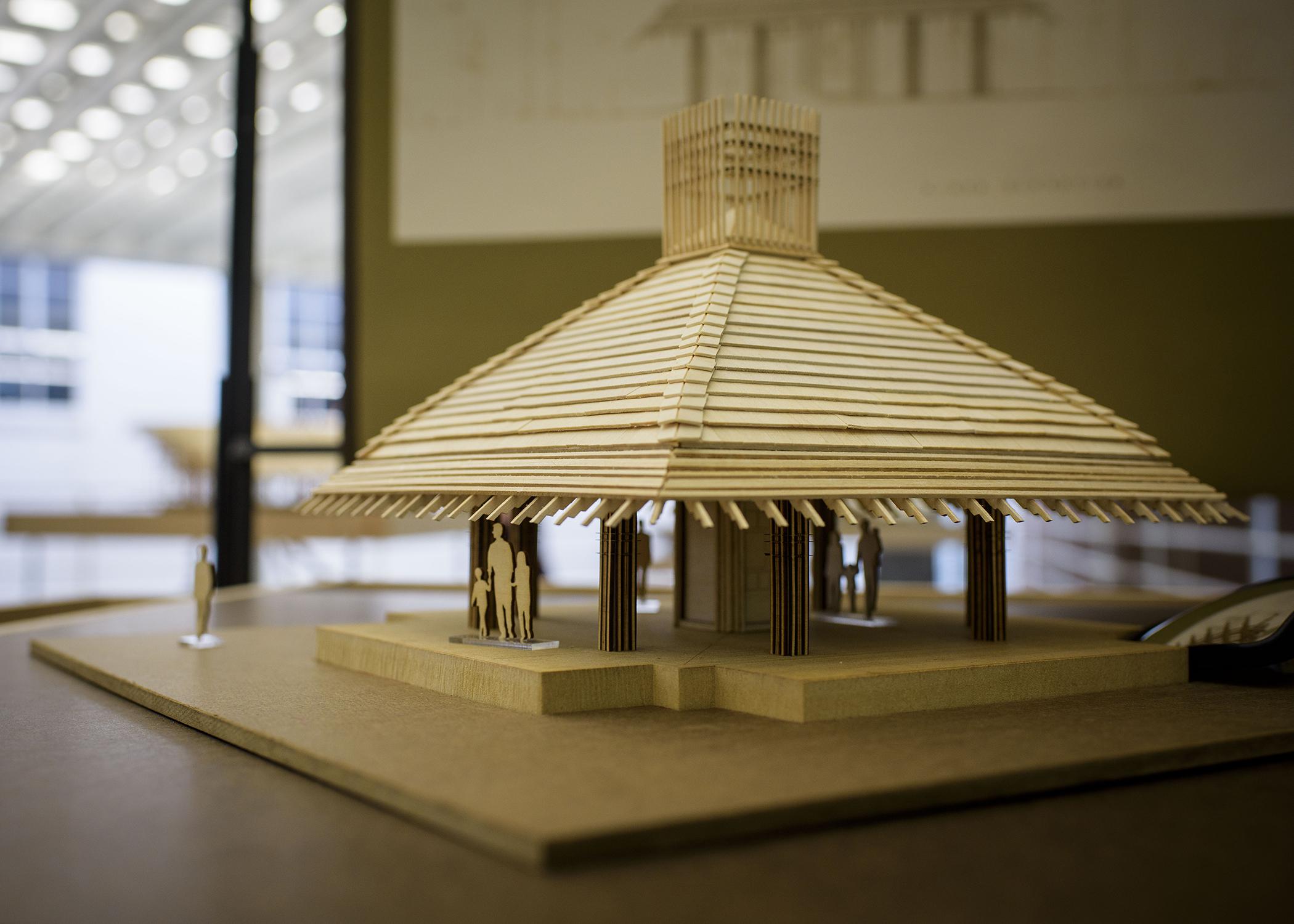 Crosby Arboretum architect featured in museum exhibit
WASHINGTON, D.C. -- An exhibition of unbuilt structures by internationally renowned architect E. Fay Jones intended to accompany the completed Mississippi State University Pinecote Pavilion is on display in Washington, D.C.
Because of COVID-19, the display is closed to the public, but a live videoconference event is being held Aug. 27 to celebrate the architect. The Architects Foundation will host a virtual dialogue with MSU associate professor Hans Herrmann and other prestigious architects to explore the legacy of E. Fay Jones.
Jones, an American architect and designer, was an apprentice of Frank Lloyd Wright and received the AIA Gold Medal in 1990, the highest honor awarded by the American Institute of Architects.
The panel is available from 4 to 5 p.m. central time. Visit https://architectsfoundation.networkforgood.com/events/22320-the-unbuilt-crosby-arboretum to learn how to join the event.
The exhibit, "The UnBuilt Crosby Arboretum: An Unrealized Masterplan by E. Fay Jones and Edward Blake Jr.," is at the Octagon Museum of the Architects Foundation. The display showcases a digital archive of drawings by Jones of structures that were never realized. The four unfinished works were intended to be built alongside the Pinecote Pavilion at the MSU Extension Service's Crosby Arboretum in Picayune, Mississippi.
"This is an excellent opportunity to increase visitation to the Crosby Arboretum as a new audience is introduced to the critically acclaimed work of architect E. Fay Jones," said Pat Drackett, assistant Extension professor and director of the Crosby Arboretum. "We hope the attention will also result in more people learning about our mission of educating the public about sustainable landscapes and how these practices can benefit their own properties."
Drackett showed the set of schematic drawings to MSU School of Architecture associate professor Hans C. Herrmann in 2017, and the idea for the exhibit was born. Herrmann created the display with the assistance of 10 undergraduate architecture students.
"I decided then that the design had to be shared with a larger audience, and I began thinking of ways in which I might help to shed light on this untold story of design and planning," Herrmann said.
He and his students began by studying the existing schematic drawings and filling in the gaps in information by researching Jones's prior works. They worked from the fall of 2018 through spring 2019 to design and construct the exhibit. Students built the displays, generated display panels, wrote descriptive text, built fine basswood models, and developed virtual-reality, three-dimensional models of the structures.
Learn more about the museum where this exhibit is on display at https://architectsfoundation.org/octagon-museum.
Released:
August 26, 2020