Information Possibly Outdated
The information presented on this page was originally released on October 8, 2001. It may not be outdated, but please search our site for more current information. If you plan to quote or reference this information in a publication, please check with the Extension specialist or author before proceeding.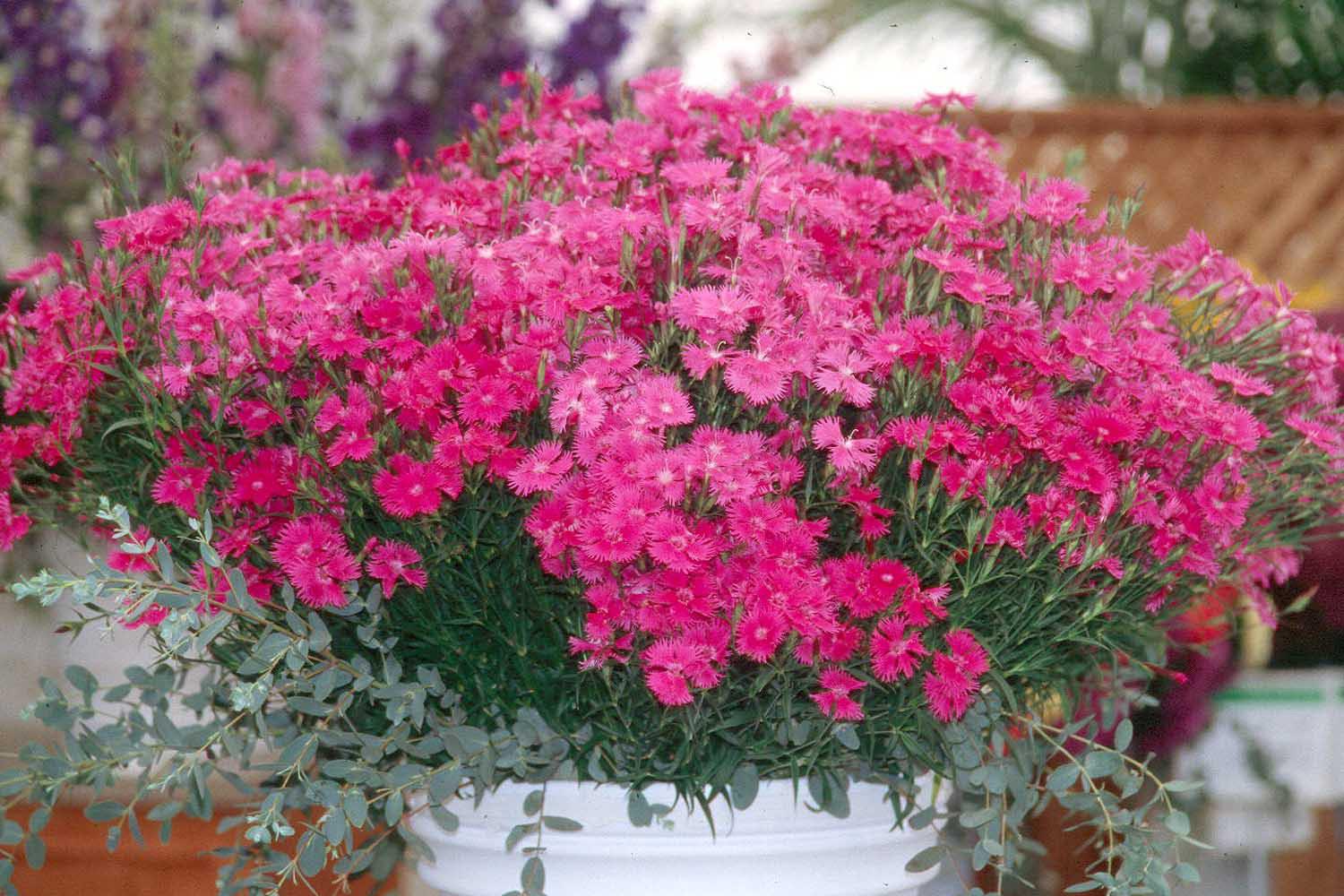 Bouquet Purple dianthus is fall Medallion winner
By Norman Winter
MSU Horticulturist
Central Mississippi Research & Extension Center
Though far apart in geography and climate, Mississippi and Minnesota both named the same plant an award winner. Bouquet Purple dianthus is the Minnesota Select perennial plant of the year and the Mississippi Medallion winner for this fall. When something like this occurs, you realize you have an extraordinary plant.
Last October the Mississippi Plant Selections Committee presented its first fall Mississippi Medallion winner in its five-year history. The Panola Panache, that unique cross between the pansy and the viola, received this distinction. The second fall Mississippi Medallion plant is the Bouquet Purple dianthus.
Bouquet Purple originates with the PanAmerican Seed Co. in Santa Paula, Calif. Over the next few weeks, you will be able to find it at retail garden centers and nurseries across the state.
Bouquet Purple is considered an interspecific hybrid. For a while it performs like the Telstar series, a Louisiana Select winner, but shortly you will see the big difference. Bouquet Purple is a tall cut-flower dianthus that is a good landscape performer with potential for cut-flower growers.
The flower stalks reach 18 to 24 inches in height and produce an abundance of bouquets ready for cutting. The flowers are a bright and bold hot purple-pink color.
Bouquet Purple has remarkable cold tolerance, as seen in its designation as a Minnesota Select perennial plant winner. What is surprising is that in trials in Mississippi, not only did it put on colorful sprays in the fall and spring but it kept on blooming through the torrid summer.
How long will it persist in your garden? That answer varies from garden to garden, as is typical with many plants. One thing is definite, and that is Bouquet Purple would be a good value even if you purchased it annually like a pansy.
Bouquet Purple prefers well-drained, well-worked beds rich in organic matter. When preparing a bed, incorporate two pounds of a slow release 12-6-6 fertilizer with minor nutrients per 100 square feet of bed space. They need plenty of sun to bloom to their potential. Lightly side-dress with fertilizer once a month to keep them growing and producing.
There are two important steps to achieving happiness with the Bouquet Purple. The first is to mulch to conserve moisture, deter weed growth and keep summer soil temperatures cooler. The other is to deadhead to keep the plant looking tidy and the flower stems coming. For cut-flowers, cut the stems when three flowers are fully open.
To create the prettiest display, set out in large drifts of three to four plants per square foot. The hot pink-purple color allows them to combine well with a number of plants.
Some of the best companion plants are pansies like Purple Rain, True Blue panolas, and flowering kale and cabbage with pink overtones. As you plant this fall, also plant yellow daffodils in large groups in front of or adjacent to the Bouquet Purple.
The demand will be great for Bouquet Purple. If your local garden center runs out, there should be another shipment soon.
Released:
October 8, 2001