Information Possibly Outdated
The information presented on this page was originally released on April 15, 2019. It may not be outdated, but please search our site for more current information. If you plan to quote or reference this information in a publication, please check with the Extension specialist or author before proceeding.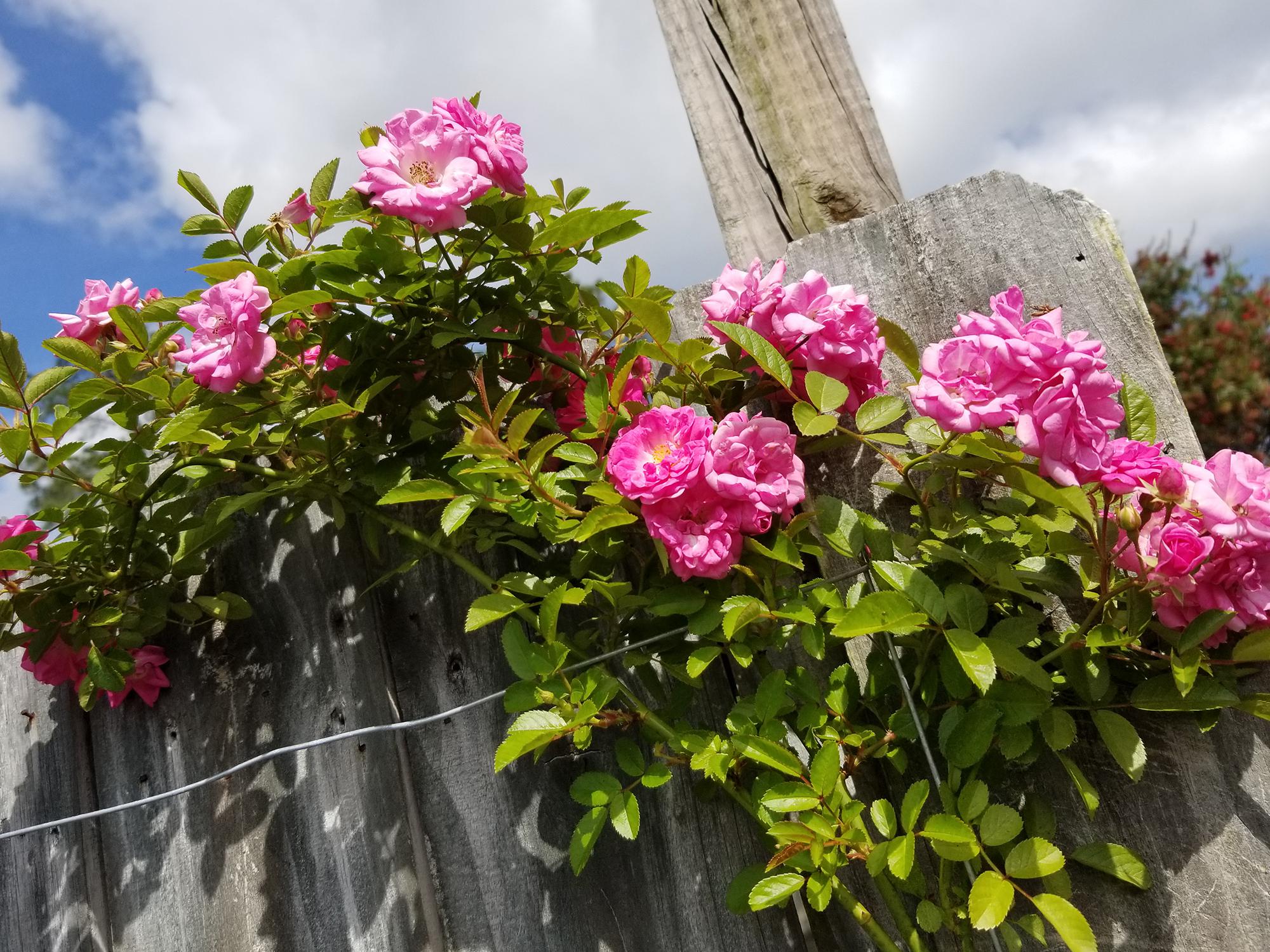 Peggy Martin rose thrives even without much care
This weekend I finally had a chance to sit back, take a breath and reflect a little. I've been on my annual spring horticulture marathon, and this year was the most hectic yet.
Garden clubs, Master Gardeners events, associations, professional meetings and, of course, tending to my Southern Gardening duties have kept me on my toes since the first of the year.
Because of my schedule, along with the weather, I've had only a couple of good days so far this year to spend trying to get my garden and landscape back under control. You may be familiar with the contractor whose house is never finished or the shoemaker whose kids run around barefoot; that's me right now.
But I recently saw something that assured me that everything was going to be alright.
One of my favorite plants was blooming -- and if you follow Southern Gardening, you know I have lots of favorite plants. My Peggy Martin rose grows up the corner of our fence, and it was beginning to bloom. It seemed to me that Peggy was telling me she's got my back.
I really like growing plants that have a history and a story to tell, and I had the pleasure of meeting Peggy Martin herself at a rose meeting a couple of years ago. The Peggy Martin rose, which is also known as the hurricane rose, has a fascinating story that I'm going to paraphrase a bit.
Peggy's family lived in Plaquemines Parish when Hurricane Katrina struck the Gulf Coast. After spending two weeks under 20 feet of water, this rose was the only survivor of Peggy's rose garden. It quickly became a symbol of the spirit of perseverance.
The rose produces spring clusters of small, pink flowers. After establishment, it will rebloom in the fall. This rose is hardy up into USDA Zone 4, and it is very popular because of its history and landscape performance.
The Peggy Martin rose has few pests and diseases to worry about, and it tolerates our Mississippi seasons. The only maintenance requirement is to plant it in well-drained landscape soil. I have my Peggy Martins -- yep, I have two -- in 25-gallon containers. I fertilize twice a year and prune a few of the wild hair canes that pop out.
Peggy Martin roses are called climbers, but this term is a little misleading as she doesn't actually climb by herself. This rose is more of a leaner and likes to sprawl. It needs to be secured and trained to grow up and over a wall, fence or trellis.
While Peggy Martin rose is tolerant of our droughty summers, I know she appreciates the supplemental irrigation I provide during these dry periods.
There are nurseries carrying the Peggy Martin rose, but don't be surprised if the availability is limited. You may have to get on a waiting list, but she will be worth the wait.