Information Possibly Outdated
The information presented on this page was originally released on April 29, 2019. It may not be outdated, but please search our site for more current information. If you plan to quote or reference this information in a publication, please check with the Extension specialist or author before proceeding.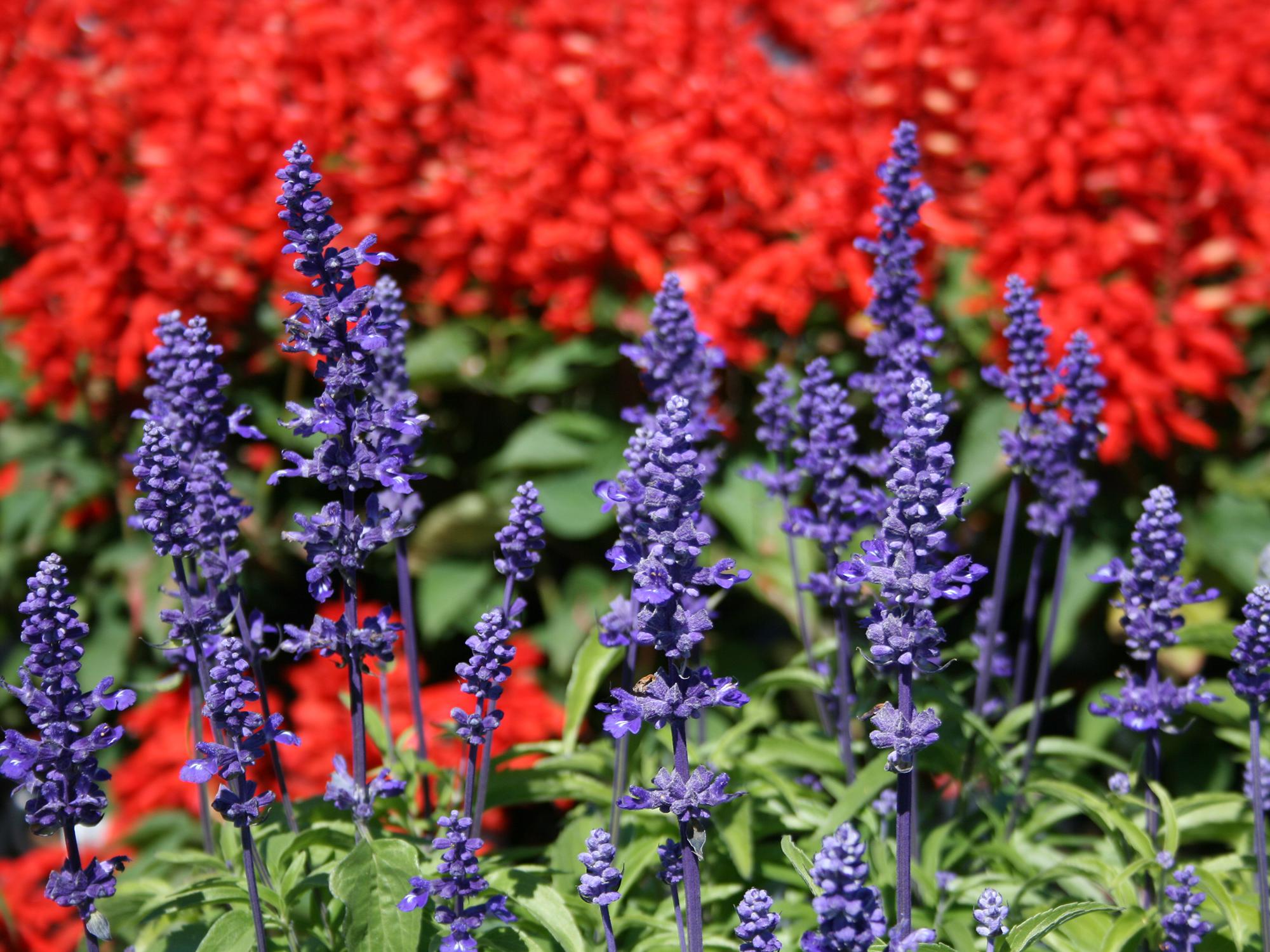 Salvia plants bring pollinators, color
Over the past couple of years, I've found myself joining home gardeners everywhere in planting more plants to attract pollinators.
In fact, along with being a stop on the Rosalyn Carter Butterfly Trail, my home landscape is also registered with the Million Pollinator Garden Challenge, which has the goal of registering 1 million pollinator gardens. If you'd like to register your garden, go to http://millionpollinatorgardens.org for more information.
One of my go-to plants for attracting pollinators, especially the various bumblebees, has to be salvias. It doesn't matter which variety, I just have to have salvias growing in my landscape.
Rockin' Playin' The Blues salvia is a plant that I have to call one of my best choices. I've been growing this perennial going on three years now. It produces beautiful blue flowers all summer long.
A nice feature I like about the plant is its sterility, which means the gorgeous flowers don't produce seed that could cause a weed problem. I like that the blue calyx remains after the actual flower falls off. This means the color has an even longer-lasting landscape effect. I enjoyed watching all the bumblebees and other pollinators enjoying the nectar filled flowers.
It was interesting a couple of years ago when a tropical storm dumped rain on us over the course of four days. It would rain like crazy for a while, and then we would be in a calm period. Every time the rain stopped for a while, the bumblebees would come back to the Rockin' Playin' The Blues plants.
Another perennial salvia I like are the group of Salvia farinacea. They tend not to be flashy, but they do draw the pollinators.
Victoria Blue salvia is an old reliable that was selected as a Mississippi Medallion winner way back in 1998. It was good then, and it's still good now. This is an upright perennial that will need some winter protection in northern Mississippi. The rich, deep-blue flowers are displayed on spikes and are produced through the summer and into fall. This plant will grow to about 18 or more inches tall and 12 inches wide. Check out this Southern Gardening TV segment on Salvia farinacea:
Gary Bachman identifies several varieties of salvia that grow well in Mississippi landscapes.
I can't forget to mention that there are fantastic annual salvia selections. One of my favorites is Salvia splendens. As the name suggests, they are splendid in the landscape. They have the common name of scarlet salvia but come in a variety of bright colors.
The Vista series is one of my favorites. These plants are well behaved and growth tops out at a compact 12 inches. The flowers on the spikes are densely packed. Over the past couple of years, I've seen these plants in the summer trials in both Mississippi and Louisiana. Both the red and purple varieties looked great despite the high summer heat and humidity.
Salvias appreciate it when their planting beds have good drainage. Mine always do well in containers, the bigger the better. Be sure to grow in the full sun, and I know you'll be growing salvia for years to come.