Safety First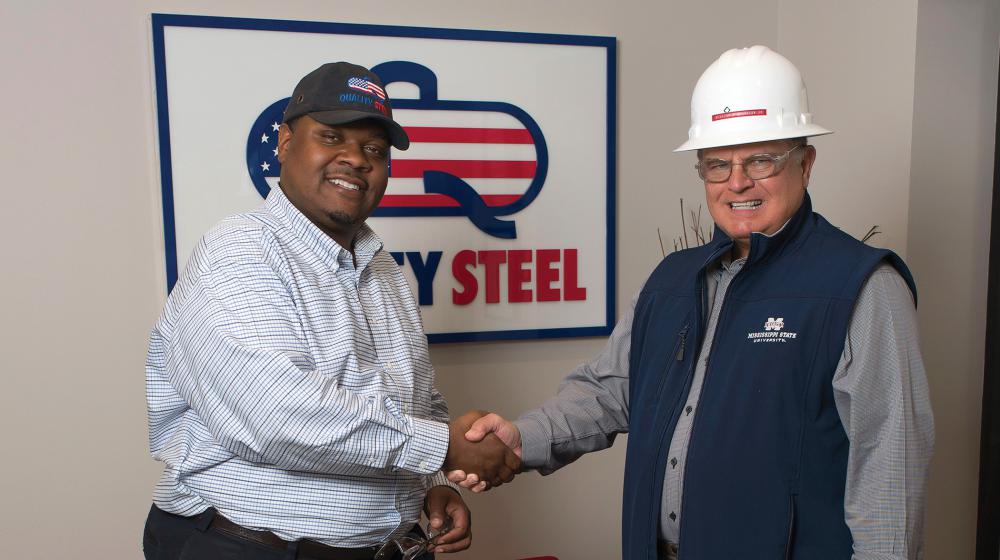 Extension Helps Make Businesses Safer
Story by Leah Barbour • Photos by Kevin Hudson
They met in 2010 because of a tragic rough-terrain forklift fatality. Tredrick Johnson was the safety manager at the Cleveland branch of Quality Steel Corporation, and Billy Chandler was the local safety-compliance officer for the U.S. Department of Labor's Occupational Safety and Health Administration, better known as OSHA.
"Extension would be my prime witness as to how we've, at Quality Steel, improved central workplace safety and health. Extension is a tremendous resource for us."
TREDRICK JOHNSON
The deceased employee was Johnson's personal friend; they'd grown up together. Johnson had to tell the late employee's wife about the accident, and the experience changed how he views workplace safety.
"It's a safe place to work here now at Quality Steel," says Johnson. "Billy can take a lot of the credit for that, but having that happen to someone that was so close to me was a driver for me. It gave me determination. It didn't matter to me anymore how upset an employee got if I tried to correct him on safety. I'd rather have a guy upset with me than to have to tell his wife that he's not coming home."
Johnson's insistence on maintaining a safe workplace continues. When he learned in January 2017 that the Mississippi State University Extension Service offers free on-site safety-consultation services, he called Extension's Center for Continuing Education to request a visit.
Johnson says he fell out of his chair when Chandler answered the phone.
Chandler recalls the deafening silence on the other end of the line.
"The caller was my friend, Tredrick Johnson," Chandler laughs. "I was able to explain that I had retired as a federal safety engineer on January 3, 2017, and I came to work as a state OSHA consultant on January 9. I could truly help him instead of citing and fining his company."
In his new Extension role, Chandler was able to offer his workplace-safety expertise in a more positive way, Johnson explains.
"Now that he's not with OSHA, it's best to have Billy Chandler show up and get your business on track before you get the call from OSHA," Johnson says. "Extension would be my prime witness as to how we've, at Quality Steel, improved central workplace safety and health. Extension is a tremendous resource for us."
Chandler is available by phone, email, and in person; Johnson says Chandler would even meet him online through a live-streaming service, if the need arose.
"We've consulted with them on a variety of topics in a variety of ways. They've reviewed our safety inspections and our health inspections. Extension has excellent resources," Johnson says.
The company currently meets OSHA's safety standards, and Johnson knows that Quality Steel Corporation can continue to improve its safety rating. He was promoted in 2013 to be the corporate director of safety and training and again in 2017 as corporate director of environmental health, safety, and training for Quality Steel's branches across the country.
Johnson's latest safety goal is for Quality Steel to earn Extension's Safety and Health Achievement Recognition Program, or SHARP, designation. He's working with Extension—and Chandler—to see it happen.
Extension awards SHARP status to businesses that maintain exemplary injury- and illness-prevention programs.
"It says to your customer, your community, and your employees that they are important and their well-being comes first," Johnson says. "SHARP gives you the outcomes you want: highly efficient and safe operations. It's a morale-booster for everybody."
SHARP is part of Extension's on-site consultation program, which enables the organization's experienced professionals to complete a walk-through of a facility to identify health and safety hazards.
"Safety professionals need more opportunity to network on emerging trends and safety techniques," Johnson says. "With SHARP and Extension, we're addressing these issues and working to become pre-SHARP certified."
For Johnson, partnering with Extension is improving safety at Quality Steel Corporation and helping him to ensure that he never reports another fatality.
"Sometimes, when I hit these crossroads about making a safety decision, I have to revisit that place where I was when I had to deal with that fatality. It helps to center me," he says. "I impact so many lives; I owe a duty to these employees and their families to make sure everyone is working safely."