Living Healthy and Strong
Program Addresses Seniors' Nutrition Needs
Story by Susan Collins-Smith • Photos by Kevin Hudson
The New Zion Activity Center where Julia McLeod goes 4 days a week is a hub of activity for Marion County residents. For the Marion County Smart Aging Nutrition and Fitness Group, it's a place to fellowship, have lunch, and exercise.
McLeod is one of about 25 members of the group that formed 4 years ago. They meet at the Columbia center that is managed by the New Zion United Methodist Church.
"Everyone knows that, if they come eat here, they are going to get a healthy meal," McLeod says. "A lot of us live alone, and cooking for one person is not something we want to do.
Group director Joyce Stepney said the program is a good way for retirees to stay active and socialize, but she also makes sure the program incorporates opportunities for staying in shape and learning.
"This helps seniors to stay connected to the community and to other people," Stepney says. "We have a lot of fun doing arts and crafts and playing bingo, but I also want to help them stay healthy."
The center offers various exercise opportunities, including treadmills, stationary bicycles, and a chair-based exercise program that seeks to improve flexibility and balance. The group partnered with Marion General Hospital in May to host a health fair and to offer free screenings for blood pressure, glucose levels, and other basic health-related readings.
"Some of our members have battled breast cancer and have diabetes, so exercise and nutrition are especially important for them," Stepney explains.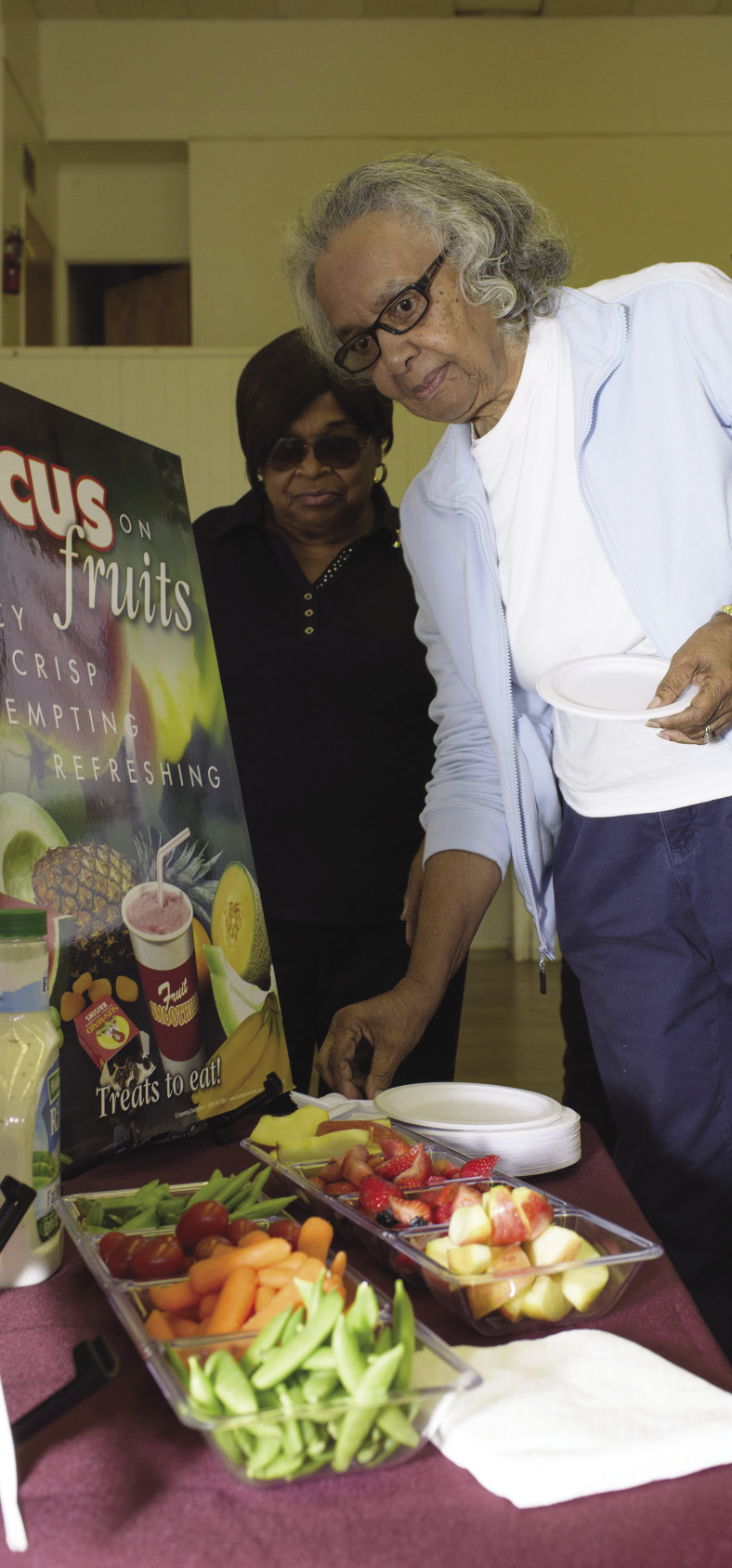 Seniors have unique nutrition needs, whether they have health conditions or not, said Renee Stringer, nutrition educator with the MSU Extension Service's Supplemental Nutrition Assistance Program–Education, or SNAP-Ed. In June and July, Stringer helped group members understand their nutritional needs and find new ways to incorporate more fruits and vegetables into their diets with the "Eat Smart, Live Strong" SNAP-Ed curriculum.
"Most seniors live on fixed incomes and need to stretch their dollars throughout the month. That can be hard, so we look at strategies to help them food shop," Stringer says. "They get recipes they can take home and try. We also talk about the importance of physical activity and how they can incorporate exercise into their daily routine. Of course, the community center offers great options for the participants in this group."
Although nutritionally balanced lunches are prepared and delivered by a food-service company through a contract with the center, Jimmie Sartin says she has the option to substitute some items
if necessary.
---
"We have some people who cannot eat beef or pork at all, so I try to keep turkey burgers and a few other options on hand for those instances," explains Sartin, the center's food-service manager.
---
The "Eat Smart, Live Strong" program helped reinforce participants' habits.
"We do try to incorporate seasonal berries and other fruits and vegetables into our diets," says Jean Tate, referring to herself and her husband, Horrace. "We grow onions, garlic, and turmeric."
Group members often share the food items they grow at home. Richastine James says the fresh produce is one of the perks of the weekly meetings.
"Some of us aren't able to work in a garden like we used to, so either we don't have a garden or we have just a few things," James says. "So it's nice to be able to share with each other."