From the Ground Up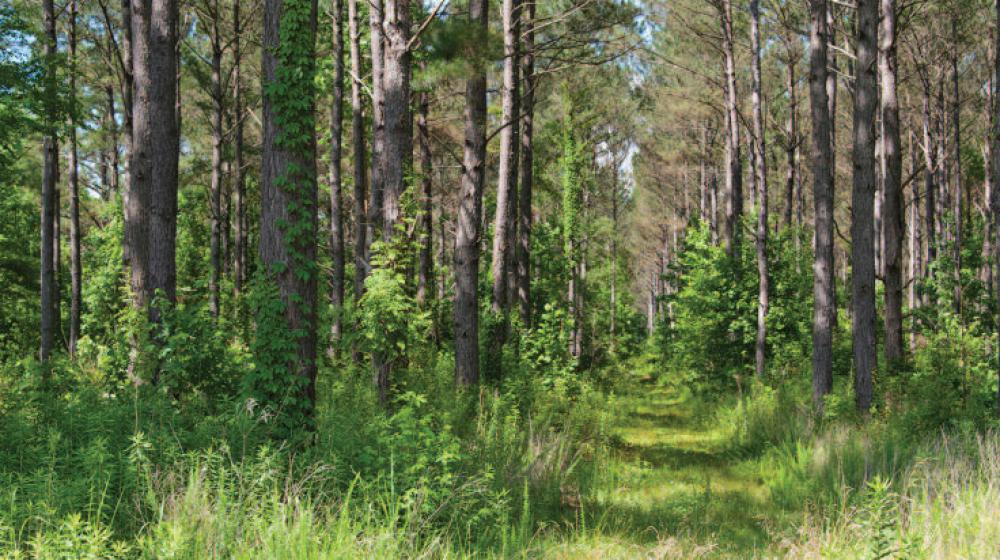 Football coaching legend also known for success in timber industry
To many Northeast Mississippians who played high school football between the early 1960s and the late 1980s, Ben Jones is a coaching icon.
A member of the Mississippi Association of Coaches Hall of Fame, Jones built a reputation for winning wherever he went across the state. He had a knack for developing programs and demonstrated his gift in Fulton, Meridian, Tupelo, and New Albany—schools that were not known for consistent success before his arrival. Since he retired in 1987, he's successfully added another skill to his repertoire: forestry. Jones credits the Mississippi State University Extension Service with his success in this latest career chapter.
Though he hasn't been involved in forestry for all of his 85 years, Jones has always enjoyed land management. His grandfather owned timberland in Monroe County and would occasionally cut trees to sell for extra money. Ever since, Jones has been interested in managing timberland.
"Even at the time I was coaching, I was interested in trees," he says. "I visited a lot of tree farms and spoke with people about how they managed their land. I didn't take up this process until I was in my late 50s."
Jones owns about 1,200 acres of land in six counties—Benton, Chickasaw, Itawamba, Lee, Monroe, and Union—where he maintains pine timber in various stages of development. He is a former president and longtime member of several local forestry associations and a regular attendee of Extension forestry workshops, courses, and evening programs.
Jones finds the programs Extension offers through the MSU College of Forest Resources at the Forest and Wildlife Research Center to be crucial to his success.
"All of the Extension courses I've gone to have helped me a great deal, and I think all of them are important for any landowner who manages timber," Jones says. "There are a lot of landowners who are not familiar with the process of how to manage their land and make it more valuable by raising trees on it. So many are not aware of what county forestry associations and Extension do in presenting management programs for landowners. It's important that they get educated about it and be aware of how valuable timber can be."
Jones is among 300,000 landowners in Mississippi who own 20 or more acres of forest. Extension coordinates with the state's 79 county forestry associations and the Mississippi Forestry Association to offer educational programming to help landowners better understand and manage land, which helps them achieve increased returns on investment.
Extension forestry specialist John Kushla hosts 60 to 70 programs, courses, and workshops a year and consults with timber landowners across Mississippi. He counts Jones among the clients he works with the most.
"We see a lot of regulars at county forestry meetings because the meetings have a high level of interest among landowners. Of all those people, he's probably my most active," Kushla says. "We'll see him at any one of these county forestry meetings regularly. I have gone to look at his tracts of timber over a number of years on a routine basis."
Evening programs are short presentations for local forestry associations and Master Gardener clubs. The programs are designed to provide relevant information on topics of interest, including insect management, alternative forest income, kudzu control, and forest management for wildlife habitats.
Day-long short courses offer more intensive training in specific areas of forestry, such as marketing and harvesting timber, growing trees for bioenergy, managing hardwoods, and using forest herbicides. Workshops provide hands-on training in valuing forests, using GPS in mapping and navigation, identifying trees, and evaluating pine stands for thinning.
Before Extension presents workshops, it advertises through county tax rolls and sends newsletters to members of county forestry associations to generate high attendance.
"We try to cast a broad net," Kushla says. "When we use tax roll databases, we can screen them for small and big timberland owners. When we do a short course or workshop that we are going to advertise, we post that on our website. The county forestry associations advertise evening programs to their local membership through postcards and newsletters.
"We occasionally advertise in local papers in advance of workshops to attract new members," he adds. "We get a lot of people who are not members of local forestry associations attending our daylong classes that way."
Because Extension advertises through tax rolls, courses also occasionally attract absentee landowners who live out of state. Kushla says tax roll mailing has been a significant benefit to the Extension forestry program.
"We did a short course in Oktibbeha County a couple of years ago, and two clients from California who own land in Mississippi attended," he says. "We recently had someone fly down from Maryland who wanted to learn more about how he should be managing his timber. We have a database of forestry consultants and recommended one to him that he could stay in contact with. It doesn't happen all the time, but we do have landowners who are well off but hear about our programs and come to learn about land and timber management."
Forestry is important in Mississippi: The state leads the nation in number of certified tree farms and active county forestry associations.
"Members of the county forestry associations want to be good forest stewards. They want to learn more about what they need to be doing," Kushla says. "The Mississippi Forestry Association has been instrumental in developing the infrastructure of our county forestry groups."
Jones says that his success in forestry is due in large part to his participation in the wide variety of relevant programs Extension offers.
"About 25 years ago," Jones adds, "someone saw me planting pine trees and asked me why I would bother to do it because I wouldn't live to see them grow enough to be sold. I sold those trees five years ago. You never know. You have to take advantage of educational opportunities and have a positive attitude about the progress your timber is going to make."