Information Possibly Outdated
The information presented on this page was originally released on June 23, 2014. It may not be outdated, but please search our site for more current information. If you plan to quote or reference this information in a publication, please check with the Extension specialist or author before proceeding.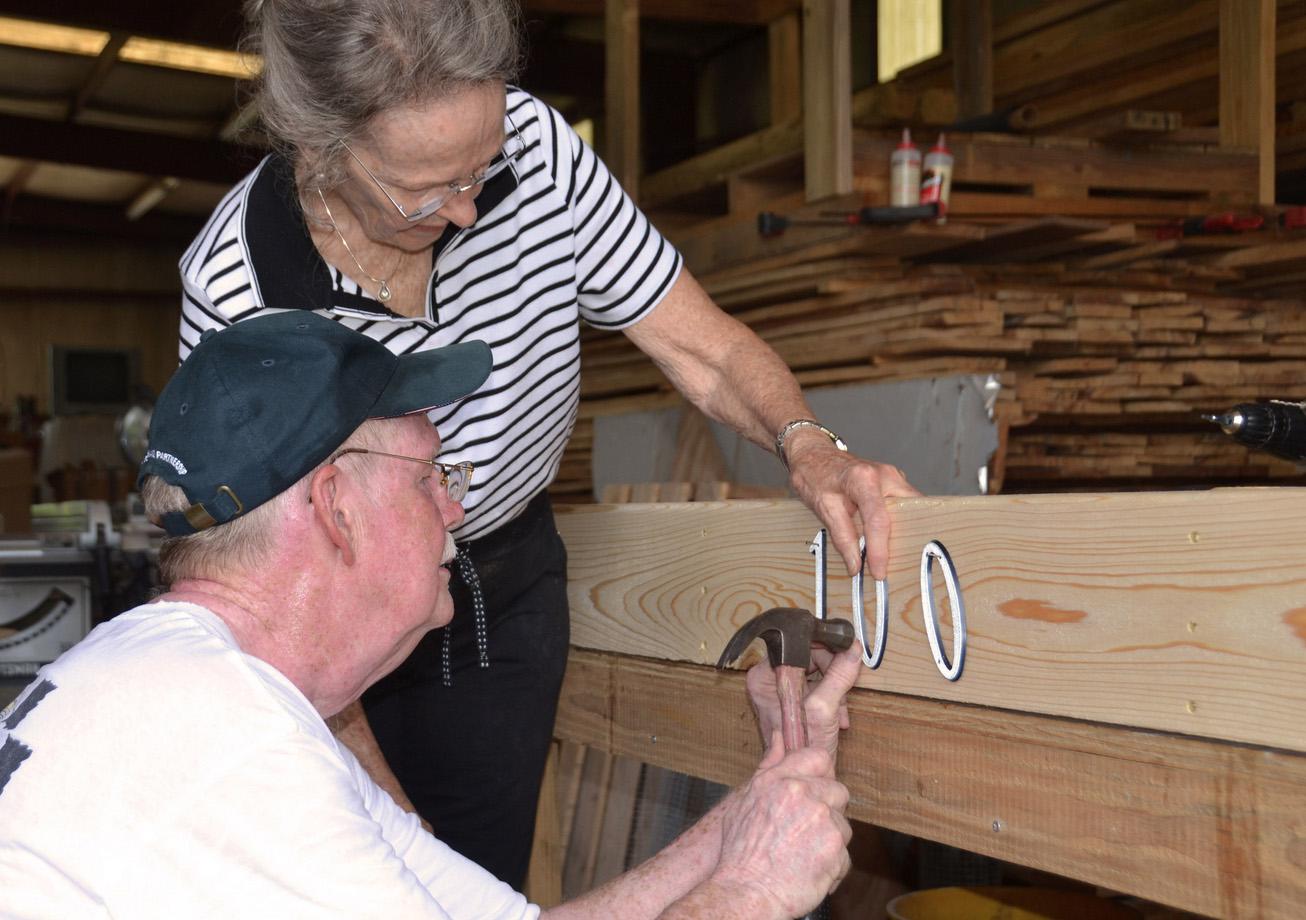 Master gardeners donate 100th salad table
PURVIS – The Pine Belt Master Gardeners reached a milestone June 19.
The group constructed its 100th salad table, which is designated for donation to the University of Southern Mississippi's Office of Sustainability. It is one of many the group has donated throughout the last year.
When the Pine Belt Master Gardeners built two raised beds for demonstration at the Mississippi State University Lamar County Extension office in 2013, they did not expect the educational project to become so popular.
"We never imagined we'd get to this point," said Paul Cavanaugh, PBMG president. "This wasn't our intention when we started out with this project last year."
Interest in the tables, also called kitchen tables, increased rapidly after the local news reported on the group's donation of two tables to senior residents at The Windham House of Hattiesburg. Many people did not have the tools or skills to build the tables, so the group decided they would build the tables for a small fee. During the school year, students at the Lamar County Technical Center help construct the tables.
"We don't make any money off of the tables," Cavanaugh said. "The funds pay for the materials, and anything left over goes back into the community. For every five tables we build, we donate one. We've also given a $500 scholarship to a student at the technical center and a $500 donation to USM's beautification fund."
USM Sustainability Coordinator Christina Foreman, who uses one of the beds herself, said the salad table will help enhance the university's sustainability program.
"We have several ideas about how to use the table, including curriculum development, special projects within individual academic classes, activities involving the student sustainability group, and as an educational tool for community outreach," Foreman said. "Nothing is definite yet because we want to get input from our student sustainability group. So it will probably be fall before we put the table to use."
USM's sustainability program implements campus-wide recycling, energy conservation inventories, the student bike loan program and several student and community outreach projects.
"The salad table is a great way to fill a gardening need for a wide variety of people who want to garden, and it can also help us with educational efforts, on and off campus," Foreman said. "We're excited to be receiving it."
The Pine Belt Master Gardeners, who obtained horticulture training through Extension's Master Gardener Program, have constructed and donated tables to several organizations and local businesses, including the Hattiesburg Area Habitat for Humanity, the Bay St. Louis community garden and senior living facilities, as one way to fulfill the volunteer service commitment of the program. They also have conducted workshops in conjunction with the table donations.
Although the salad tables are handicapped-accessible, anyone can benefit from them.
Individuals such as Lisa Phillips enjoy being able to easily raise fresh produce in a small area.
"I like to use fresh herbs in my kitchen, but my backyard is very small," Phillips said. "The table is small enough that it isn't in my way, and it's easier to care for than an in-ground garden."
Lamar County Extension Agriculture Agent Ross Overstreet said the project is a wonderful example of the work to which Extension is dedicated.
"This project has made a huge impact on our community," Overstreet said. "It has shown people of all ages that gardening doesn't require a lot of space or time. It's a sensible approach for anyone, including city-dwellers without expansive yards and children just learning to garden."
The Pine Belt Master Gardeners won the Outstanding Project Award during the 2014 Mississippi Master Gardener Conference for the work they have done with the raised beds. They also will contend for the 2015 Search for Excellence Award, given during the bi-annual International Master Gardener Conference.