Information Possibly Outdated
The information presented on this page was originally released on June 17, 2015. It may not be outdated, but please search our site for more current information. If you plan to quote or reference this information in a publication, please check with the Extension specialist or author before proceeding.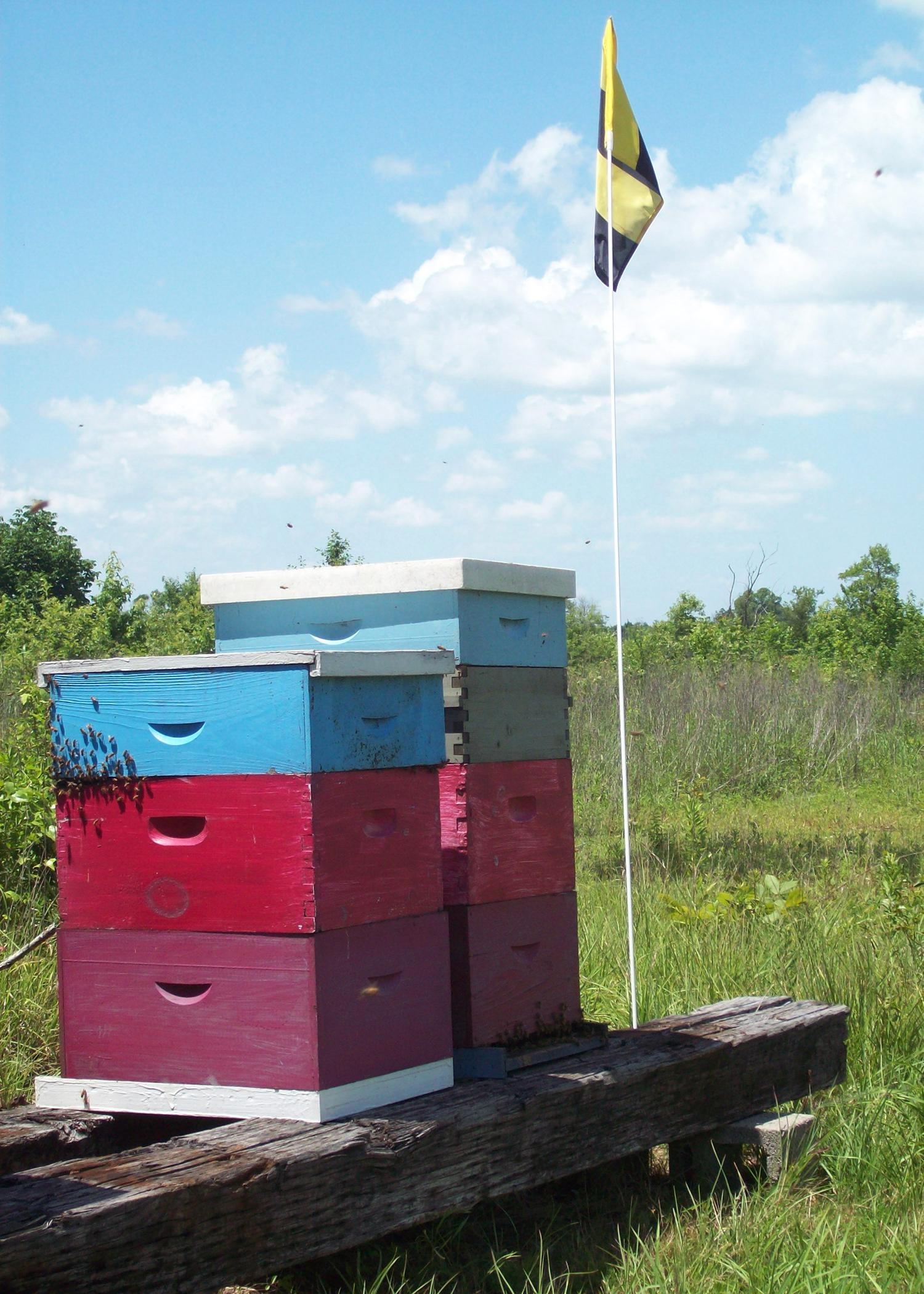 Mississippi farmers, beekeepers work together to protect bees
STARKVILLE, Miss. -- Pitting farmers against beekeepers does little to solve the problems facing pollinators.
"In some cases, anti-pesticide groups are using the challenges facing bee health as an opportunity to set up a very black-and-white, good guy versus bad guy scenario when it comes to agricultural production," said Angus Catchot, an entomologist with the Mississippi State University Extension Service. "In the long run, this could hurt the average beekeeper in our area because that is the only story farmers are hearing in the media. It makes them wary of having beekeepers on their property or fearful of losing important crop production tools, such as neonicotinoid seed treatments."
Mississippi's major row crops -- soybean, corn and cotton -- do not require honeybees for pollination. But these row crops do provide a significant nectar source for honeybees, which benefits beekeepers.
So why should farmers help support honey bee populations that do not impact their crops?
"Farmers are very good about respecting each other, whether you farm animals, crops, trees or bees," Catchot said. "Many farmers realize that honeybees may not directly benefit their crops, but honeybee colonies from Mississippi are used to pollinate crops all over the U.S. They are willing to help. They just need to understand the problem."
Catchot and his colleagues have found a need for greater communication between row crops producers and beekeepers. Most beekeepers understand the risk when they put their bees on a farm, and they are willing to take that risk for the sake of a big honey crop. In the past, when faced with losses, they often kept quiet or simply moved their hives to a different farm rather than cause trouble with farmers.
"For the most part, nobody was talking to each other," he said. "Essentially, a beekeeper would ask a farmer if he could put out hives on the farmer's land, a farmer would say yes, and that was the end of it. Out of sight, out of mind."
That is how Mississippi Honeybee Stewardship Program began, said Jeff Harris, bee specialist with the MSU Extension Service.
This voluntary program outlines cooperative standards for farmers and beekeepers.
"Most of the language is common sense, but the primary goal was to promote awareness," Harris said. "[The program suggests] simple stuff, like letting the farmer help choose a location for the hives where drift from a pesticide application is less likely to occur. The farmer should avoid spraying when bees are active or take special precautions when near beehives. Beekeepers and farmers should have each other's contact information and communicate."
The program also promotes a "flag the hive" practice. Special black and yellow flags can be posted near beehives to promote awareness.
"Anytime you see this flag, you should think: bees. This should cause you to stop and check wind direction if you're making a pesticide application," he said.
The program was developed and adopted by several organizations in the state, including the Mississippi Beekeepers Association, Mississippi Farm Bureau Federation, Mississippi Agricultural Aviation Association, Mississippi Agricultural Industry Council, Mississippi Agricultural Consultants Association, Mississippi Department of Agriculture & Commerce, and Mississippi State University Extension Service.
"While this document focuses on stewardship and awareness, we have other groups in the state that are heavily involved in other aspects of bee health, such as habitat restoration like Delta Council and Delta F.A.R.M. We take this very seriously and recognize the need to coexist and are all working on it together," Harris said.
In addition to acute kills from direct pesticide sprays or drift events, which could likely be prevented with better communication and education, beekeepers report losses of foraging bees within the fields when blooming crops are sprayed.
"This problem is most noticeable in soybeans and cotton, but it's a tough problem because farmers need to spray their crops when a pest population has reached the point it will significantly damage the crop," Harris said. "There is no easy solution because not spraying isn't an option for the farmer, and moving the bees is impractical."
In these cases, Harris stressed the need for increased communication about timing sprays for early morning or early evening, when bees are not foraging. Then the beekeeper should consider moving their colonies to different locations for the next year, if possible.
"Historically, beekeepers have endured some losses in the Delta and still make substantial honey yields, so they're willing to take the risk," he said.
Catchot said he is optimistic that farmers and beekeepers can work together to reduce the likelihood of pesticide exposure without federal intervention.
"Many of these problems can be solved locally, and we've already seen signs of success," he said. "Awareness is key. We get numerous calls each year now from farmers asking what pesticide they can use that is less likely to cause problems for bees or asking for advice on making applications when hives are present. That didn't happen in the past."
This article is the second in a series on the relationships between pesticides and row crops, farmers and beekeepers, and factors influencing honeybee health. Related articles are online at http://www.msucares.com.