Doing the "Heart" Work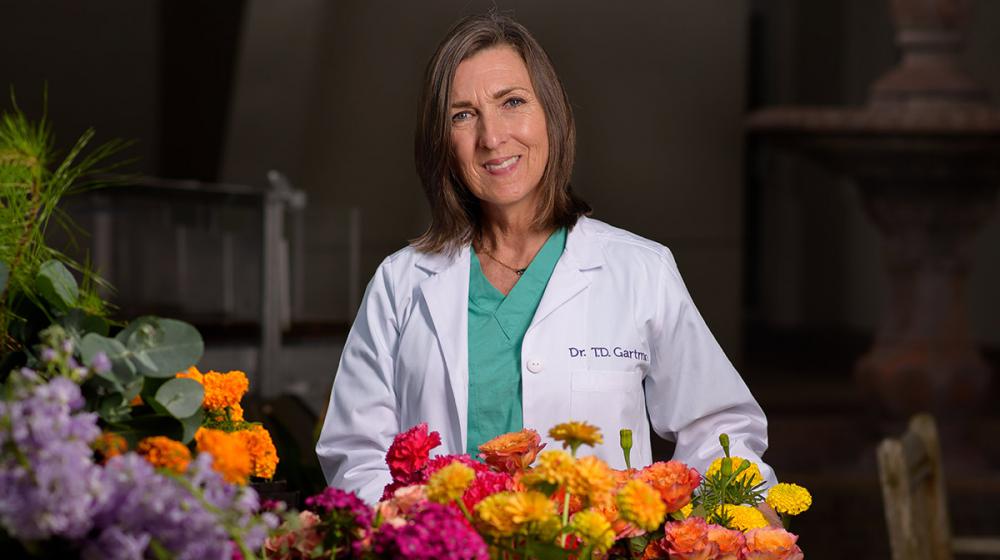 Arranging Joy
Ocean Springs volunteer shares love of flowers
Story by Susan Collins-Smith • Photos by Kevin Hudson
Dr. Tamela Gartman has always loved flowers and being outdoors.
"I feel really grounded in nature," says Tamela, an Ocean Springs resident and native. "I think flowers are one of the most wonderful gifts in nature. They make everyone smile. They evoke positive emotions and decrease stress."
Tamela, a former emergency medicine doctor who now works as a physician in a different area of the hospital, spends a lot of her free time volunteering with Christian and community organizations. When she heard about the Master Floral Designer program, she knew it was something she wanted to pursue.
"I never felt like I could make my arrangements look polished," she explains. "I was volunteering at a new floral boutique business of two ladies I know, hoping I could pick up some tips, and they told me about Dr. DelPrince's classes."
Dr. Jim DelPrince, floral design specialist with the Mississippi State University Extension Service, teaches the certification program. Participants learn the basics of floral design, including the proper care and use of fresh and dried flowers and how to use numerous mechanics and accessories, and they are certified in exchange for volunteer service.
"Dr. DelPrince taught me how to balance color and pattern, how to make my flower arrangements last, and the mechanics behind the floral design," she says. "I never knew there was so much math and geometry in flower arranging. I enjoyed every minute of it."
As a Master Floral Designer, Tamela shares her skills with the community by teaching others and making flower arrangements for fundraisers, hospitals, nursing homes, and elderly and sick individuals in the community.
"I've done a lot of different things," she says. "I participate in a correspondence program for incarcerated individuals. When one of the prisoners I wrote to died, his family asked me to make a floral spray for him. It was the first one I'd ever done, but I was so glad that I could bring some comfort to his family."
Tamela, a self-professed introvert, said earning her Master Floral Designer certification has brought a new energy to her life.
"This has opened a lot of doors to things that otherwise I wouldn't have been able to participate in, and I've developed a lot of new friendships through the things I've done as a Master Floral Designer. I've been able to learn new skills while working on causes I believe in," Tamela says.
Extension floral volunteers make just as big an impact on their communities, DelPrince says.
"Our Extension volunteers enrich their communities with what they have learned," he says. "About one-third of their volunteer work involves floral design for use in places of worship or in hospitals or nursing homes. They care about sharing their knowledge and abilities to improve the lives of others in their communities."
Not even the pandemic could stop them. Extension floral volunteers returned 1,000 hours of volunteer service in 2020, DelPrince affirms.