Extension Where You Are: Ascending the Hill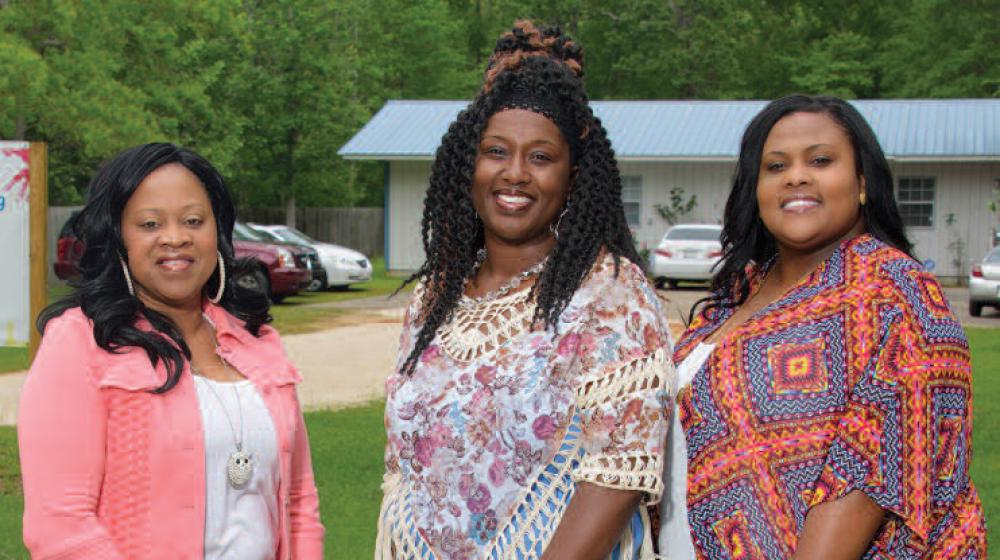 Latonya Hill (center), childcare provider
Waynesboro pre-K educator earns accreditation through Early Years Network program, opens new center
LaTonya Hill dedicated herself to early childhood education as a college student, but an odd turn of events convinced her to open her own childcare center.
"I was teaching at a Head Start center, but I couldn't teach my child because our family did not qualify due to our income," she says. "I was working there teaching other kids and paying somebody else to teach mine somewhere else."
Thanks to help from the Early Years Network, a Mississippi State University Extension Service program, Hill opened the doors of her first licensed childcare center in March, to begin the transition to new, expanded responsibilities after four years as a home-based provider.
The Waynesboro native always knew she had a knack for working with children, even when she was a child herself.
"When I was growing up, people at church and family events would observe how well children took to me," she says. "I eventually thought, 'This is something I can do for the rest of my life.'"
Hill graduated from the University of Southern Mississippi in 2007 with a degree in early childhood education before she began an eight year run as an educator at the Friends of Children of Mississippi center in her hometown.
She found out about the Early Years Network through Head Start while she was taking the continuing education classes required as part of her job.
"A college classmate of mine was working for MSU at the time and told me about courses I could take there to earn the credentials I would need to open a center," she says. "After taking several of these and learning more about the Family, Friend, and Neighbor Care program, I opened my home-based center in 2012."
The program provides learning materials, supplies, and lesson plans to independent childcare providers. To earn her In-Home Quality Rating and Improvement System (QRIS) rating through the Family, Friend, and Neighbor Care program, Hill took courses from professionals at the Early Years Network. They instructed her on how to create a budget for her business and evaluated her classroom instruction to ensure her teaching methods prepared children for kindergarten.
Norma Hayes, a network field technical assistant, visited Hill's home-based site and monitored her teaching style to ensure she was meeting the QRIS benchmarks.
"LaTonya participated in our Quality Rating and Improvement System, which improves the quality of childcare and the resources available at their centers," says Kelly Carmody, Early Years Network Project Director. "All of the instructional and technical assistance and materials helped grow her business to the point where she had a large-enough waiting list to expand into a fully licensed childcare center."
Providing quality education to children was not the only necessary ingredient, though. Hill also had to save money and wait for the right opportunity to branch out. That came in the form of a building in downtown Waynesboro that once housed another childcare center. By the time she bought it, Hill was licensed to teach 35 children in the 1- to 5-years-old age range. In April, enrollment from her home-based center doubled. She is now getting 20 children ready for kindergarten.
"The new center is definitely a more convenient location than my home," Hill says. "But I've also had more visibility because of (network field technical assistant) Miltoria Heath. She was instrumental in helping me put together flyers and the paperwork I needed to have in place to get started."
The transition has taken Hill some time to get used to—from starting a new routine to getting everything moved into her new location—but Hill is doing what she always wanted to do, and she credits the network with playing a critical role in her success.
"I know I wouldn't be where I am now without Extension and the Early Years Network," she says. "They worked with me and gave me a lot of encouragement and tools along the way that I needed to reach my potential, and I'm grateful for everything they do."
Learn more about EYN at http://www.earlyyearsnetworkms.org/.
Family, Friend, and Neighbor Care
Family, Friend, and Neighbor Care is an educational and technical assistance project of the Early Years Network.
This program involves the project director, the field supervisor, and field technical assistants meeting together with childcare providers to provide technical assistance, books, and other materials to help them with instruction.
During a visit, network personnel work with the provider's students so the provider can observe the most recent early childhood development models and best practices. Network staff leave those educational materials at the center so providers can continue to work with the children in the same way.
The program also teaches health and safety, nutrition, and caring for children. Family, Friend, and Neighbor Care has training courses available in CPR and first aid. Additional offerings include administrative and financial courses that educate providers about the business aspects of the family childcare business.
Participants can also opt to be involved with the In-Home Quality Rating and Improvement System, the state's tiered quality rating system. Childcare providers earn accreditation and are ranked 1 to 5 stars based on administrative policy, professional development, learning environments, parent involvement, and evaluation.