More Options, More Customers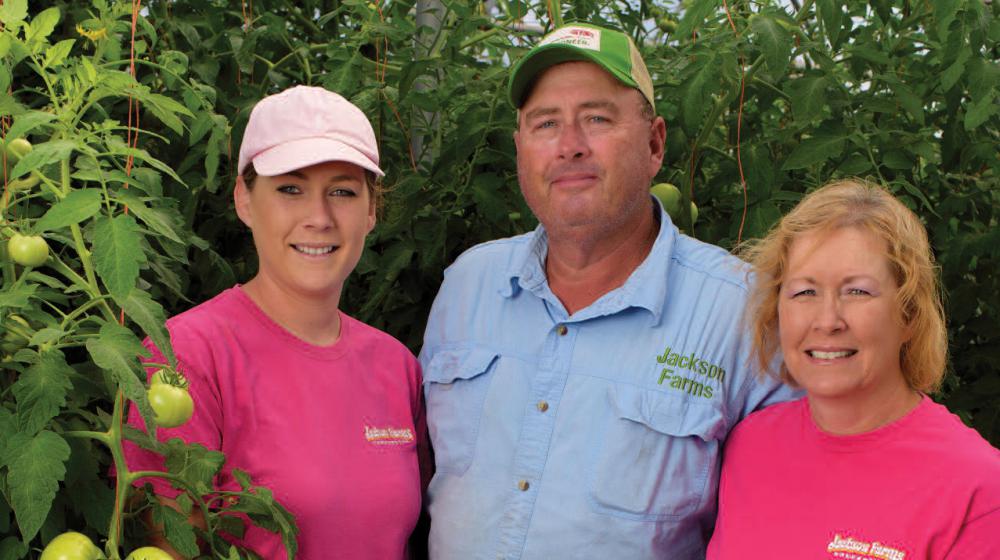 Megan Daley (left), and her parents Tom and Teresa Jackson, nursery horticulturalists
Nursery using Extension publications to host workshops, reach new customers
Business continues to blossom at Jackson Farms in Bassfield, and one reason may be because the family-owned nursery connects with its clientele in ways that its big-box competition does not.
Mississippi State University Extension Service specialists are equipping nurseries across the state, like Jackson Farms, with publications they can use to conduct do-it-yourself workshops and help their customers get the most out of their gardens and flowerbeds.
Tom and Teresa Jackson began as row crop producers but switched over to growing hydroponic greenhouse tomatoes and entered the nursery business in 1989. They have since added flowers to their business, but that is not the only addition that has helped them grow a loyal customer base. Their daughter, Megan Daley, is helping manage the business and hosting the workshops.
The family has a partnership with Extension that dates back to when they grew row crops and has continued since they opened the nursery's doors for the first time.
"Our county agents were just a phone call away, and they would be in our field in a few hours," Tom Jackson says. "As we moved to growing greenhouse tomatoes, the agents put us in contact with specialists who could walk us through that process. We worked a lot with the Experiment Station in Crystal Springs on greenhouse tomatoes. They would trial new varieties for us. Their work and advice helped our business become more profitable.
"We now have more flowers than tomatoes, but we've relied on Extension specialists the whole time, whether we needed them to do soil testing and analysis to solve a problem we had, or if we wanted input on current trends, so we could offer popular plants," he adds. "We have a lot of customers who come in with questions about diseases and pesticides, and I can always refer them to Extension researchers if it's a problem where their expertise will help."
Jackson is also a longtime member of the Mississippi Nursery and Landscape Association, which hosts several garden and patio shows in the state each year. He is a vendor at each show.
"Extension always has representatives at the Garden Extravaganza, and that gives us another chance to talk with them and get their latest publications that we can use to improve what we have to offer at the nursery and use to hold our own local workshops," Jackson says. "As a vendor, if a customer has a question about something I'm not as familiar with, I can refer them to the Extension booth."
Geoff Denny, an assistant Extension professor in plant and soil sciences, says he and Extension Associate Kandiace Gray began developing programs to see how they would work in commercial settings.
"One of the goals I had was for the people who attend these programs to have hands-on assistance and create something while they are there instead of just watching us do it," Denny says. "Each time we think of a project idea that we think might interest people, we try to put together a workshop and host it ourselves as a beta test. If it works, we develop handouts and PowerPoints that are accessible enough for Extension agents and nursery owners to study so they can host their own workshops."
Daley was one of several in the state's nursery industry to approach Denny about holding a program with the assistance of Extension materials.
"Megan wanted to do a workshop for her customers on succulent pumpkins," Denny says. "We offered a publication we had recently completed on the subject. This works well for both of us because people in the industry are using it to draw more customers in, and we're getting our information in the hands of the general public where it belongs. Social media has also been a very effective delivery method."
Daley said having Extension publications as a guide for her workshops has provided an educational outlet for Jackson Farms that is helping expand its customer base while building a loyal following.
"Extension is a vital part of our success because they can do the research we don't have the technology to do ourselves, but we can use the results of their work to help amateur gardeners," she says. "Extension's assistance gives us credibility and a lot of return customers."